.

From Shoreditch Wildlife: photo by Dougie Wallace, 2014 (via Dougie Wallace Glasweegee)
European jihadists: It ain't half hot here, mum
Why and how Westerners go to fight in Syria and Iraq
The Economist, Cairo, 30 August 2014
Poverty does not explain the lure of jihad for Western fighters. Many of them are quite middle-class. Nasser Muthana, a 20-year-old Welshman who goes by the name Abu Muthana al-Yemeni in IS videos, had offers
to study medicine from four universities.
Nor does a failure to integrate into the societies around them.
Photographs of Muhammad Hamidur Rahman, another British fighter thought to have recently been killed, show a young man in a snazzy suit with a slick hairstyle. He worked at Primark, a cheap retailer, in
Portsmouth, a city on the English coast. His father ran a curry restaurant.
Nor does religious piety. Before leaving for Syria, Yusuf Sarwar and Mohammed Ahmed, two young men from Birmingham who pleaded guilty to terrorism offences in July, ordered copies of "Islam for Dummies"
and "The Koran for Dummies" from Amazon.
Some fighters are religious novices...
More plausible explanations are the desire to escape the ennui of home and to find an identity. "Some individuals are drawn out there because there is not a lot going on in their own lives," says Raffaello Pantucci,
an analyst at the Royal United Services Institute, a London think-tank.
Images of combatants playing snooker, eating sweets and splashing in swimming pools have sometimes suggested that jihad was not unlike a student holiday, without the booze.
From Shoreditch Wildlife: photo by Dougie Wallace, 2014 (via Dougie Wallace Glasweegee)
Friedrich Engels: The Great Towns (1845)

A town, such as London, where a man may wander for hours together without reaching the beginning of the end, without meeting the slightest hint which could lead to the inference that there is open country within reach, is a strange thing.
This colossal centralisation, this heaping together of two and a half millions of human beings at one point, has multiplied the power of this two and a half millions a hundredfold; has raised London to the commercial capital of the world, created the giant docks and assembled
the thousand vessels that continually cover the Thames.
I know nothing more imposing than the view which the Thames offers during the ascent from the sea to London Bridge.
The masses of buildings, the wharves on both sides, especially from Woolwich upwards, the countless ships along both shores, crowding ever closer and closer together, until, at last, only a narrow passage remains in the middle of the river, a passage through which hundreds
of steamers shoot by one another; all this is so vast, so impressive, that a man cannot collect himself, but is lost in the marvel of England's greatness before he sets foot upon English soil.
Canary Wharf, London, viewed from Shadwell
: photo by Dave Pape, 13 June 2007; image by Pointillist, 24 April 2010
But the sacrifices which all this has cost become apparent later.
After roaming the streets of the capital a day or two, making headway with difficulty through the human turmoil and the endless lines of vehicles, after visiting the slums of the metropolis, one realises for the first time that these Londoners have been forced to sacrifice the best
qualities of their human nature, to bring to pass all the marvels of civilisation which crowd their city; that a hundred powers which slumbered within them have remained inactive, have been suppressed in order that a few might be developed more fully and multiply through union
with those of others.
The very turmoil of the streets has something repulsive, something against which human nature rebels.
The hundreds of thousands of all classes and ranks crowding past each other, are they not all human beings with the same qualities and powers, and with the same interest in being happy?
And have they not, in the end, to seek happiness in the same way, by the same means?
And still they crowd by one another as though they had nothing in common, nothing to do with one another, and their only agreement is the tacit one, that each keep to his own side of the pavement, so as not to delay the opposing streams of the crowd, while it occurs to no man
to honour another with so much as a glance.
The brutal indifference, the unfeeling isolation of each in his private interest, becomes the more repellent and offensive, the more these individuals are crowded together, within a limited space.
And, however much one may be aware that this isolation of the individual, this narrow self-seeking, is the fundamental principle of our society everywhere, it is nowhere so shamelessly barefaced, so self-conscious as just here in the crowding of the great city.
The dissolution of mankind into monads, of which each one has a separate principle, the world of atoms, is here carried out to its utmost extreme.
Hence it comes, too, that the social war, the war of each against all, is here openly declared.
Just as in Stirner's recent book [The Ego and Its Own], people regard each other only as useful objects; each exploits the other, and the end of it all is that the stronger treads the weaker under foot; and that the powerful few, the capitalists, seize everything for themselves, while
to the weak many, the poor, scarcely a bare existence remains.
What is true of London, is true of Manchester, Birmingham, Leeds, is true of all great towns.
Everywhere barbarous indifference, hard egotism on one hand, and nameless misery on the other, everywhere social warfare, every man's house in a state of siege, everywhere reciprocal plundering under the protection of the law, and all so shameless, so openly avowed
that one shrinks before the consequences of our social state as they manifest themselves here undisguised, and can only wonder that the whole crazy fabric still hangs together.

Die Lage der arbeitenden Klasse in England (cover): Friedrich Engels, Leipzig, 1845

Since capital, the direct or indirect control of the means of subsistence and production, is the weapon with which this social warfare is carried on, it is clear that all the disadvantages of such a state must fall upon the poor.
For him no man has the slightest concern. Cast into the whirlpool, he must struggle through as well as he can.
If he is so happy as to find work, i.e., if the bourgeoisie does him the favour to enrich itself by means of him, wages await him which scarcely suffice to keep body and soul together; if he can get no work he may steal, if he is not afraid of the police, or starve, in which case
the police will take care that he does so in a quiet and inoffensive manner.
During my residence in England, at least twenty or thirty persons have died of simple starvation under the most revolting circumstances, and a jury has rarely been found possessed of the courage to speak the plain truth in the matter.
Let the testimony of the witnesses be never so clear and unequivocal, the bourgeoisie, from which the jury is selected, always finds some backdoor through which to escape the frightful verdict, death from starvation.
The bourgeoisie dare not speak the truth in these cases, for it would speak its own condemnation.
But indirectly, far more than directly, many have died of starvation, where long-continued want of proper nourishment has called forth fatal illness, when it has produced such debility that causes which might otherwise have remained inoperative brought on severe illness
and death.
English working-men call this "social murder", and accuse our whole society of perpetrating this crime perpetually. Are they wrong?
True, it is only individuals who starve, but what security has the working-man that it may not be his turn tomorrow?
Who assures him employment, who vouches for it that, if for any reason or no reason his lord and master discharges him tomorrow, he can struggle along with those dependent upon him, until he may find some one else "to give him bread"?
Who guarantees that willingness to work shall suffice to obtain work, that uprightness, industry, thrift, and the rest of the virtues recommended by the bourgeoisie, are really his road to happiness?
No one. He knows that he has something today and that it does not depend upon himself whether he shall have something tomorrow.
He knows that every breeze that blows, every whim of his employer, every bad turn of trade may hurl him back into the fierce whirlpool from which he has temporarily saved himself, and in which it is hard and often impossible to keep his head above water.
He knows that, though he may have the means of living today, it is very uncertain whether he shall tomorrow.

from Friedrich Engels: Die Lage der arbeitenden Klasse in England (Condition of the Working Class in England), 1844-1845: published in Leipzig, 1845; English translation by Florence Kelley [Wischnewetzky], New York, 1887; London, 1891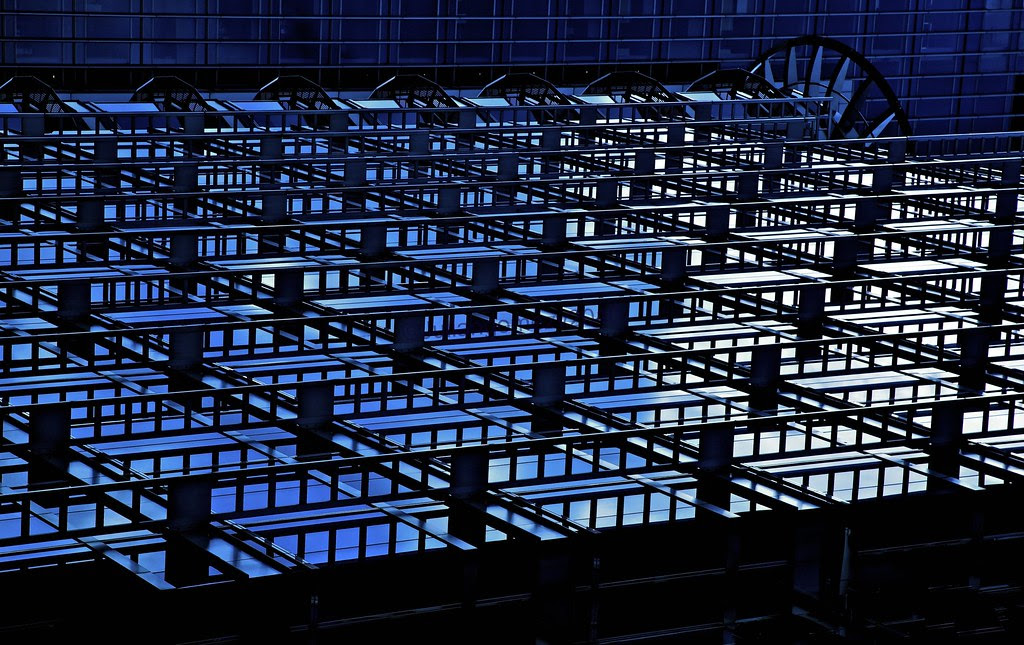 La Proximité de la Mer (Borges)
, Canary Wharf, London: photo by galaad, 4 April 2010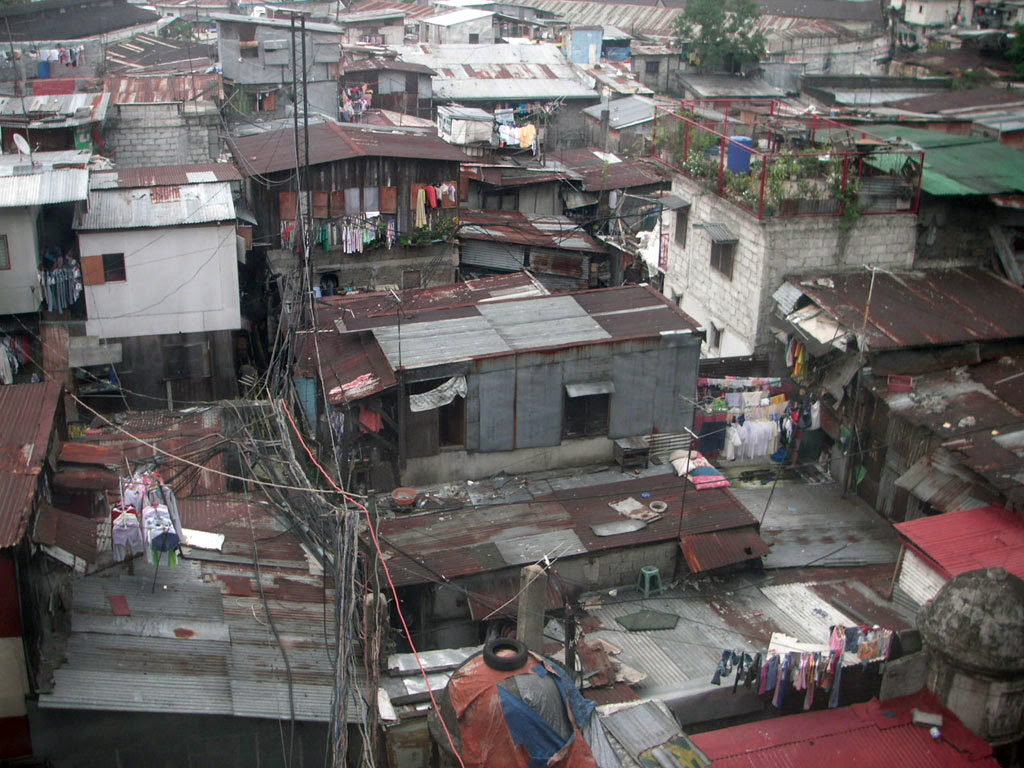 Shanty town, Manila, beside Manila City Jail (seen from Recto LRT Station):
photo by Mile Gonzalez, 20 May 2007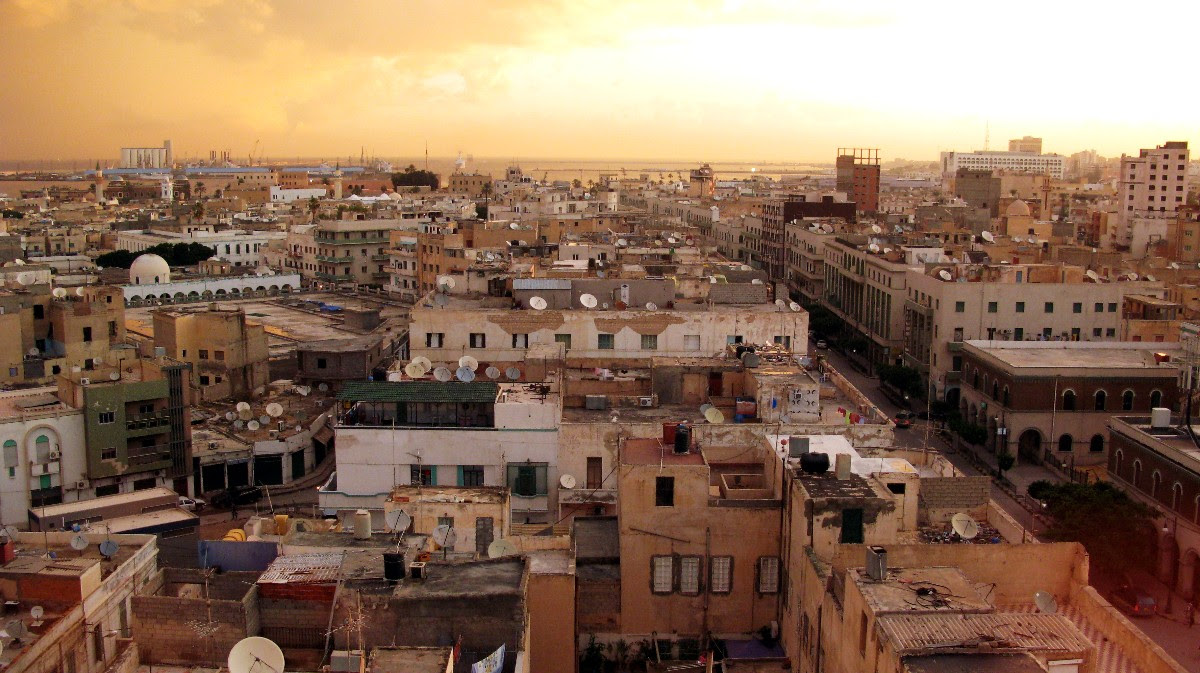 Sun sets over the old medina in central Tripol

i
: photo by Patrick André Perron, 2007
The nun who took down an Isis flag –- and stands up for east London's Muslims
Sister Christine Frost on why young men from Tower Hamlets are going to fight in Iraq and Syria: Jane Kelly, The Spectator, 30 August 2014
Sister Christine Frost: photo by Christopher Furlong/Getty via The Spectator, 30 August 2014
Not so long ago disaffected youngsters would take to a life of crime and hard drugs, a trajectory which would often kill them. These days, some young men from our Muslim community sign up instead to the so-called Islamic State, and the dream of a distant Caliphate.
Why? Well, forget theology or even the prestige which comes from being a warrior -- if Sister Christine Frost is right, it all comes down to housing.
Sister Christine has worked on the Will Crooks Estate in Poplar, east London, for over 40 years. She accidentally got into the news in early August when she removed the black flag of radical Islam which was flying over the entry to the estate, and the press were fascinated that
a small, lone woman aged 77, would take such a risk. But if they believed Sister Christine to be a crusader against Islamism, then they got it all wrong. Sister Christine is a committed Christian of course, but if she is fighting on behalf of anyone, it is the disenfranchised,
ghetto-ised Muslim youth she finds herself living alongside.
I met Sister Christine in the St Matthias Community Centre, where Christians once worshipped when the building was a church. Built in 1654 by the East India Company, it's the oldest building in Docklands. In the nave, large, lumpy white folk were preparing for a wedding
reception, though the area is now largely Bangladeshi.
Poplar is in the borough of Tower Hamlets, where the Palestinian flag flies over the town hall and there is the highest percentage of Muslims in England. Sister Christine's patch also has the lowest proportion of Christians and there have been reports of Muslim patrols in the area
threatening locals seen drinking, wearing short skirts, or looking overtly gay.


Will Crooks Estate: photo by PA Images via The Spectator, 30 August 2014
In recent
weeks the tensions between 'them' and 'us' have got markedly worse, as it's come out that at least 20 young Britons a month are heading to Syria and Iraq to join terrorist groups. Ibn Hamdan al Bengali, 24, has stated on Facebook that
he is a former student at Tower Hamlets College, just up the road from the St Matthias Centre.
But though Sister Christine deplores the jihadis, she also thinks we must address the real reasons it seems attractive to young Muslim men, which is that they feel victimised. 'It used to be mainly Pakistani youths who were radicalised,' she says,
'but now the Bengali youth are getting involved too. They feel themselves targeted and they become angry.' Sister Christine's point is that a feeling of persecution makes a young man ripe for radicalisation. The persecution complex began, she says, when Tony
Blair led the UK into war in Iraq, but now it's mainly linked with Israeli attacks on Gaza. 'There is a sense of victimhood, and they have a narrow vision,' she says.
Their anger is also fed by the deprivation in which they live. 'Housing is the worst problem here,' she says. 'The lack of provision amounts to a kind of social cleansing.' The mostly Muslim poor she cares for are being pushed out in favour of the
new gentry in nearby Canary Wharf.
The cost of one of the early Victorian terraced houses near the Matthias Centre is over £2 million.
'There is a huge housing estate being developed,' she says, '1,500 new homes, but they are all beyond the means of people around here and rents are going up too. People can look across and see homes where people have millions to spend, while
they can't afford basic heating.
'I've seen four families sharing one flat, a family in every room. That causes tension — nowhere for children to do their homework, nowhere to relax, no privacy. Then there are no jobs or apprenticeships when they leave school. I see Bengali mothers,
some with little English, struggling with all that. They should be canonised.'
Sister Christine is particularly angry with the Prime Minister, whom she sees as representing the gentry. 'David Cameron does not have a clue about housing here,' she says. 'He's never spent even a day with the sort of people who live in Poplar. I
challenge him to come and live in one of our council blocks for a week, with just £35 in his pocket. See how he survives.'
'I'm driven by a sense of injustice,' she says, 'particularly when I see the powerlessness of people here.'
She has been given MBE for her work on the estate. In the past she's represented locals against the council when they tried to introduce bizarre health and safety laws banning doormats and washing lines, but she's not an apologist for Islamism. She once
took down Islamist notices criticising Christmas, and though she lives alone, there are five other sisters in the order who live together close by. They are also committed to loving all peoples. The other sisters are older, and she indicated that they don't
share her direct involvement with the crisis currently affecting young Muslims, but all their work comes under the term 'befriending'. They run old people's clubs and get the young people to take the elderly out on day trips. At Christmas she makes sure
people have cooked dinners delivered to them.
'Many older white working-class people are isolated,' she says, 'especially the proud, independent Cockneys who are still here.'
Sister Christine has an immigrant edginess herself, coming from Limerick, Ireland. She left her convent school aged 17 and won a place at Guy's Hospital in London to study physiotherapy. Instead she joined a religious order.
'My parents wanted me to do the medical course,' she says, 'but I had a personal conviction.' This 'conviction' has, she says, only grown stronger over the years. She believes that the world is getting less caring, and she is fighting to change that course.
'We have to find a way of getting people to change,' she says. 'I want the wealthy people who have millions and live in Canary Wharf to come over here and help the young people, get them into training. Make that an attractive alternative for them.'
She really believes that with a little encouragement the rich and pampered will come out of their apartments to take an interest in their deprived neighbours. That with care and attention she can persuade young Muslims to reject jihad and embrace life
'We must find a way of bringing people together,' she says. 'We must create cohesion, or we will have a Bosnia/Serbia situation here.'
From Shoreditch Wildlife: photo by Dougie Wallace, 2014 (via Dougie Wallace Glasweegee)
From Shoreditch Wildlife: photo by Dougie Wallace, 2014 (via Dougie Wallace Glasweegee)
From Shoreditch Wildlife: photo by Dougie Wallace, 2014 (via Dougie Wallace Glasweegee)
From Shoreditch Wildlife: photo by Dougie Wallace, 2014 (via Dougie Wallace Glasweegee)
From Shoreditch Wildlife: photo by Dougie Wallace, 2014 (via Dougie Wallace Glasweegee)
From Shoreditch Wildlife: photo by Dougie Wallace, 2014 (via Dougie Wallace Glasweegee)
From Shoreditch Wildlife: photo by Dougie Wallace, 2014 (via Dougie Wallace Glasweegee)
From Shoreditch Wildlife: photo by Dougie Wallace, 2014 (via Dougie Wallace Glasweegee)
London-based photographer Dougie Wallace grew up in Glasgow hence his moniker, "Glasweegee". He is known best for his expressive social documentary and a distinct direct style of street photography.
'Human behaviour motivates my pictures. People, their interactions and emotions fascinate me. My stories are thematic… they have similarities of expressions running through them.
'My work is informed by today's growing culture of commercialization, the effect this has on our leisure time and global tourism and the inescapable consequences of corporate and brand domination that have ensued.
'Translating this into social wit, criticism and humorous vignettes through my lens is what stimulates me.
'I'm based in East London and Shoreditch, which has been an ideal training ground to practice my photography over the past 15 years. Brandishing my Glasgow upbringing has helped shape my style, which has been described as 'visually exaggerated'. My photos convey
a personalised point of view that is both believable and absurd.
'I took a course in photojournalism after finishing my degree in sports, but I consider myself self-taught as I've spent years taking photos to realise my ambition. As my photos became prolific on social networks I've attracted international clients like the New York
Times and Germany's Stern Magazine.
'Whereas I was a camera geek in the past my new obsession is photography books. I'm getting three books published this year and I'm continually working on new projects.
'Shoreditch Wildlife, my ongoing autobiographical account of living in Shoreditch for 15 years, will be published by Hoxton Mini Press, October 2014.'
From Shoreditch Wildlife: photo by Dougie Wallace, 2014 (via Dougie Wallace Glasweegee)