.
Sarah Palin: 'I Owe America a Global Apology': photo by AP via Huffington Post, 12 September 2014
Final Words
"Nuclear weaponry, of course, would be the be-all, end-all of just too many people in too many parts of our planet."
-- Sarah Palin, Republican party vice-presidential candidate, to CBS reporter Katie Couric, 25 September 2008

Palin family 'involved in drunken brawl' as house party turns nasty: image via punchumgum on twitter, 12 September 2014
Alleged Screaming, Chest-Pounding Drunk Snowmachine Clan Brawl in Great White North: "This isn't some damned Hillbilly reality show!"
Eyewitness comes forward on 'Palin brawl'
via Amanda Coyne: Inside Alaska Politics...So You Don't Have To Be, 11 September 2014
Eric Thompson was having fun with friends and his wife at a party in South Anchorage on Saturday night. Thompson, who is 56 years old, was the designated driver for the evening, so he wasn't drinking. But that was okay with him. He was among friends. It was a birthday party for twins Matt and Marc McKenna, who own McKenna Bros. Paving, for whom he works as a project supervisor. Marc is an Iron Dog snow machine racer. Other snow machine racers were said to have been there also.
The party was at the house of Korey Klingenmeyer, who is the office manager at McKenna Bros. According to Thompson, Klingenmeyer is a very large, muscular guy, "super easy going, and super friendly."
Most of the party was outside. A live band was playing. People were dancing. Thompson noticed two girls wearing sunglasses walking with an unusual amount of confidence around the yard. He only noticed them because of the sunglasses. That was odd, because it was at night. His wife told him it was Bristol and Willow Palin. "Does she think she's Marilyn Monroe?" he said to his wife about Bristol.
Todd and Sarah were there also. Todd races in the Iron Dog. According to another witness, Palin wore platform high-tops with the American flag emblazoned on them. Track Palin was there and so was Bristol's son, Tripp.
They had all pulled up earlier in the evening in a stretch Hummer limo. It was also Todd's 50th birthday.
He, along with the McKenna brothers and Klingenmeyer's son, who was also celebrating a birthday, were brought in front of the band. Everyone sang Happy Birthday.

View East along Glen Highway toward Mount Drum (elevation 12,002 Feet) and intersection of road and Trans-Alaska Pipeline. The 48-inch diameter pipeline will cross the roadway between the two vehicles. The exact point Is marked by a pair of wooden stakes along the right shoulder. Mile 673, Alaska Pipeline Route: photo by Dennis Cowals, August 1974 (US National Archives)
It wasn't long after that things started going horribly wrong, according to Thompson and a handful of others interviewed for this story.
Screams erupted. Profanities spewed. Fists flew. The Anchorage Police Department was called. The APD released a statement on Thursday, confirming that multiple people were involved in the fight. "However, at the time of the incident, none of the involved parties wanted to press charges and no arrests were made. However, the case is still an active investigation and is being reviewed by APD and the Municipal Prosecutors Office. Alcohol was believed to have been a factor in the incident. Some of the Palin family members were in attendance at the party," the statement said.
As I had reported a few days ago, multiple accounts say that it started when Track confronted Willow's former boyfriend, Conner Cleary, who was there with his father Steve and his mother Melissa. Thompson didn't see this part, but other witnesses, who didn't want to be named, say that Conner and Track fought on the front yard. Steve tried to break it up. Todd jumped into the mix and began to choke Steve.
After that ended, Conner, Steve, and Melissa Cleary huddled together close to Thompson, who spotted Bristol and Willow from a distance, walking straight towards them with purpose.

Sarah Palin and daughter Bristol at the MSNBC party after the White House Correspondents Association Dinner in 2011: photo by Jonathan Ernst / Reuters 2011 via Washinton Post, 12 September 2014
"They were on a b-line, coming straight at Melissa," Thompson said.
The owner of the house, Klingenmeyer, was trying to head them off at the pass. He approached them and told them to leave. Bristol, according to Thompson and other witnesses, planted her feet, "stood straight up, brought her arm back and cold-cocked him right in the face," Thompson said.
And then she did it again, about six more times, before he pushed her away, and she fell, and Todd appeared.
"I was thoroughly amazed at the restraint Korey showed. He's a total gentlemen," Thompson said.
Another melee. This time Sarah got involved and began to scream profanities at everyone. One source, who didn't want to be named, said that she was "nearly crawling on top of people," trying to get into the scrum.
Sarah Palin News: Sarah & Family Engage In Drunken Alaska Brawl!
: photo via Equality Rising!, 12 September 2014
As these things go, that also broke up, and the Palins were asked again to leave. They piled into the Hummer, but not until Track stood out in front of the house, inexplicably with his shirt off, his middle finger raised at those who were also leaving.
Then the cops came, and took statements from about 10 people, including Thompson. It's unclear who called them. Thompson thought it was the Palins.
"It was a really nice, mellow party," Thompson said. "Then it turned into the Jerry Springer show."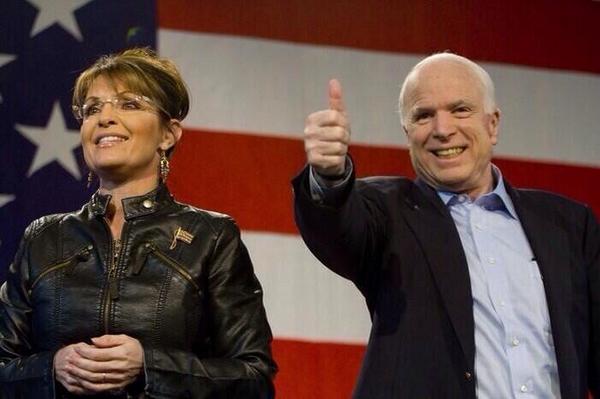 Sarah Palin Family Reportedly Involved In Epic 'Dog Pile' Fistfight At Snowmobile Party
: photo via The Baxter Bean on twitter, 12 September 2014
Hell hath no fury like a Palin family visit
via Amanda Coyne: Inside Alaska Politics...So You Don't Have To Be, 9 September 2014
Just when I was about to give up on them, the Gods of gossip came visiting this week, and as they've done in the past, they beckoned me to look towards Wasilla, towards the fortress of Our Lady of the North, the woman who was almost a heartbeat away from the presidency, whose family had a dramatic weekend, Wasilla style! As many of us have read, Bristol Palin was visited by a Floridian stalker on Sunday who somehow ended up on the family's balcony. The stalker currently sits in jail. That's pretty dramatic. But that's the least of it. The night before, Saturday, was a doozy. The details are a little sketchy, but there's enough of them, from enough different sources, that a story emerges, a story that according to the gossip Gods, looks kind of like this: There's some sort of unofficial birthday/Iron Dog-type/snowmachine party in Anchorage. A nice, mellow party, until the Palins show up.
Overheard At Palin Family Riot: 'This isn't some...Hillbilly reality show!
: image via The Baxter Bean on twitter, 12 September 2014
There's beer, of course, and maybe other things. Which is all fine, but just about the time when some people might have had one too many, Track Palin stumbles out of a stretch Hummer, and immediately spots an ex-boyfriend of Willow's. Track isn't happy with this guy, the story goes. There's words, and more. The owner of the house gets involved, and he probably wished he hadn't. At this point, he's up against nearly the whole Palin tribe: Palin women screaming. Palin men thumping their chests. Word is that Bristol has a particularly strong right hook, which she employed repeatedly, and it's something to hear when Sarah screams, "Don't you know who I am!" And it was particularly wonderful when someone in the crowd screamed back, "This isn't some damned Hillbilly reality show!" No, it's what happens when the former First Family of Alaska comes knocking. As people were leaving in a cab, Track was seen on the street, shirtless, flipping people off, with Sarah right behind him, and Todd somewhere in the foreground, tending to his bloody nose.
Everyone was was having a good ol' time before the Palins showed up: image via Emilio on twitter, 12 September 2014
Sarah Palin Talks About Killing Her Own Dinner in New Reality Show: Erin Dooley, ABC News, 4 April 2014
Former vice presidential candidate Sarah Palin served up some down-home Alaska charm -- and a platter of moose hot dogs and bear-meat chili -- on her new reality TV show, "Amazing America".
Hosting a television show is nothing new for the former governor, who began her career as a sportscaster for an Anchorage-area TV station and later hosted "Sarah Palin's Alaska" on TLC.
She promises the new show, which premiered Thursday, will be "unscripted, uncensored, unchained." One thing's certain: Palin is straight shooter -- literally and figuratively.
Sarah Palin aims a gun in the direction of a camera in a scene from her reality show
: photo by
Scope Feature
s
, 11 January 2011
"I tell my kids, 'Yes, we eat organic, we just have to go shoot it first,'" she told her first guest, DeeDee Jonrowe, a veteran Iditarod musher.
"Our meals happen to be wrapped in fur, not cellophane," Palin said, noting she didn't realize people actually bought meat until she attended college out-of-state.
Caribou trot across the tundra near Prudhoe Bay, where the Trans-Alaska oil pipeline will start: photo by Dennis Cowals, August 1973
(US National Archives)
A young female fox near Galbraith Lake Camp, along the planned route of the Trans-Alaska oil pipeline: photo by Dennis Cowals, August 1973
(US National Archives)
Day's work done, the Parka Squirrel stands on the bank and surveys its domain, with Franklin Bluffs in background, along the planned route of the Trans-Alaska oil pipeline: photo by Dennis Cowals, August 1973
(US National Archives)
In Thursday's double-episode premiere, the conservative politician-turned-reality-
show-host hit the trail with Jonrowe and her dogs.
"I love my life!" Palin screamed as she sped across the snow.
But "Mamma Grizzly" also made sure to slip in a reference to her political celebrity.
"When I do some kind of hit on national television, and people see the background, they think it's fake — it's not!"
Overheard At Palin Family Riot: The words 'Do you know who I am?': image via The Baxter Bean, 12 September 2014
Sarah Palin: 'I Owe America A Global Apology': Paige Lavender, The Huffington Post, 12 September 2014
Former Alaska Governor Sarah Palin said she owes America a "global apology" for the 2008 GOP presidential ticket's loss to President Barack Obama and Vice President Joe Biden.
During an interview with Fox News' Sean Hannity, Palin spoke about Obama's long-term strategy for defeating the Islamic State -- a militant group formerly known as ISIS or ISIL -- that he laid out in a speech Wednesday night.
"As I watched the speech last night, Sean, the thought going through my mind is, 'I owe America a global apology. Because John McCain, through all of this, John McCain should be our president,'" Palin said.
Sarah Palin buys a gun at a shop in Wasilla, Alaska, in a scene from her reality show, Sarah Palin's Alaska
: photo by
Scope Features
,
11 January 2011
Palin went on to compare the Islamic State to Hitler and questioned how seriously Obama is taking the group.
"So when Barack Obama, like the rest of us, hear these bad guys, these terrorists, promising that they will raise the flag of Allah over our White House, for the life of me I don't know why he does not take this serious, the threat. Because yes, it's more than a vision," Palin said. "They're telling -- just like Hitler did all those years ago, when a war could've been avoided, because Hitler, too, did not hide his intentions. Well ISIS, these guys aren't hiding their intentions either."
Sarah Palin says the strategy to deal with ISIS is we win, they lose: photo via Senator Kelli Ward on twitter, 4 September 2014
Is this the stretch Hummer the Palins took to the Palin Brawl?: image via Ukiddnme? on twitter, 12 September 2014
And that's when things got out of hand at the Palin Brawl..: image via Jeremy Newberger on twitter, 12 September 2014
Musician at the Snowmobile party where the Palin Brawl broke out: image via Jeremy Newberger via twitter, 12 September 2014
And then... the pool party
More images being released from the Palin Brawl: image via Jeremy Newberger on twitter, 12 September 2014
"Sarah Palin could not be reached for comment": image via Anomaly on twitter, 12 September 2014
Eyewitness lost job after saying on TV Sarah Palin family brawl was like 'Jerry Springer': image via Equality Rising! on twitter, 12 September 2014
Photo of Sarah Palin together with Matt McKenna, who fired employee Eric Thompson for speaking out about the Palin Brawl: image via Politicalgate Blog, 12 September 2014
Is Sarah Palin still drunk from that kegger brawl?: 'I owe America a global apology...': image via I.M. Important on twitter, 12 September 2014
Sarah Palin and family involved in Alaska house party brawl, police investigating: photo via ABC7 News on twitter, 12 September 2014
The only known picture of the THRILLAH IN WASILLA! Thinking of sending it to TMZ: image via Snarcasm on twitter, 11 September 2014
File photo of Brick Palin at the Palin Brawl: image via GDF on twitter, 11 September 2014