.

A Yemeni man walks past graffiti showing a US drone after al-Qaida in Yemen confirmed the death of its leader in a US drone strike, in Sana'a: photo by Yahya Arhab/EPA, 7 March 2016
Pakistani tribesmen gather
in the North Waziristan village of Tapi, 10 kilometers away from Miranshah,

for funeral prayers before the coffins of people killed in a US drone attack. Tribesmen and villagers claim that innocent civilians were killed in the 15 June attack.: photo by Thir Khan/ AFP, 16 June 2011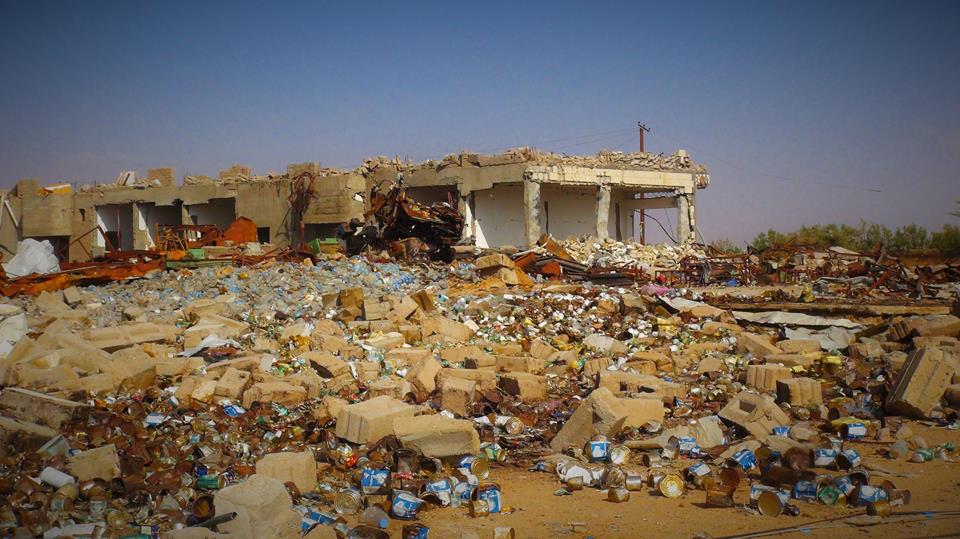 Every living thing in Saada is a #Saudi target. Even, now, the most needed food supplies. #Yemen Photo by @yahiasham: image via Ahmad Algohbary @AhmadAlgohbary, 7 March 2016
A man pulls two children on a sled through fresh snow at the clock forest, part of a park in Düsseldorf, Germany: photo by
Maja Hitij/DPA, via Agence France-Presse
, 7 March 2016
To look on youth, not as in the false heat and deceptive brightness of that first
Elated hour, the hour of the unwonted asterism, the hour
Of actually having it, but as in that minor hour, the hour of second order
Experience, in which you've been stuck since
That particular year, in which nature, revealing its ample power
To subdue and chasten, knocked flat your soul, and, in the hollow spot once filled, left
Road kill swaddled in a powder blue baby blanket
As though it were auditioning as the world's worst set designer
And still the fat slow flakes fluttered down
And still the hands turned, and still the hours
Chimed idiotically, and for a moment you inkled the still, sad music of humanity
You heard playing in the Chancellor's office, as you stood outside
In the hallway, in your unmatched bedroom slippers, praying
She wouldn't notice. Busy gal, you know.
How else are you going to stand it?
Otherwise, how could anybody stand it?
A man pulls two children on a sled through fresh snow at the clock forest, part of a park in Düsseldorf, Germany: photo by
Maja Hitij/DPA, via Agence France-Presse
, 7 March 2016
Kosovo Albanians hold torches in Prekaz, Kosovo, to commemorate the 46 soldiers in the Kosovo Liberation Army who were killed there by Serbian forces in 1998: photo by
Armend Nimani/Agence France-Presse
, 7 March 2016
Kosovo Albanians hold torches in Prekaz, Kosovo, to commemorate the 46 soldiers in the Kosovo Liberation Army who were killed there by Serbian forces in 1998: photo by
Armend Nimani/Agence France-Presse
, 7 March 2016
The Northern Lights, or Aurora Borealis, are visible over the Sycamore Gap at Hadrian's Wall in Northumberland, in northeast England: photo by
Owen Humphreys/Press Association, via Associated Press, 7 March 2016
The Northern Lights, or Aurora Borealis, are visible over the Sycamore Gap at Hadrian's Wall in Northumberland, in northeast England: photo by
Owen Humphreys/Press Association, via Associated Press, 7 March 2016
Security barrier in the Great Hall of the People in Beijing, where the National People's Congress, China's Parliament, is meeting: photo by
Jason Lee/Reuters, 7 March 2016
A security officer on guard in the Great Hall of the People in Beijing, where the National People's Congress, China's Parliament, is meeting: photo by
Jason Lee/Reuters, 7 March 2016
Clothing is left to dry on the barbed wire fencing
at the impromptu refugee camp in Idomeni, Greece: photo by
Valdrin Xhemaj/European Pressphoto Agency, 7 March 2016
Clothing is left to dry on the barbed wire fencing
at the impromptu refugee camp in Idomeni, Greece: photo by
Valdrin Xhemaj/European Pressphoto Agency, 7 March 2016
A refugee stands in line for tea at a camp near Idomeni, Greece photo Dimitar Dilkoff @AFP: image via NYT Photo @nytimes photo, 7 March 2016
Kurdish people display a picture of Turkish President Tayyip Erdogan during a protest outside an EU-Turkey summit in Brussels: photo by
Yves Herman/Reuters, 7 March 2016