.
A group of teenage migrants heading to England hide from the police in high grass near #Calais By @maryaturner: image via Photojournalism @photojournalink, 14 May 2016
The stories unaccompanied minors tell us of #Libya bring tears to our eyes and vomit to our throats: image via MSF Sea Verified account @MSF_Sea, 17 May 2016
Stevie Smith: To Carry the Child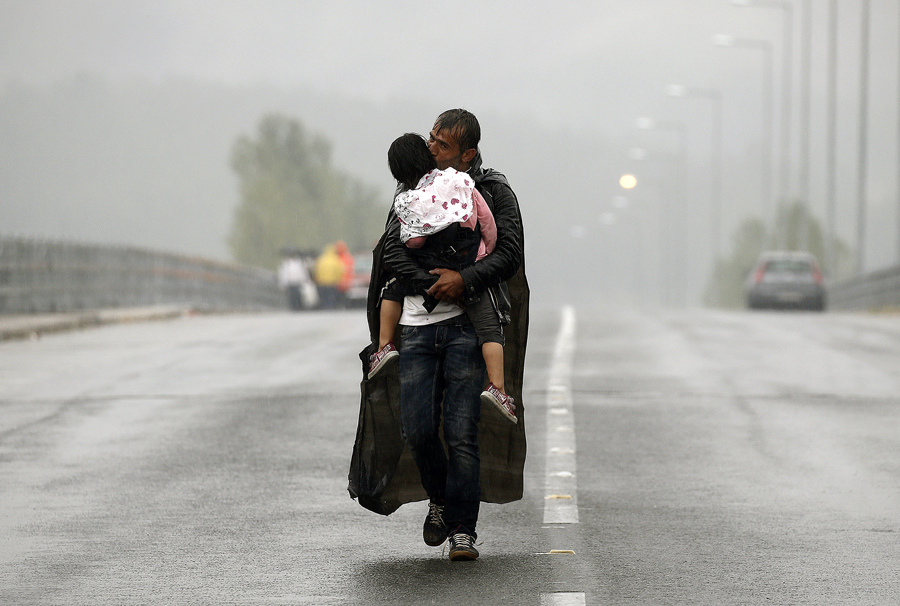 A Syrian refugee kisses his daughter as he carries her through a rainstorm towards Greece's border with Macedonia, near the Greek village of Idomeni: photo by Yannis Behrakis / Reuters, 10 September 2015
To carry the child into adult life
Is good? I say it is not,
To carry the child into adult life
Is to be handicapped.
The child in adult life is defenceless
And if he is grown-up, knows it,
And the grown-up looks at the childish part
And despises it.
The child, too, despises the clever grown-up,
The man-of-the-world, the frozen,
For the child has the tears alive on his cheek
And the man has none of them.
As the child has colours, and the man sees no
Colours or anything,
Being easy only in things of the mind,
The child is easy in feeling.
Easy in feeling, easily excessive
And in excess powerful,
For instance, if you do not speak to the child
He will make trouble.
You would say a man had the upper hand
Of the child, if a child survive,
I say the child has fingers of strength
To strangle the man alive.
Oh it is not happy, it is never happy,
To carry the child into adulthood,
Let children lie down before full growth
And die in their infanthood
And be guilty of no man's blood.
But oh the poor child, the poor child, what can he do,
Trapped in a grown-up carapace,
But peer outside of his prison room
With the eye of an anarchist?
Florence Margaret "Stevie" Smith (1902-1971): To Carry the Child, from The Best Beast, 1969


A Syrian refugee kisses his daughter as he carries her through a rainstorm towards Greece's border with Macedonia, near the Greek village of Idomeni: photo by Yannis Behrakis / Reuters, 10 September 2015
Wallace Stevens: The Poem that Took the Place of a Mountain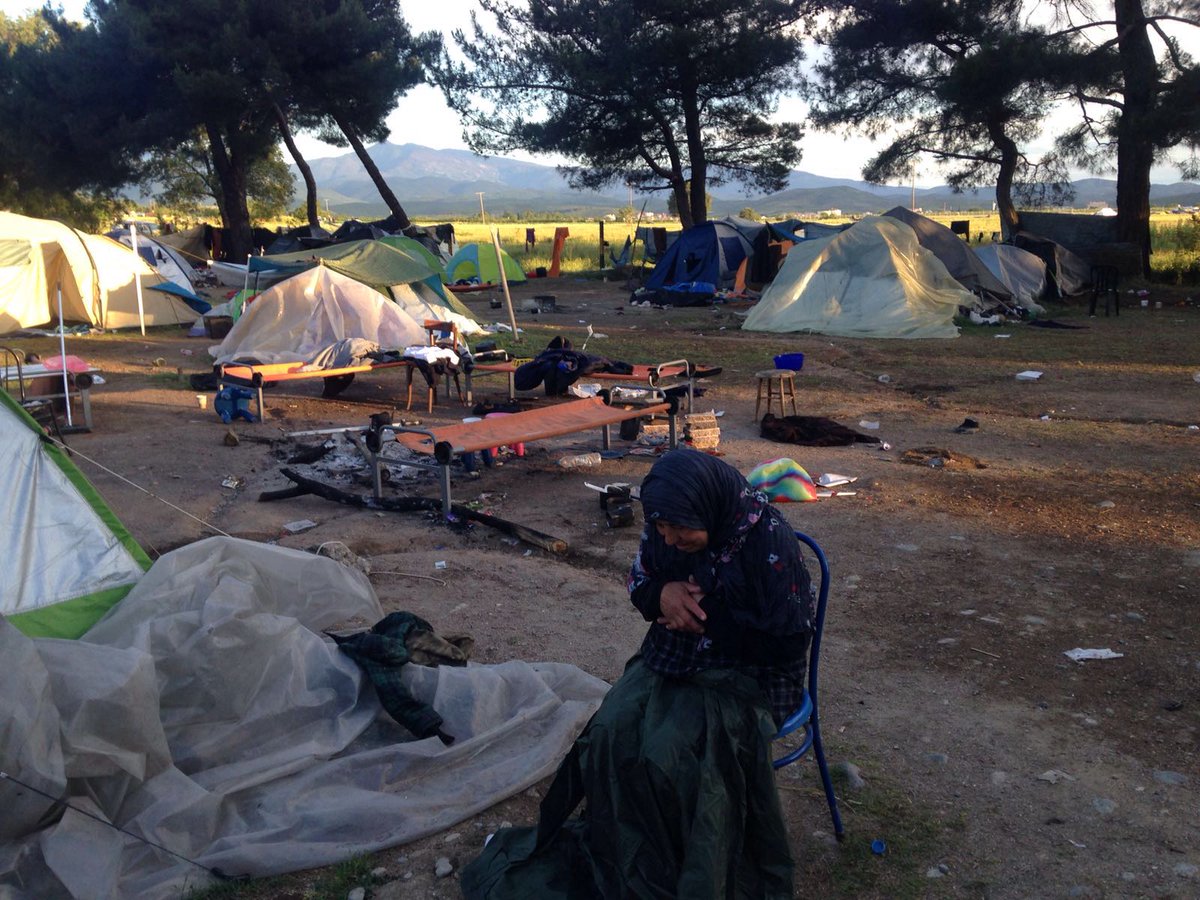 Those left in #Idomeni tell us they are desperate. This elderly woman from Syria was up early this morning...: image via MSF Sea @MSFSea, 25 May 2016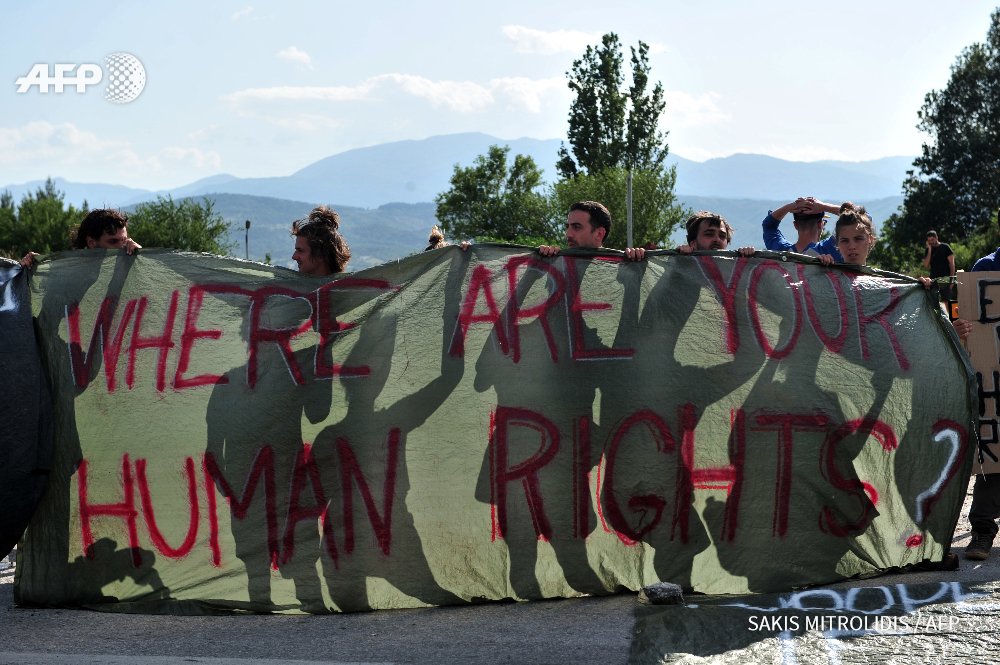 GREECE - Demonstrators hold a sign during the forced evacuation of refugees camp near Idomeni. By @SakisMitrolidis: image via Frédérique Geffard @fgeffardAFP, 24 May 2016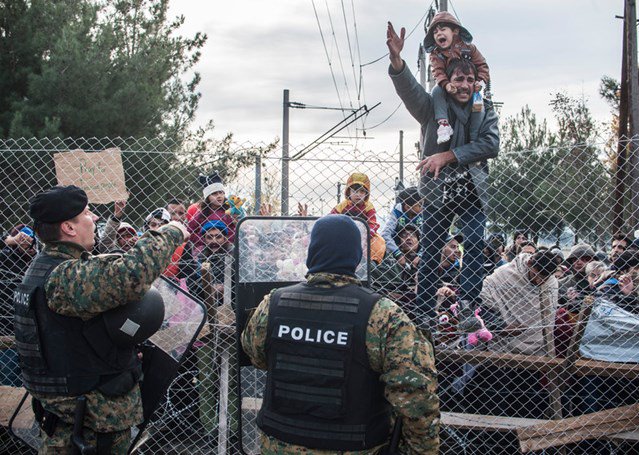 We have a responsibility to protect those fleeing persecution and violence. #RefugeesWelcome: image via AmnestyInternational @amnesty, 24 May 2016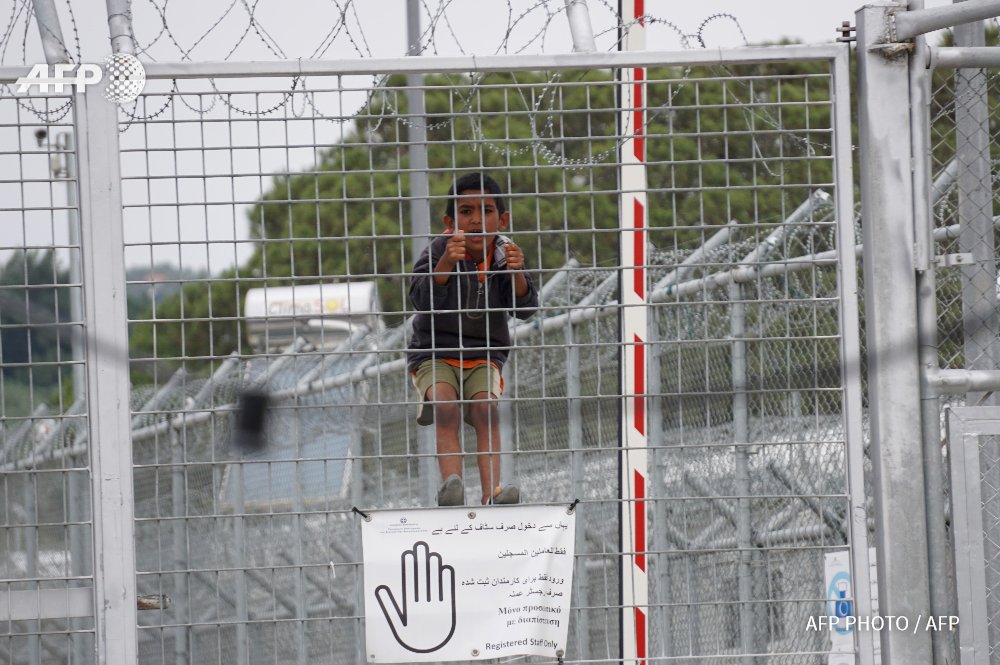 GREECE - A child looks through the fence at the Moria detention camp for refugees at the island of Lesbos. @AFPphoto: image via Frédérique Geffard @fgeffardAFP, 24 May 2016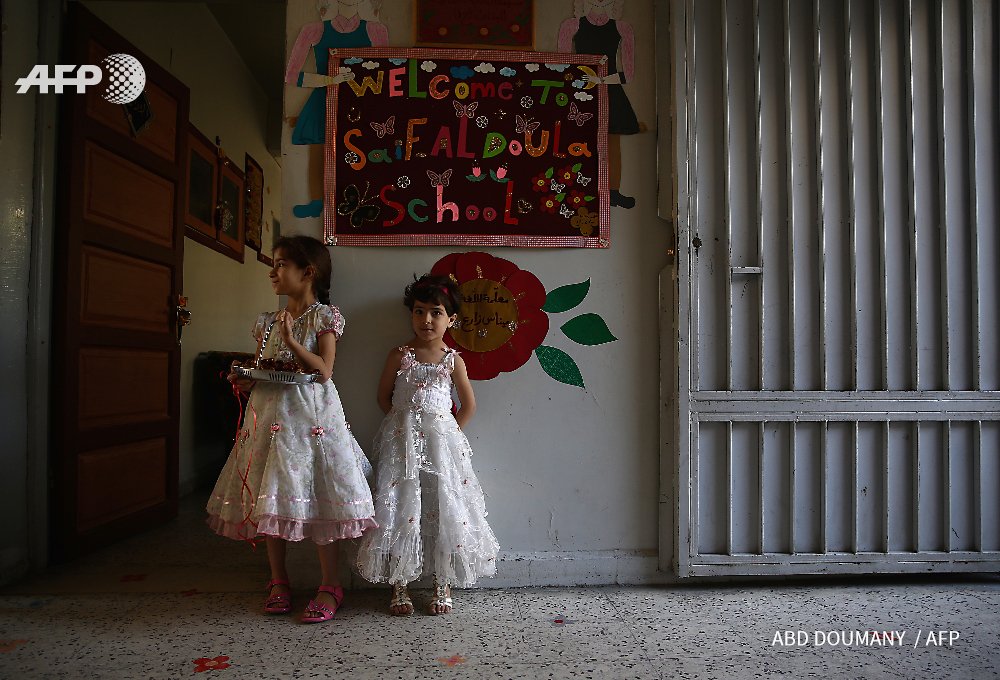 Syrian school girls stand at entrance of Saif al-Dawla school in besieged rebel bastion of Douma. @AbdDoumany #AFP: image via AFP Photo Department @AFPphoto, 25 May 2016

Britain's Prince Charles, Prince of Wales and his wife Camilla, Duchess of Cornwall, try produce inside McGettigans Butchers store in Donegal, north-west Ireland: photo by Paul Faith/AFP, 25 July 2016
Britain's Prince Charles, Prince of Wales and his wife Camilla, Duchess of Cornwall, try produce inside McGettigans Butchers store in Donegal, north-west Ireland: photo by Paul Faith/AFP, 25 July 201

6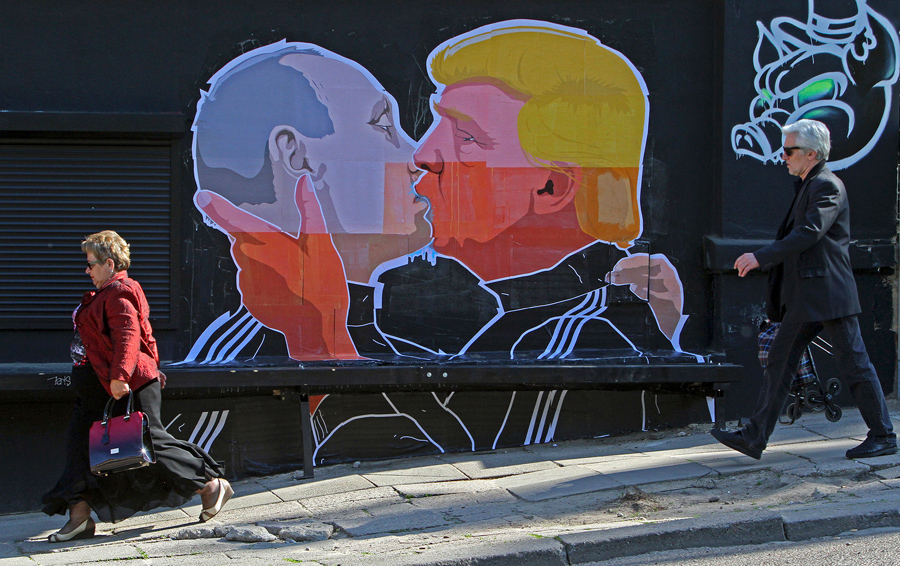 UK - Donald Trump kisses Boris Johnson on a mural in Bristol. By @geoff_caddick #AFP: image via Frédérique Geffard @fgeffardAFP, 24 May 201

6
A protester holds up his fist as riot police prepare to intervene to disperse refinery workers holding a blockade of the oil depot of Douchy-Les-Mines, France to protest against the government's proposed labour reforms: photo by Francois Lo Presti/AFP, 25 May 2016
A protester holds up his fist as riot police prepare to intervene to disperse refinery workers holding a blockade of the oil depot of Douchy-Les-Mines, France to protest against the government's proposed labour reforms: photo by Francois Lo Presti/AFP, 25 May 2016

Riot police stand guard behind a fire as refinery workers hold a blockade of the oil depot of Douchy-Les-Mines to protest against the government's proposed labour reforms. Refinery workers stepped up strikes that threaten to paralyse France weeks ahead of the Euro 2016 tournament as the government moved to break their blockades, escalating a three-month tug-of-war over labour reforms.: photo by François Lo Presti /AFP, 25 May 2016
#France Riot police officers detain a man during a demonstration against the labor reform in #Paris @LaurentCipriani: image via Photojournalism @photojournalink, 24 May 2016
An activist of the non-governmental environmental organization Greenpeace repaints with red paint a tuna logo on the building of the major French seafood wholesaler Petit Navire's canning factory to protest against fishing methods in Douarnenez, western France: photo by Fred Tanneau/AFP, 23 May 2016
An activist of the non-governmental environmental organization Greenpeace repaints with red paint a tuna logo on the building of the major French seafood wholesaler Petit Navire's canning factory to protest against fishing methods in Douarnenez, western France: photo by Fred Tanneau/AFP, 23 May 2016
A U.S. Capitol Police officer reacts to a Code Pink for Peace activist's protest sign: photo by Chip Somodevilla, 25 May 2016
A U.S. Capitol Police officer reacts to a Code Pink for Peace activist's protest sign: photo by Chip Somodevilla, 25 May 2016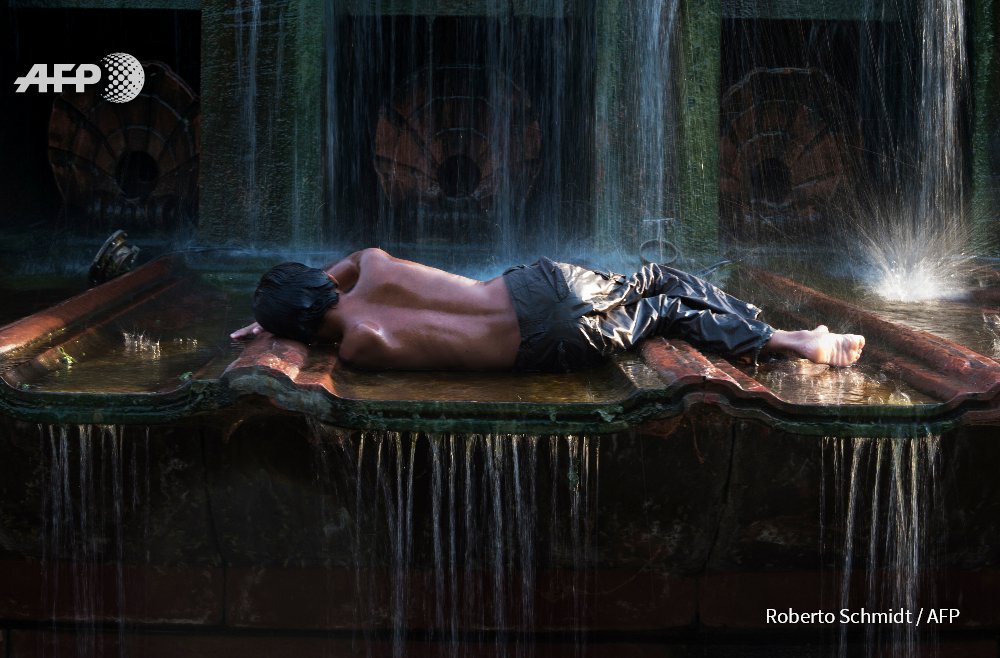 Golu, 10, a boy living on the streets of Delhi, lays on cascading water of fountain on hot Indian summer afternoon: image via Roberto Schmidt @robertoindelhi, 20 May 2016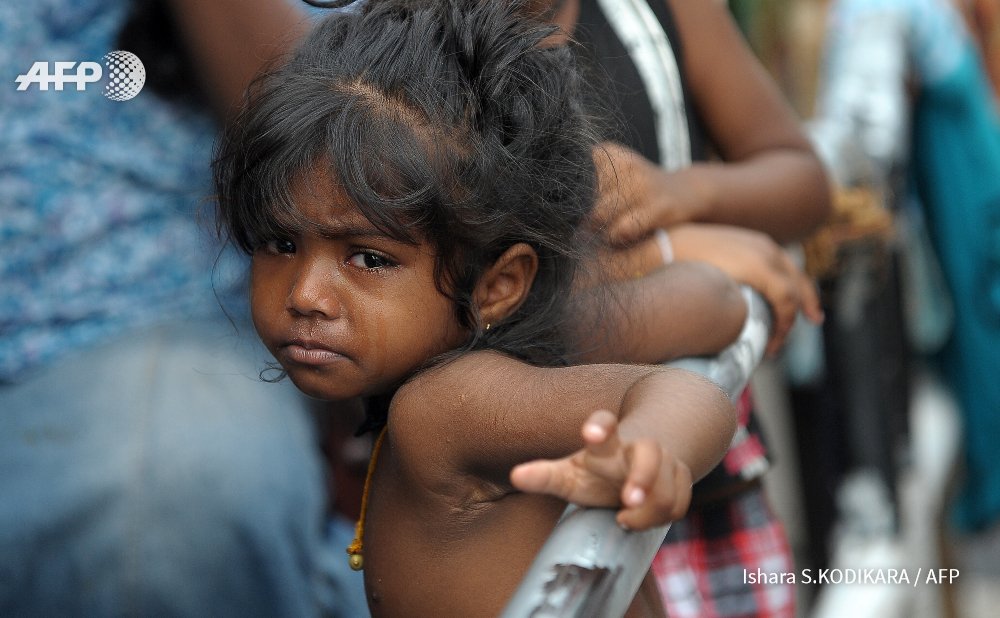 A young Sri Lankan flood victim looks on at roadside camp in Kelaniya. By Ishara S. Kodikara #AFP: image via AFP Photo Department @AFPphoto, 22 May 2016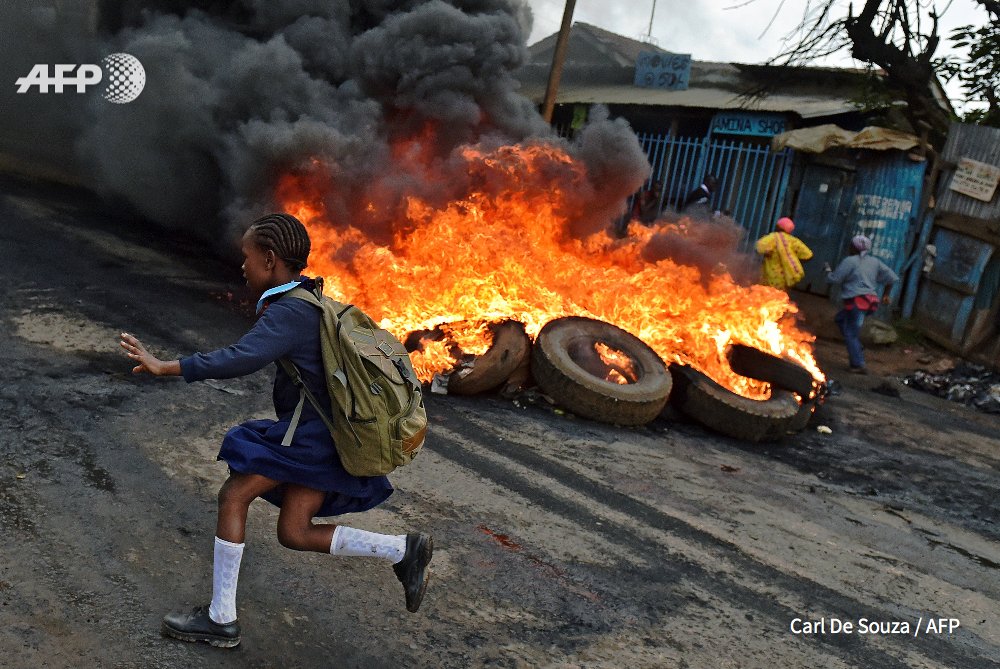 A schoolgirl runs past a barricade in #kibera, Nairobi during an opposition #IEBCprotests @AFPphoto @CarldeSouza1: image via AFP Photo Department @AFPphoto, 23 May 2016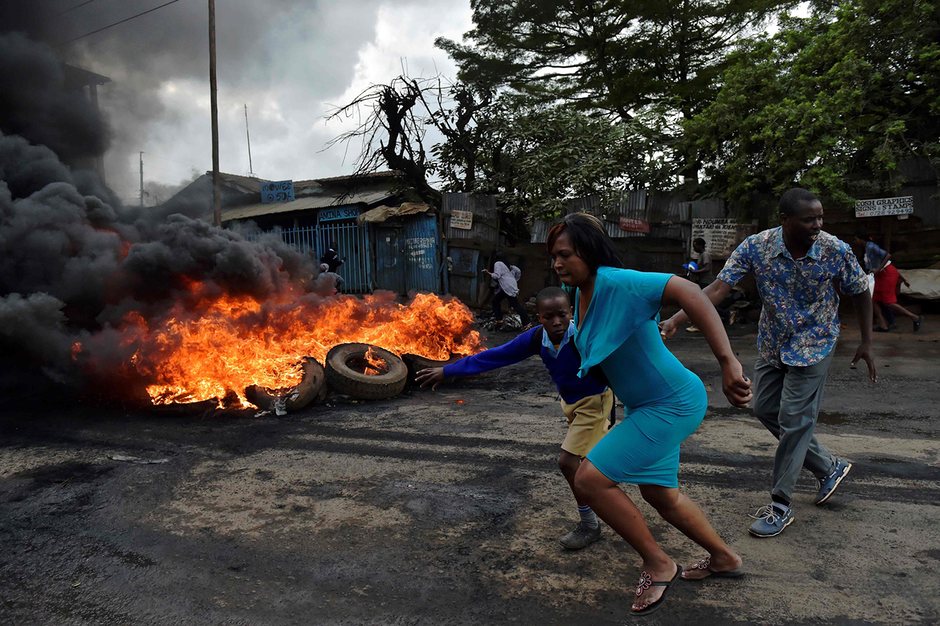 Monday in Nairobi,

by

@CarldeSouza1 for @AFPphoto: image via Tristan McConnell @t_mcconnell, 2

4

May 2016
Daisy Pearce of Melbourne is tackled by Emily Bates and Delma Gisu of Brisbane during the 2016 AFL Womens match between the Melbourne Demons and the Brisbane Lions at the Melbourne Cricket Ground in Melbourne, Australia: photo by Scott Barbour / AFL Media via The National, 23 May 2016
Bangladeshi men receive a face wash at a local barber shop near the port in Dhaka: photo by Roberto Schmidt / AFP, 25 May 2016
Yazidi refugee Yassir Hajji, 24, from Sinjar, Iraq, adjusts the eyebrows of his wife Gerbia, 18, in their room in the former of De Koepel prison in Haarlem: photo by Muhammed Muheisen / AP, 1 May 2016
A barber cuts his client's hair under the staircase of his apartment building in Havana, Cuba. Cuba says it will legalise small and medium-sized private businesses by adding a category of small, mid-sized and "micro" private business to the Communist party's master plan for social and economic development.: photo by Desmond Boylan / AP, 25 May 2016
A man shaves on the second floor of an old house in Guangfuli neighborhood in Shanghai, China: photo by Aly Song/Reuters, 1 April 2016
A man screams at people leaving the Baltimore courthouse after police officer Edward Nero was acquitted of all charges in the death of Freddie Gray in Baltimore, MD, USA. Freddie Gray died on April 19 2015 when he sustained a spinal injury in the back of a Baltimore police van: photo by Jim Lo Scalzo/EPA, 23 May 2016
A man screams at people leaving the Baltimore courthouse after police officer Edward Nero was acquitted of all charges in the death of Freddie Gray in Baltimore, MD, USA. Freddie Gray died on April 19 2015 when he sustained a spinal injury in the back of a Baltimore police van: photo by Jim Lo Scalzo/EPA, 23 May 2016
A view of old houses surrounded by new apartment buildings in Guangfuli neighborhood in Shanghai, China. Small houses stand in the midst of freeways, pedestrian malls, and are perched on concrete islands in the middle of pits excavated for underground parking lots.: photo by Aly Song/Reuters, 8 April 2016
Tao Weiren sits in front of his two-story house in Guangfuli neighborhood. Widespread dissatisfaction with the compensation offered by local governments led to protests by residents and engendered the "nail house" phenomenon: residents who refuse to accept the buyout offer and stay put, boarding up their homes to fend off attempts to remove them.: photo by Aly Song/Reuters, 8 April 2016
Yemenis gather during celebrations marking the 26th anniversary of Yemen's reunification, in Sana'a, Yemen: photo by Yahya Arhab/EPA, 23 May 2016
Yemenis gather during celebrations marking the 26th anniversary of Yemen's reunification, in Sana'a, Yemen: photo by Yahya Arhab/EPA, 23 May 2

016
A

partment buildings surround an old house, Guangfuli: photo by Aly Song/Reuters, 18 Apri

l 2016
A girl puts on lipstick and kisses the shield of the police in front of the Macedonian government building in Skopje, Macedonia. Several thousand people protested in front of the building, demanding the resignation of Prime Minister Nikola Gruevski.: photo by Ognen Teofilovski / Reuters, 5 May 2015
A dog runs on the remains of old houses covered with a green netting in the Guangfuli neighborhood: photo by Aly Song/Reuters, 18 April 2016
Li Guoqiang talks on his phone outside his house at Guangfuli neighborhood, in Shanghai, China. Li, 38, is a deliveryman who rents a place at Guangfuli.: photo by Aly Song/Reuters, 1 April 2016