.
A boy wears women's shoes as he balances with donated tea on a beam placed in the mud at the northern Greek border station of Idomeni. Bad weather returned after a brief pause and conditions in the refugee camp on the Greek-Macedonian where about 14,000 people are stranded have further deteriorated, many of its residents struggling struggling to cope with the many challenges posed by the heavy rain
.: photo by Vadim Ghirda/AP, 14 March 2016
In the weed of summer comes the green sprout why.
The sun aches and ails and then returns halloo
Upon the horizon amid adult enfantillages.
Its fire fails to pierce the vision that beholds it,
Fails to destroy the antique acceptances,
Except that the grandson sees it as it is,
Peter the voyant, who says, "Mother, what is that" --
The object that rises with so much rhetoric,
But not for him. His question is complete.
It is the question of what he is capable.
It is the extreme, the expert aetat. 2.
He will never ride the red horse she describes.
His question is complete because it contains
His utmost statement. It is his own array,
His own pageant and procession and display,
As far as nothingness permit

. . .

Hear him.
He does not say, "Mother, my mother, who are you,"
The way the drowsy, infant, old men do.
Wallace Stevens (1879-1955): Questions Are Remarks,1949, from The Auroras of Autumn, 1950

A refugee woman hangs clothes to dry at the sun after heavy rainfall at a makeshift camp for migrants and refugees at the Greek-Macedonian border near the village of Idomeni, Greece: photo by Kostas Tsironis / Reuters, 23 May 2016


Somali migrant Ijaawa Mohamed, 41, sits on a chair outside a room in the women's section of the former prison of De Koepel: photo by Muhammed Muheisen / AP, 26 April 2016


A young Sri Lankan flood victim looks on at a roadside camp in Kelaniya, on the outskirts of Colombo. Sri Lankan soldiers pulled more bodies from landslides and distributed food and water to hundreds of thousands of residents camped in shelters after major floods hit the island.: photo by Ishara S Kodikara / AFP, 22 May 2016
A boy rides a tricycle in between semi demolished houses in Guangfuli neighborhood, in Shanghai, China: photo by Aly Song/Reuters, 28 March 2016
Iraqi refugee Fatima Hussein, 65, and others wait in a bus heading to a government interview for their asylum-seeking process outside the former prison of De Koepel in Haarlem: photo by Muhammed Muheisen / AP, 6 May 2016
A woman smokes as she starts her electric bike at Guangfuli neighborhood in Shanghai, China: photo by Aly Song/Reuters, 28 March 2016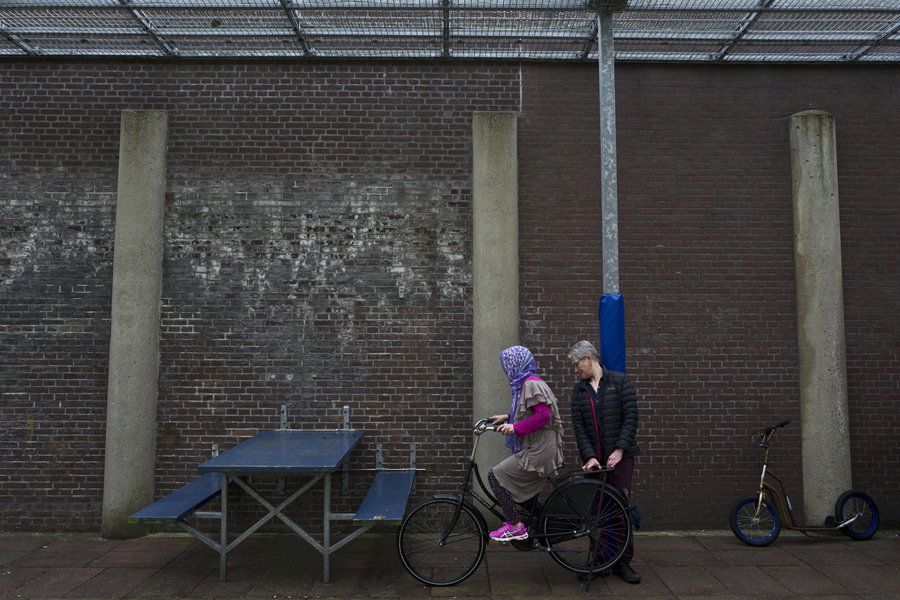 A Dutch volunteer teaches an Afghan refugee woman how to ride a bicycle in a yard in the former De Koepel prison: Muhammed Muheisen / AP, 2 May 2016


A man leads school children away from teargas and a burning barricade in Kibera slum, Nairobi during a demonstration of opposition supporters demanding a change of leadership at the electoral commission ahead of a vote due in 2017: photo by Carl De Souza/AFP, 23 May 2016
A man leads school children away from teargas and a burning barricade in Kibera slum, Nairobi during a demonstration of opposition supporters demanding a change of leadership at the electoral commission ahead of a vote due in 2017: photo by Carl De Souza/AFP, 23 May 2016
A migrant plays with a girl at the former prison of Westlingen in Heerhugowaard, northwestern Netherlands: photo by Muhammed Muheisen / AP, 8 April 2016


A camera screen shows German Interior Minister Thomas de Maiziere as he addresses a press conference after releasing the crime statistics in Germany for 2015, in Berlin: photo by John Macdougall/AFP, 23 May 2016
A camera screen shows German Interior Minister Thomas de Maiziere as he addresses a press conference after releasing the crime statistics in Germany for 2015, in Berlin: photo by John Macdougall/AFP, 23 May 2016
Syrian refugee Alaa Mohammed, 35, watches television in his room at the former prison of De Koepel: photo by Muhammed Muheisen / AP, 29 April 2016
A man sits in an alley in Guangfuli neighborhood: photo by Aly Song/Reuters, 24 March 2016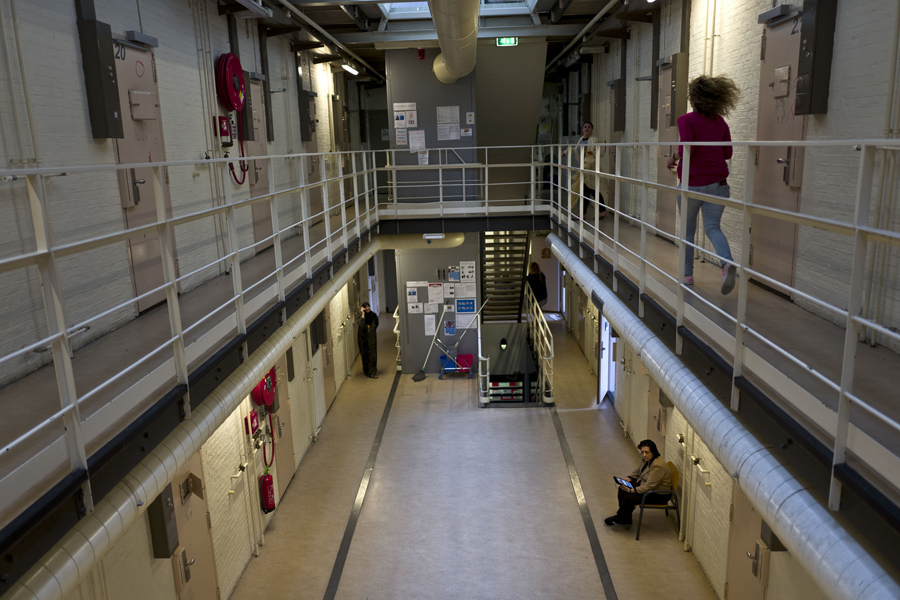 A migrant sits outside her room while another runs in the corridor of the women's section of the former prison of De Koepel: photo by Muhammad Muheisen/AP, 26 April 201

6

A Pakistani woman reads the Quran beside a relative's grave in a cemetery in Karachi, to mark Shab-e-Barat. Muslims across the world consider Shab-e-Barat as one of the three most sacred nights, the night of fortune and forgiveness: photo by Rizwan Tabassum / AFP, 23 May 2016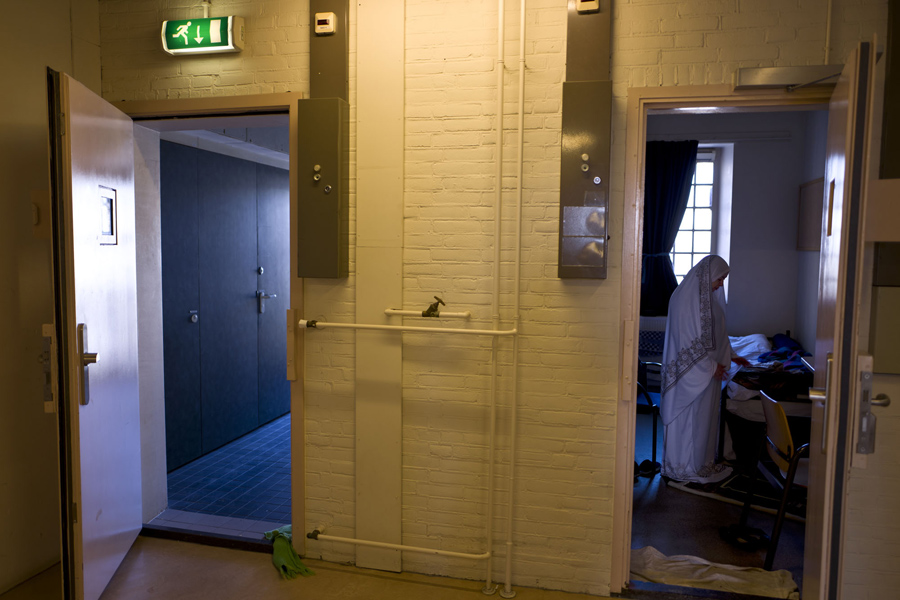 Iraqi refugee Fatima Hussein, 65, prays inside her room in the former De Koepel prison: photo by

Muhammed Muheisen / AP, 20 April 2016
Woman surnamed Xu watches TV at her eight-square-meter house where she lives with her husband at Guangfuli neighborhood. Residents experience extreme temperatures in their homes since many lack windows with glass and the walls are perforated with holes.: photo by Aly Song/Reuters, 8 April 2016