.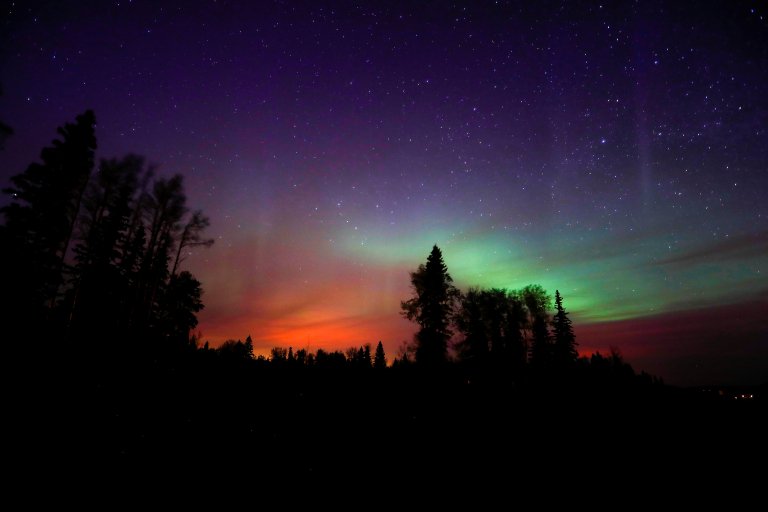 Stunning Reuters image of the red glow of the Canada wild fire underneath the northern lights #FortMcMurray
: image via Julia Macfarlane Verified account @juliamacfarlane, 7 May 2016 Alberta, Canad

a
The worshippers of Dionysus invoke their god (after Euripides: The Bacchae)
BACCHANTES [like a wail]. Bromius, Bromius . . .
LEADER [progressively radiant]. He . . . is . . .
Sweet upon the mountains, such sweetness
As afterbirth, such sweetness as death.
His hand strap wildness, and breed it gentle
He infuses tameness with savagery.
I have se
en him on the mountains, in vibrant fawn-skin
I have seen him smile in the red flash of blood
I have seen the raw heart of a mountain-lion
Yet pulsing in his throat.
In the mountains of Eritrea, in the deserts of Libya
In Phrygia whose copper hills ring with the cries of
Bromius, Zagreus, Dionysos,
I know he is the awaited, the covenant, promise,
Restorer of fullness to Nature's lean hours.
As milk he flows in the earth, as wine
In the hills. He runs in the nectar of bees, and
In the duct of their sting lurks -- Bromius.
Oh let his flames burn in you, gently,
Or else -- consume you it must -- consume you . . .
CHORUS. Bromius . . . Bromius . . .
LEADER. His hair a brush of foxfires in the wind
A streak of lightning, his thyrsus.
He runs, he dances,
Kindling the tepid
Spurring the stragglers
And the women are like banks to his river --
A stream of gold from beyond the desert --
They cradle the path of his will.
CHORUS. Come, come Dionysos . . .
[The worshippers of Dionysus invoke their god]: after Euripides: The Bacchae, 119-153: from Wole Soyinka (1934-): The Bacchae of Euripides, 1973
This photo taken in #FortMcMurray renders me utterly speechless. People, homes, businesses, trees, wildlife, gone ...: image via Wendy M @quillfeather, 7 May 2016
The inexorable law of tragedy
derives the conflagration

from a loose gas cap
but why should a forest harbour
a secret tragic wish to die

of humanity
Those who could still believe in a God
w

ith a fable of the changeless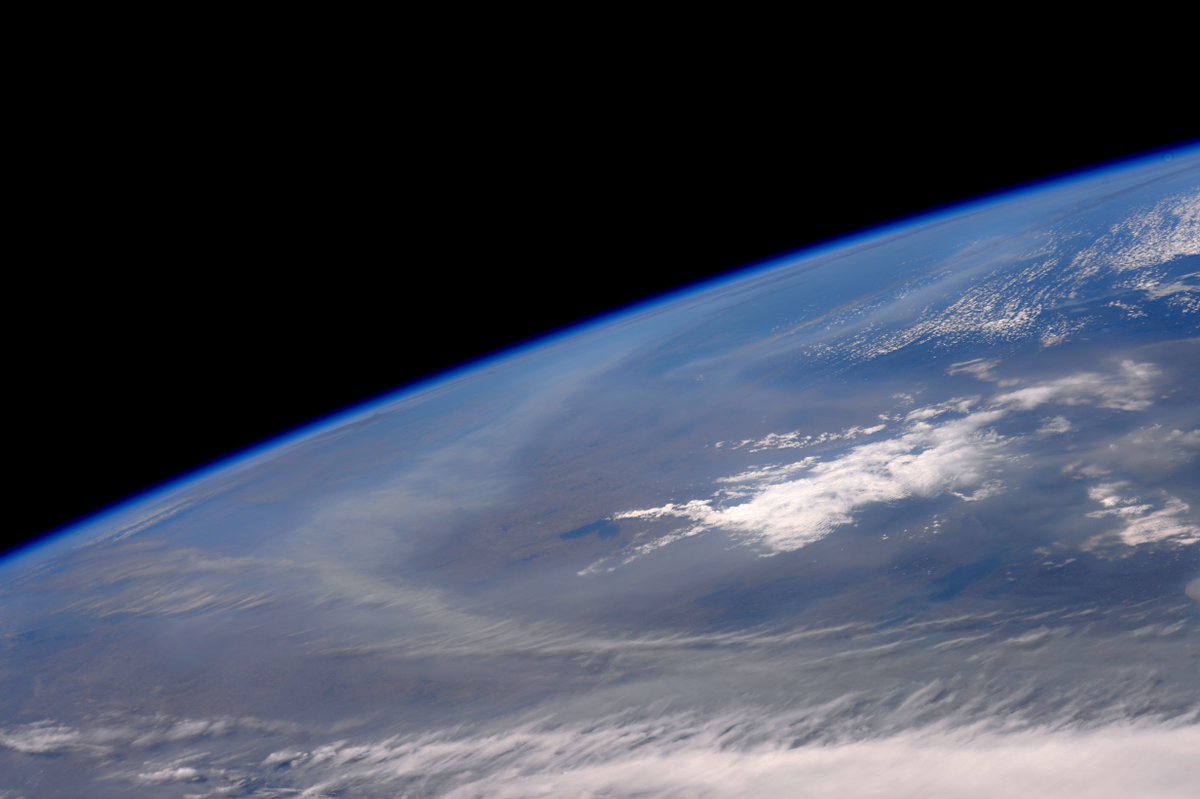 Smoke covering a vast area in @Canada. Our hearts go out to all those affected by the fires there. @SpaceStation: image via Tim Kopra @astro_tim, 8 May 2016 Houston, TX
Smoke from the fires in Alberta, primarily the 210,000-acre blaze near Fort McMurray, is affecting Saskatchewan, Manitoba, the north-central United States, and many areas in the eastern U.S. The map above was generated at 19:45 p.m. MDT May 7, 2016. Added yellow circle to emphasize a location on map, small red dots are fires burning.: image via NOAA Hazard Mapping System Fire and Smoke Product, 7 May 2016


On May 4, 2016, the the Enhanced Thematic Mapper Plus (ETM+) on the Landsat 7 satellite acquired this false-color image of the wildfire that burned through Fort McMurray in Alberta, Canada. The image combines shortwave infrared, near infrared, and green light (bands 5-4-2). Near- and short-wave infrared help penetrate clouds and smoke to reveal the hot spots associated with active fires, which appear red. Smoke appears white and burned areas appear brown.: NASA Earth Observatory image by Joshua Stevens, using Landsat data from the U.S. Geological Survey, 4 May 2016




Dorian McCready, who was dropping off supplies to a command post, searched for a friend's home in an evacuated neighborhood of Fort McMurray on Saturday to try to rescue some sentimental items for the friend: photo by Ian Willms for The New York Times, 8 May 2016



Evacuees from the wildfire taking refuge at the Bold Center in Lac La Biche, Alberta, 137 miles south of Fort McMurray, on Saturday: photo by
Tyler Hicks/The New York Times, 8 May 2016
The inexorable law of tragedy
Payback is a Maserati parked in your perfectly clean

driveway

back at base camp
while you chill with your phone in a sleeping bag
one among many isolated points of light


in the big gym at Lac La Biche
far from empty but as yet still untoasted downtown Fort Make Money

A displaced person looks at the fire on a mobile phone at a makeshift evacuee center in Lac la Biche, Alberta: photo by Cole Burston / AFP, 5 May 2016


A convoy of evacuees headed south from Fort McMurray on Saturday
: photo by
Ian Willms for The New York Times, 8 May 2016

A vehicle is stored in a shipping container at Ferrari Maserati of Alberta, in Calgary, to protect it from hail storms. Low oil prices have negatively impacted Alberta's economy.: photo by Ian Willms for The New York Times, 12 October 2015

The waterpark at MacDonald Island Park in Fort McMurray. The increase in oil sands development has turned obscure Fort McMurray into a boomtown and an outsize contributor to the entire Canadian economy.: photo by Ian Willms for The New York Times, 12 October 2015

A bus stop in Fort McMurray from which workers are taken to oil sands sites: photo by Ian Willms for The New York Times, 12 October 2015


A bus chartered to take workers to and from oil sands sites sits in the new Parson's Creek subdivision: photo by Ian Willms for The New York Times, 12 October 2015


New houses in the Parson's Creek subdivision attract oil sands workers who are looking to establish themselves in Fort McMurray: photo by Ian Willms for The New York Times, 12 October 2015
one among many isolated points of light


The Syncrude oil sands plant, north of Fort McMurray, Alberta, Canada. Alberta is home to the third-largest crude oil deposits in the world: photo by Ian Willms for The New York Times, 12 October 2015
The Syncrude oil sands plant, north of Fort McMurray, Alberta, Canada. Alberta is home to the third-largest crude oil deposits in the world: photo by Ian Willms for The New York Times, 12 October 2015

A tailings pond near Fort McMurray, Alberta, Canada: photo by Ian Willms for The New York Times, 12 October 2015
A
A tailings pond near Fort McMurray, Alberta, Canada: photo by Ian Willms for The New York Times, 12 October 2015
A scarecrow set up in a tailings pond, north of Fort McMurray. Many energy companies have too much invested in the oil sands to slow down or turn off the taps.: photo by Ian Willms for The New York Times, 12 October 2015
Sweet upon the mountains, such sweetness
As afterbirth, such sweetness as death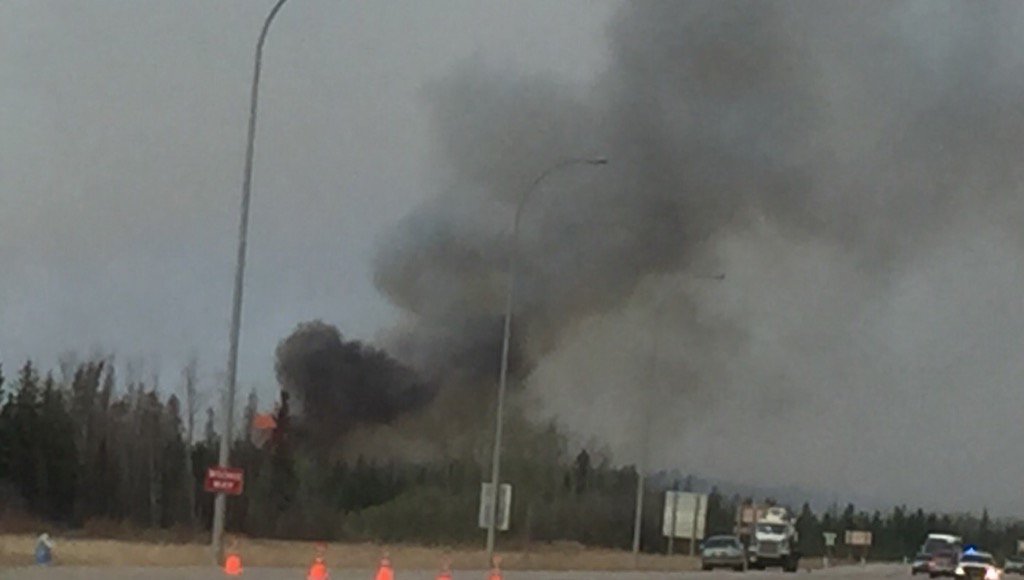 Flames erupt as the convoy of #FortMacFire finally make their way through the city they fled days ago: image via Avery Haines @CityAvery, 7 March 2016
A massive wildfire, which caused a mandatory evacuation, rages south of Fort McMurray near Anzac, Alberta, Canada:
photo by Chris Schwarz / Government of Alberta / Reuters, 4 May 2016

A plume of smoke hangs in the air as forest fires rage on in the distance in Fort McMurray. Numerous vehicles can be seen abandoned on the highways leading from the raging forest fires in Fort McMurray and neighbouring communities have banded together to offer support in the form of food, water, and gasoline.: photo by Cole Burston / AFP, 4 May 2016
Smoke billows from the Fort McMurray wildfires as a truck drives down the highway in Kinosis, Alberta: photo by Mark Blinch / Reuters, 5 May 2016



Officers look on as smoke from Fort McMurray's raging wildfires billows into the air after their city was evacuated: photo by Topher Seguin / Reuters, 4 May 2016


A toy car remains among the ruins of destroyed buildings after wildfires tore through the Waterways area of Fort McMurray: photo by Brad Readman / Alberta Fire Fighters Association / Reuters, 5 May 2016


A flock of birds flies in formation as smoke billows from the Fort McMurray wildfires above Kinosis, Alberta: photo by Mark Blinch / Reuters, 5 May 2016
Smoke and flames can be seen along the highway near Fort McMurray, Alberta. Canadian police led convoys of cars through the burning ghost town of Fort McMurray Friday in a risky operation to get people to safety far to the south. In the latest chapter of the drama triggered by monster fires in Alberta's oil sands region, the 50-car convoys are driving through the city at about 50-60 kilometers per hour (30-40 mph), TV footage showed.: photo by Cole Burston / AFP, 6 May 2016
Smoke rises in a burned-out neighborhood in Fort McMurray, Alberta, after wildfires forced the mass evacuations of the areas around Fort McMurray: photo by Bonnyville Regional Fire Authority / Reuters, 6 May 2016
A blazing housing estate in Huskvarna, Sweden
: photo by Anna Hallams / TT News Agency / Reuters, 1 May 2016
Firefighters battle a three-alarm fire in the historic Serbian Orthodox Cathedral of St. Sava in New York. Authorities say no injuries were reported in the blaze that broke out early Sunday evening in the church.: photo by Kathy Willens / AP, 1 May 2016
St. Louis Cardinals pitcher Adam Wainwright is splashed with water after hitting a three-run home run during the fourth inning of a baseball game against the Philadelphia Phillies, in St. Louis: photo by Billy Hurst / AP, 2 May 2016
Police officers detain a protester during anti-capitalist protests following May Day marches in Seattle, Washington: photo by David Ryder / Reuters, 1 May 2016
Dilek Dundar, Can Dundar's wife, and his lawyer, 2nd left, overpower a gunman just after an attack on Can Dundar outside the city's main courthouse in Istanbul on May 6, 2016. A man shouted "traitor" and fired two shots at the prominent Turkish journalist outside a courthouse where he is on trial, accused of revealing state secrets for his reports on alleged government arms-smuggling to Syria. Can Dundar, editor-in-chief of the opposition Cumhuriyet newspaper, escaped the attack unhurt, but Yavuz Senkal, a journalist working for private NTV television was slightly injured in one of his legs.: photo by Can Erok / AP, 6 May 2016
Villarrica Volcano is seen at night from Villarrica National Park in Pucon, Chile: photo by Cristobal Saavedra / Reuters, 4 May 2016
A Nepalese Hindu devotee takes a holy bath as they mark the Mother's Day Festival at Matathirtha on the outskirts of Kathmandu: photo by Prakash Methema/AFP, 6 May 2016
A Nepalese Hindu devotee takes a holy bath as they mark the Mother's Day Festival at Matathirtha on the outskirts of Kathmandu: photo by Prakash Methema/AFP, 6 May 2016