.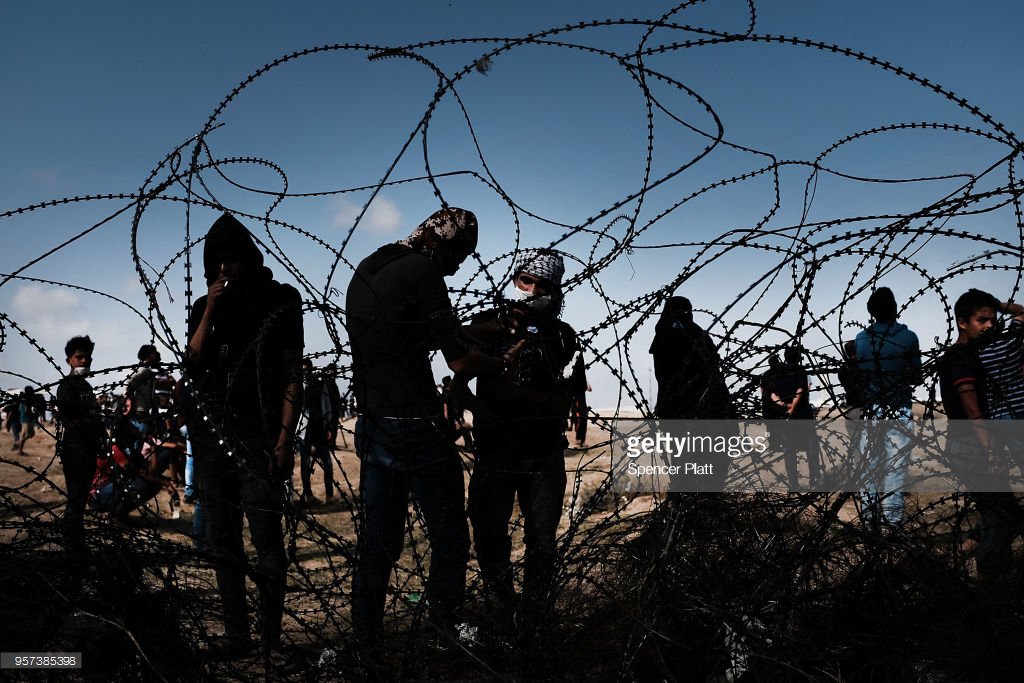 Palestinian youth pull away a section of the border fence with Israel. On May 15 the protests will culminate to mark the 'nakba', or catastrophe, the anniversary of their mass uprooting during the 1948 war over Israel's creation
. Photo @spencerplatt1: image via Getty Images News @GettyImages News, 11 May 2018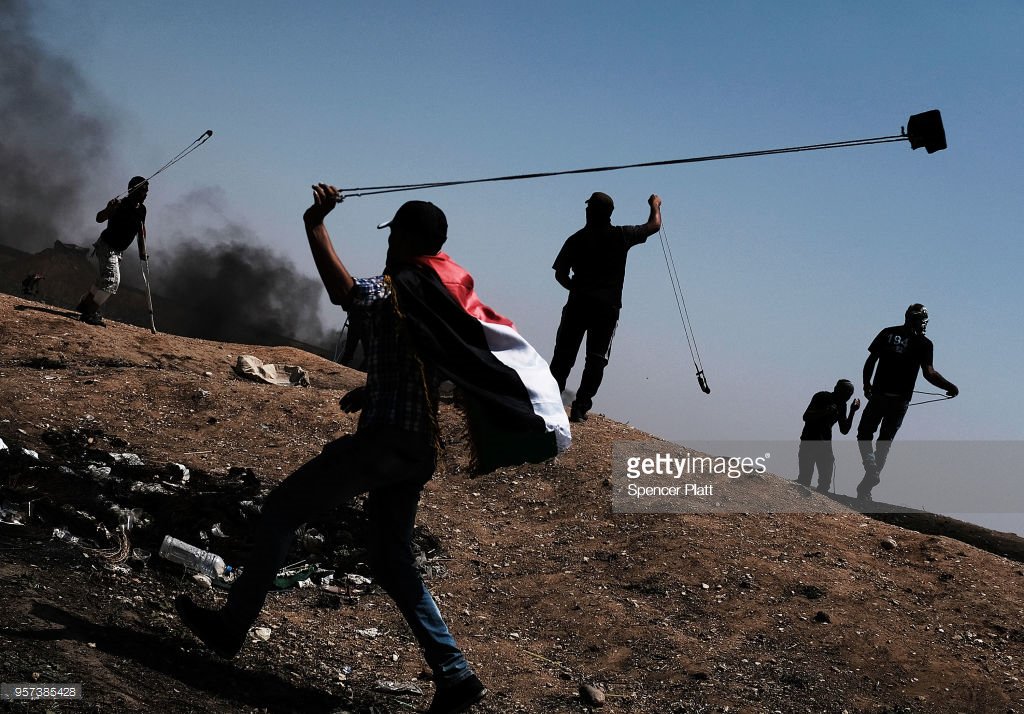 Palestinians throw rocks towards the border fence that are part of weekly Friday demonstrations along Gaza's border with Israel. Hamas have vowed that the marches will continue until the decade-old blockade of the territory is lifted.
Photo @spencerplatt1: image via Getty Images News @GettyImages News, 11 May 2018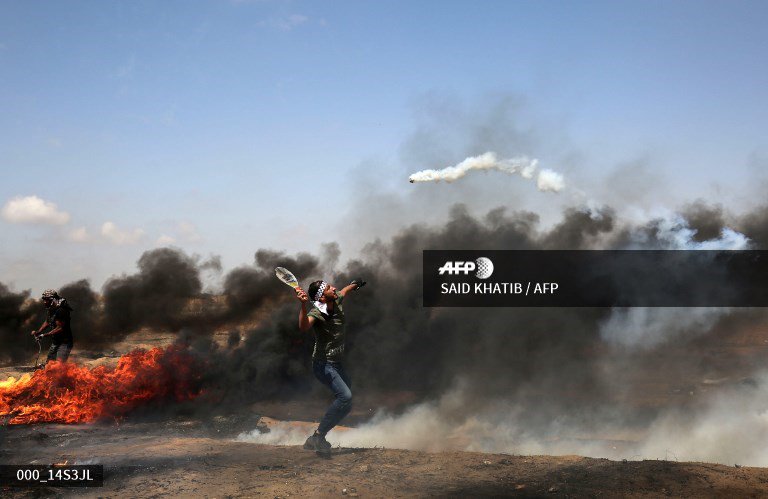 GAZA STRIP - Palestinians demonstrate for the right to return to their historic homelands in what is now Israel. Photo @saidkhatib #AFP: image via Frédérique Geffard @fgeffardAFP, 11 May 2018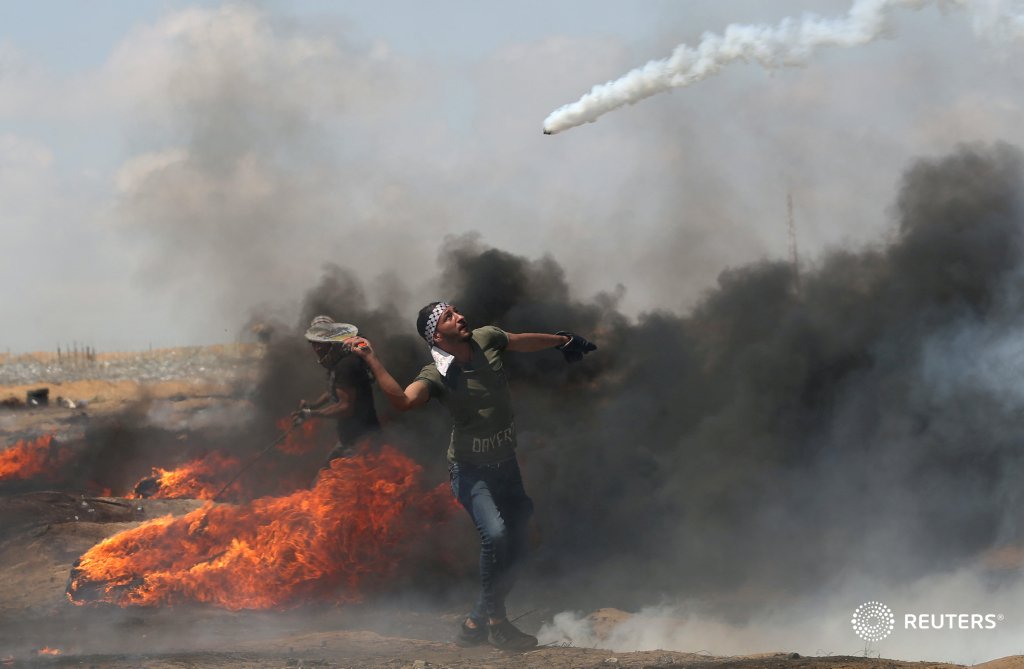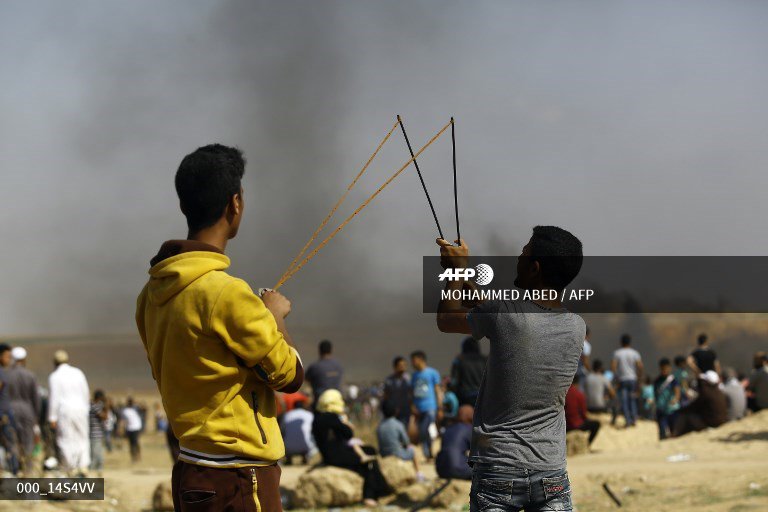 GAZA STRIP - Palestinians demonstrate for the right to return to their historic homelands in what is now Israel. Photo @mohmdabed #AFP: image via Frédérique Geffard @fgeffardAFP, 11 May 2018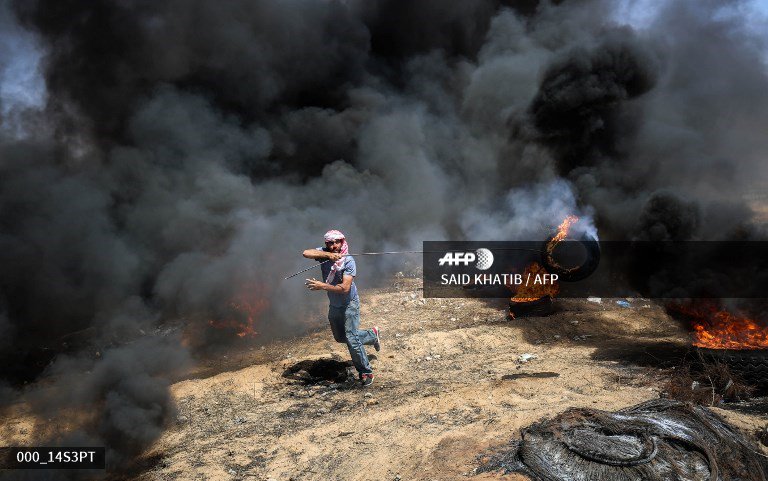 GAZA STRIP - Palestinians demonstrate for the right to return to their historic homelands in what is now Israel. Photo @saidkhatib #AFP: image via Frédérique Geffard @fgeffardAFP, 11 May 2018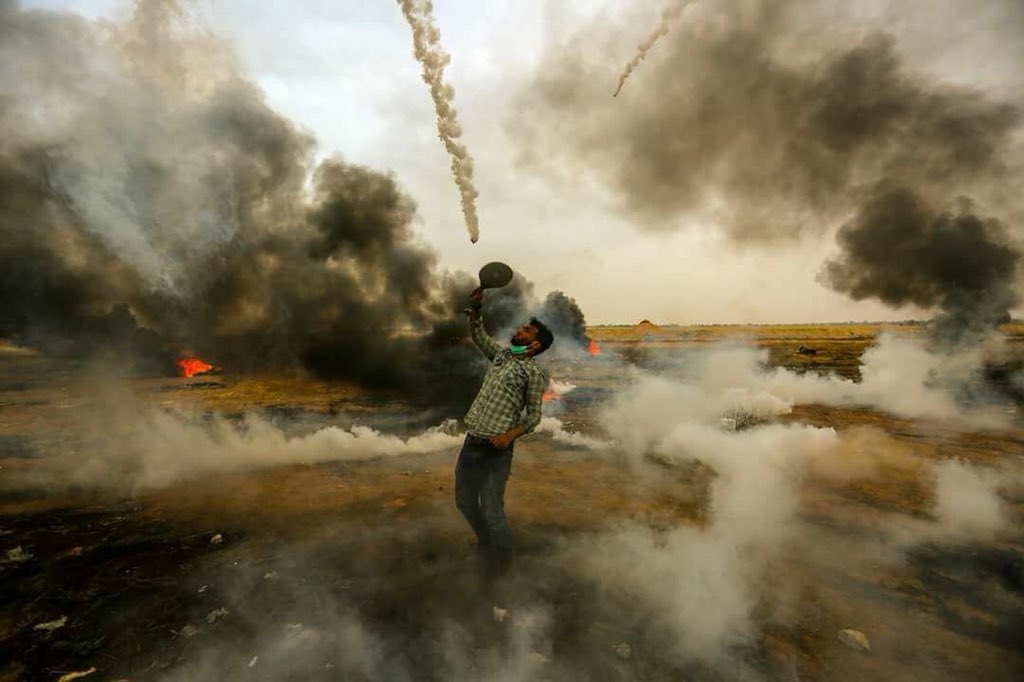 מטקות בעזה
From Gaza: image via nir dvori, 10 May 2018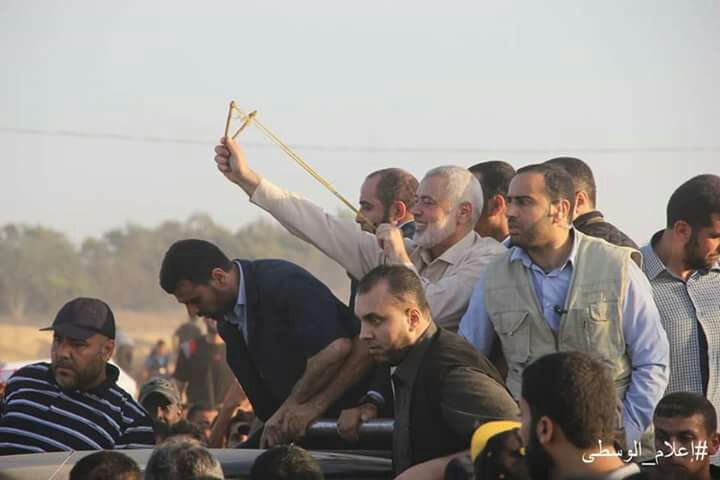 דוגמה אישית. הניה בגבול עזה
Personal example. Put it on the Gaza border!: image via nir dvori, 11 May 2018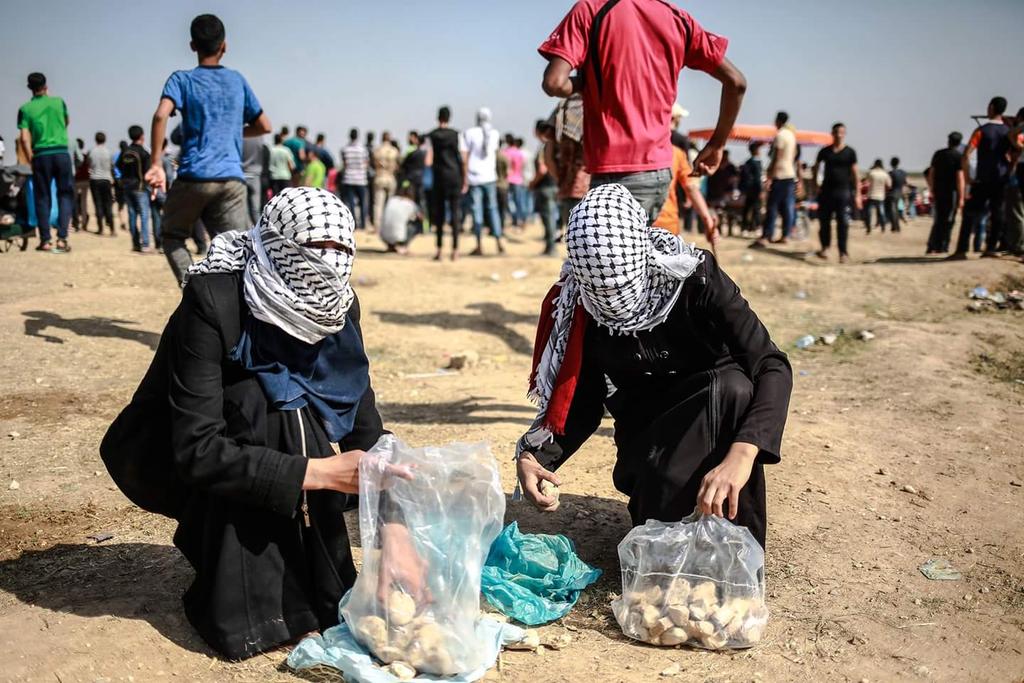 #Gaza border Today, By:

H

osam Salem / @AJEnglish: image via Hosam

S

alem @HosamSalemG, 11 May 2018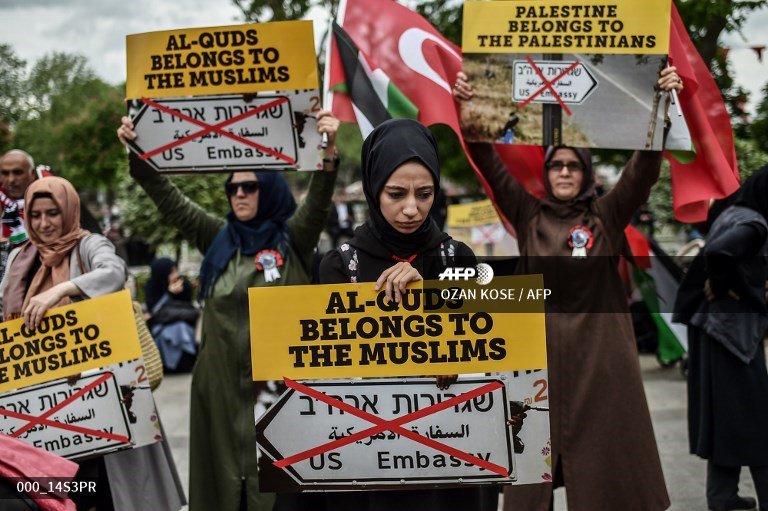 #
Turkey Demonstration in Istanbul against US President Donald Trump's controversial decision to recognise Jerusalem as Israel's capital by the opening of a US embassy in the city. Photo @ozannkosee #AFP: image via Frédérique Geffard @fgeffardAFP, 11 May 2018

Big week next week when the American Embassy in Israel will be moved to Jerusalem. Congratulations to all!: tweet via Donald J. Trump @realDonaldTrump, 11 May 2018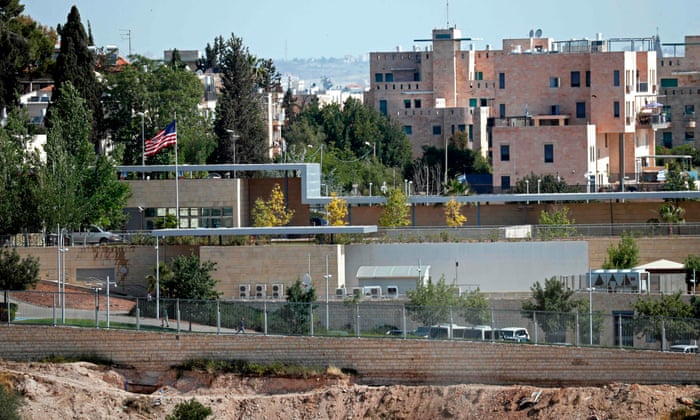 Israel at 70: jubilant US embassy opening masks fevered times

: Move from Tel Aviv to Jerusalem is celebrated in land where 'Netanyahu is king and

Trump is a god': Olive

r

Holmes in Jerusalem, The Guardian, Fri 11 May 2018
F
lowers – red, white and blue – form the image of the US flag on the road leading up to the site of the new American mission in Jerusalem. "US embassy" signs have been hoisted in the neighbourhood. The US embassy Twitter account – previously in Tel Aviv as @usembassytlv – is now @usembassyjlm.
All is set for the inauguration on Monday, an opening charged with symbolism that its organisers anticipate will set off a wave of euphoria across the Jewish state 70 years since it declared independence on 14 May 1948.
Hundreds of guests will attend, alongside a White House delegation led by John Sullivan, US deputy secretary of state, and including the much higher-profile Ivanka Trump, and her husband, Jared Kushner.
For Israel's prime minister, the embassy move is seen as one of two gifts from Donald Trump to the country, the other being his exit this week from the Iran nuclear deal that will reimpose sanctions on Benjamin Netanyahu's arch-enemy.
Yet a celebratory atmosphere masks a particularly feverish time for Israel, even, some say, by historical standards.
To Israel's south, the army has been lambasted internationally for its lethal response to Palestinian protests that have not relented for weeks. To the north, and for the first time in decades, the country is facing the possibility of on-off interstate war.
Trump's decision to recognise the holy city as Israel's capital was made in stark defiance of long-held international consensus that the status of divided Jerusalem should be negotiated with the Palestinians.
Senior Palestinian official Nabil Shaath, speaking near the site of the new embassy, said Trump was "siding totally with Israeli annexation and Israeli cleansing of our people from Jerusalem".
As the US president's daughter attends the pomp, less than 60 miles away, a six-week protest spurred on by anger and desperation at Trump's embassy decision is expected to culminate in a mass demonstration in Gaza.
Next week has added significance for millions of Palestinians, who will mark seven decades since the displacement of hundreds of thousands of people who either fled or were forced from their homes during the war surrounding Israel's creation.
Gaza's protesters have vowed to break through the perimeter fence despite the presence of Israeli snipers deployed on sandbanks behind it.
The Gaza-based leader of Hamas, which rules the enclave, said the rallies would be peaceful but would not be held back. "What's the problem if hundreds of thousands storm this fence which is not a border of a state?" Yahya Sinwar said, claiming the frontier was not internationally recognised.
Israel's use of live ammunition against unarmed masses has killed dozens of Palestinians, including journalists, and wounded around 1,700, including children shot in the legs.
On Friday, Israeli troops killed one protester and wounded 49 others, according to Gaza's health ministry. The Israeli military said 15,000 Palestinian "rioters" had taken part and thrown "pipe bombs and grenades" towards Israeli troops. No Israeli has been wounded during the six-week movement.
In stark contrast to that of the White House, the general international reaction to the Israeli army's actions has been condemnatory.
In a separate move defying global allies, Trump effectively pulled out of the 2015 Iran nuclear agreement on Tuesday, a decision that has shaken an already turbulent Middle East.
On Thursday, Israel accused Tehran's forces of launching a barrage of rockets at its troops in the occupied Golan Heights. Iran did not confirm it had fired but the incident follows reports of multiple unclaimed and surreptitious Israeli strikes on Tehran's outposts in Syria this year.
Saying it was retaliating against the rockets, Israel launched a massive operation on its Arab neighbour – the largest in Syria since the early 70s.
The Israel Defence Forces claimed its missiles hit nearly all key Iranian military targets in Syria during dozens of strikes. The operation, nicknamed "house of cards", was lauded by unnamed military officials in local media as a huge success against its enemies.
A poll this month found 63% of Israelis thought the embassy move was in Israel's best interests and 71% believed that the military's open-fire policy in Gaza was justified. Closed to half believed Iran and Israel were unlikely to fight directly, although the poll was conducted before Thursday's confrontation.
Ahead of the embassy opening, others have cautioned against jubilation over the US pullout of the Iran deal and the Israeli attack in Syria.
"In Israel these days, Benjamin Netanyahu is king and Donald Trump is a god. Adrenaline is flowing through the nation's veins and testosterone could soon spill over," wrote Chemi Shalev, the US editor for the left-leaning Israeli newspaper Haaretz.
"[C]ritics of the two leaders can only hope and pray that their apprehensions are misplaced and that euphoria, for a change, won't turn out to be a prelude to disaster," he said.
Iran's foreign ministry said the raids in Syria were launched on "invented pretexts" and that Damascus had every right to defend itself. In a more defiant tone, a senior Iranian cleric close to the leadership, Ahmad Khatami, was quoted on state TV as saying: "We will expand our missile capabilities despite western pressure."
Ben Caspit, a prominent Israeli journalist, described a national mindset of elation in Maariv, one of the country's oldest daily newspapers, saying if Israel were playing a football game, the score would be "10-0 in our favour".
"The problem is that the final whistle can't be blown any more," he wrote. "The dangerous game that we have been drawn into can turn against us at any moment. It has no set or clear rules ... The security establishment knows that this wasn't even the first half of the game. It was barely the start."
lowers – red, white and blue – form the image of the US flag on the road leading up to the site of the new American mission in Jerusalem. "US embassy" signs have been hoisted in the neighbourhood. The US embassy Twitter account – previously in Tel Aviv as @usembassytlv – is now @usembassyjlm.
lowers – red, white and blue – form the image of the US flag on the road leading up to the site of the new American mission in Jerusalem. "US embassy" signs have been hoisted in the neighbourhood. The US embassy Twitter account – previously in Tel Aviv as @usembassytlv – is now @usembassyjlm.
goofy foot on the war wave always goes over so

good

with the schlemiels
Israeli Prime Minister Benjamin Netanyahu holds a press conference about Iran's nuclear program, April 30, 2018.: photo by Miriam Alster/Flash90, 30 April 2018


Out of Iran deal, into war? Either way, Netanyahu's popularity soars.
Netanyahu appears to have inoculated himself against looming corruption charges due to the dramatic developments on the security front. As war with Iran looms, why does the old formula work so well?

: Daniela Scheindlin, +972, 10 May 2018
On Wednesday night, the day after Trump announced his withdrawal from the Iran deal, in between Israeli airstrikes in Syria, Israel's Channel 2 New reported the Likud's highest polling numbers in a decade — 35 seats, five more than it holds today.
Is it really that simple? Netanyahu, 12 years in office, facing multiple corruption investigations and a possible indictment, just pulls out the magic security card and his polls rise as if standing at attention. As Arlo Guthrie once said, "it's amazing that somebody can get away with singing a song this dumb, for that long."
But oh, those numbers. The glory of watching rivals wither: Yair Lapid, who had to defend himself this week from an unforgivable position that just maybe the U.S. should not withdraw unilaterally or immediately from the scourge of a deal, slid down to 18 seats in the poll, far from his party's perch in the mid-20s in recent months.
Other electoral dynamics did not change significantly. A new party established by former Israel Beitenu MK Orly Levi dropped from eight seats – which in fairness was probably an inflated result anyway – to five in the current poll. Given that she comes from the right, those votes probably went to Likud. In times of war, you don't play around with girlie parties.
On Tuesday night, moments before Trump was due to speak, the IDF ordered bomb shelters in the Golan Heights opened, following IDF "leaks" about suspicious Iranian troop movement. Wednesday night, 20 rockets were fired from Syria – none actually hit Israel – apparently by Iranian forces or proxies, sirens went off in the Golan, and Israel launched its largest airstrikes in Syria in decades. As Israel cheered Trump's announcement like a choir, war felt more imminent than at any time in recent years.
Still, a few days earlier, a friend told me that if elections were held today, she would change her vote from Kachlon in 2015, to Netanyahu. Never his biggest fan, she explained that despite her misgivings, she cannot help being impressed by a few of his achievements, citing three examples: his ability to navigate Israel through political and military challenges; expanding Israel's foreign relations, which also helps the economy; and his pride in the country's Zionist and Jewish identity.
These points highlight what so many Israelis mean when they say Bibi keeps Israel strong. And there's nothing dumb about them. In fact, they all check out.
Working backwards, the vast majority of Jewish Israelis have no qualms or doubts about Zionism, and insist on a leader who is Zionist — who makes them proud of Israel being a Jewish state. Pride in one's country is something most people wish to feel. Dissenters and sourpusses, as Netanyahu once called them, are healthy for democracy, but they are never popular.
The point about Israel's foreign relations is also true – Netanyahu has made his outreach to unusual places a central theme of his leadership. Highly publicized trips to Africa, Russia, India, and Azerbaijan have been presented exactly for what they are: proof to the pesky Western countries, especially during the Obama years, that Israel has other friends. Boycott storm clouds hovering over the EU? Israel has other trading partners.
Israeli Prime Minister Benjamin Netanyahu and Indian Prime Minister Narendra Modi get their feet wet at Olga Beach, just 60 miles north of the Gaza Strip.: photo by Kobi Gideon/GPO via +972, 10 May 2018
There's also a bonus benefit: chumming up with non-democratic countries legitimizes their style of leadership. If Netanyahu relates to Putin as a stalwart ally, or to the authoritarian regime of Ilham Aliyev in Azerbaijan, a bit of Supreme Court-slamming back home doesn't seem so unreasonable.
But never mind other friends. Netanyahu's Israel is quite beautifully integrated into the entire Western global economy itself, and is a part of every Western diplomatic club. Rhetorical and symbolic policy gestures criticizing Israel's policy seem to be the best the EU can do. Netanyahu's AIPAC was hard candy through and through, but he was not factually wrong about Israel's leading role in hi-tech, cyber security, AI and other highly IPO-able businesses.
And the third point: Political and military navigation. Who wants war? Israelis believe themselves to be a peace-loving, peace-seeking people in the national narrative. But wars come to us. It is the way of the world, not the result of leadership. When they occur, we'd better have the right person at the helm.
That leads back to Iran. Netanyahu traduced the Iran deal so relentlessly and successfully that 62 percent of Israelis polled by Channel 2 on Wednesday said they supported the U.S. leaving the deal. How could they not? His ministers regularly compared it to Munich 1938. Trump's props to the prime minister's PowerPoint presentation drove home the sense that Washington's withdrawal was largely Bibi's victory. That's not wrong either. Netanyahu has made a career out of hammering away at Iran and now he has the most receptive ear ever in the White House. After all, Netanyahu's speech was among the last things Trump heard before announcing his decision, which practically ensures that he was a decisive factor.
In the Channel 2 poll, the very same portion of Israelis who support the withdrawal also said they now fear a war with Iran: 62 percent. They probably don't think war is preventable. But that number is probably a spike. Just a few days earlier, the monthly Peace Index published its April survey, showing that just 40 percent believe Israel will soon go to war with Iran. If the next few days hold steady, the higher number might decline again soon.
But if there is a war, best to feel confident – and strong. The Peace Index showed that fully 64 percent said Israel had very or somewhat high chances of defeating Iran in such a war. Among Jews, the number was 71 percent.
The next question in the Peace Index was grim and blunt: "Is the Israeli population strong enough or not strong enough to cope with the cost in casualties and damage that a conflict with Iran could inflict?" Still, 54 percent said Israel was strong enough ("I am sure" or "I think so"). Among Jews, the now-familiar 62 percent said Israel was strong enough.
Netanyahu's favorability rating has been steady at around 45 percent, give or take, which is enviable for a four-term incumbent. The fact that over 60 percent of Israelis gravitate to the security issue shows a surplus of people who are not Netanyahu's natural supporters but, under his rule, feel strong enough for war.
So the next time there is a development in Netanyahu's corruption cases, before asking "how can Israelis possibly still support him?" remember that in exchange for these types of strength, many are willing to forgive what they see as routine political shenanigans.
As for the leader who defines national strength by the health and independence of the country's democratic institutions, a free and thriving civil society, strong minority protections, whose determination to end the half-century suffocation of Palestinians is as steely and steadfast as Netanyahu's anti-Iran campaign, who rejects cheap fear as the crutch of popularity, and for whom integrity is not a dirty word — well, if that leader exists, her time has not yet come.
On May 14, 1948, Israel declared its independence. Each May 15, Palestinians solemnly commemorate Nakba Day. Nakba means catastrophe, and that's precisely what Israel's independence has been for the more than 700,000 Arabs and their five million refugee descendants forced from their homes and into exile, often by horrific violence, to make way for the Jewish state.
Land Without a People?
In the late 19th century, Zionism emerged as a movement for the reestablishment of a Jewish homeland in Palestine, then part of the Ottoman Empire. Although Jews ruled over kingdoms there more than 2,000 years ago, they never numbered more than around 10 percent of the population from antiquity through the early 1900s. A key premise of Zionism is what literary theorist Edward Said called the "excluded presence" of Palestine's indigenous population; a central myth of early Zionists was that Palestine was a "land without a people for a people without a land."
At its core, Zionism is a settler-colonial movement of white, European usurpers supplanting Arabs they often viewed as inferior or backwards. Theodore Herzl, father of modern political Zionism, envisioned a Jewish state in Palestine as "an outpost of civilization opposed to barbarism." Other early Zionists warned against this sort of thinking. The great Hebrew essayist Ahad Ha'am wrote:
We… are accustomed to believing that Arabs are all wild desert people who, like donkeys, neither see nor understand what is happening around them. But this is a grave mistake. The Arabs… see and understand what we are doing and what we wish to do on the land. If the time comes that [we] develop to a point where we are taking their place… the natives are not going to just step aside so easily.
Jewish migration to Palestine increased significantly amid the pogroms and often rabid antisemitism afflicting much of Europe in the late 19th and early 20th century. As control of Palestine passed from the defeated Ottoman Turks to Britain toward the end of World War I, British Foreign Secretary Arthur Balfour declared "the establishment in Palestine of a national home for the Jewish people." Israelis and their supporters often cite the Balfour Declaration when defending Israel's legitimacy. What they never mention is that it goes on to state that "nothing shall be done which may prejudice the civil and religious rights of existing non-Jewish communities in Palestine."
Those "existing non-Jewish communities" still made up more than 85 percent of Palestine's population at the time. As Zionist immigration swelled in the interwar years, conflict between the Jewish newcomers and the Arabs who had lived in Palestine for centuries was inevitable.
The Palestine Problem
Some Arabs reacted to the massive influx by rioting and attacking Jews, who responded by forming militias. Hundreds of Jews and Arabs were murdered in a series of clashes and massacres throughout the 1920s, and as yet another wave of Jewish migration surged into Palestine following the rise of Hitler, Britain formed the Peel Commission to examine the "Palestine problem." The commission proposed a "two-state solution" — one for Jews, another for Arabs, with Jerusalem remaining under British control to protect Jewish, Christian and Muslim holy sites.
As Arab attacks and Jewish retaliation escalated, an exasperated Britain issued the 1939 MacDonald White Paper, which limited Jewish immigration to Palestine. It emphatically stated that the "Balfour Declaration… could not have intended that Palestine should be converted into a Jewish state against the will of the Arab population of the country."
From then on, Jewish militias, who by now had gone on the offensive and were initiating often unprovoked attacks on Arabs, targeted British occupiers as well.
The two most infamous Jewish terror militias were Irgun and Lehi, led respectively by Menachem Begin and Yitzhak Shamir, both future Israeli prime ministers. Irgun was by far the most prolific of the two terror groups, carrying out a string of assassinations and attacks meant to drive out the British. On July 22, 1946, Irgun fighters bombed the King David Hotel in Jerusalem, killing 91 people, including 17 Jews, an attack still celebrated in Israel today. They bombed and shot up crowded markets, trains, cinemas and British police and army posts, killing hundreds of men, women and children.
Meanwhile, Lehi assassinated British minister of state Lord Moyne in Cairo in 1944, while planning to kill Winston Churchill as well.
"No Room for Both"
With it soldiers, police, officials and, increasingly, its reputation constantly under attack and its resources strained to the breaking point after World War II, Britain withdrew from Palestine in frustration in 1947. The "Palestine problem" was handed off to the fledgling United Nations, which, under intense United States pressure, voted to partition the territory. The Arabs were not consulted. Jews, who comprised just over one-third of Palestine's population, would get 55 percent of its land. Arabs were enraged.
Jews rejoiced. There was, however, a huge problem with the UN partition plan. If the state of Israel was to be both Jewish and democratic, hundreds of thousands of Palestinians would have to leave. Forever. Years earlier, Jewish National Land Fund director Joseph Weitz said:
Among ourselves it must be clear that there is no room for both people in this country… and there is no way besides transferring the Arabs from here to neighboring countries… We must not leave a single village, a single tribe.
"A Bit Like A Pogrom"
To that end, David Ben-Gurion, who would soon become Israel's first prime minister, and his inner circle drafted Plan Dalet, the "principle [sic] objective of the operation [being] the destruction of Arab villages," according to official orders. At times the mere threat of violence was enough to coerce Arabs from their homes. Sometimes appalling slaughter was required to get the job done. In the most notorious of what Israeli historian Benny Morris has identified as Nakba 24 massacres, more than 100 Arab men, women and children were killed by Jewish militias at Deir Yassin on April 9, 1948. One 11-year-old survivor later recalled:
"They blew down the door, entered and started searching the place… They shot the son-in -law and when one of his daughters screamed, they shot her too. They then called my brother and shot him in our presence and when my mother screamed and bent over my brother, carrying my little sister, who was still being breast-fed, they shot my mother too."
"To me it looked a bit like a pogrom," confessed Mordechai Gichon, an intelligence officer in the Haganah, which would soon become the core of the Israel Defense Forces. "When the Cossacks burst into Jewish neighborhoods, then that should have looked something like this." Widespread looting and brutal and often deadly rapes were also reminiscent of antisemitic pogroms, with Jews now the aggressors instead of the victims.
News of Deir Yassin spread like wildfire through Palestine, prompting many Arabs to flee for their lives. This is exactly what Jewish commanders — who would play self-described "horror recordings" of shrieking women and children on loudspeakers when approaching Arab villages — wanted. Attacking Jewish militias typically gave most of their victims room to escape; commanders generally preferred a fright-to-flight strategy over wanton slaughter.
"Like Nazis"
Jewish ethnic cleansing of Palestine accelerated when Arab armies from Egypt, Jordan, Syria and Iraq invaded with the intent of smothering the nascent state of Israel in its cradle. On July 11, 1948, future Israeli foreign and defense minister Moshe Dayan led a raid on Lydda in which over 250 Arab men, women, children and old people were killed with automatic weapons, grenades and cannon. What followed, on future prime minister Yitzhak Rabin's orders, was the wholesale expulsion of Lydda and Ramle. Tens of thousands of Arabs fled in what became known as the Lydda Death March. Israeli reporter Ari Shavit wrote:
Children shouted, women screamed, men wept. There was no water. Every so often, a family… stopped by the side of the road to bury a baby who had not withstood the heat; to say farewell to a grandmother who had collapsed from fatigue. After a while, it got even worse. A mother abandoned her howling baby under a tree. [Another] abandoned her week-old boy.
The international community was horrified and outraged by the Jewish atrocities of 1948-49. In the United States, a prominent group of Jews including Albert Einstein blasted the "terrorists" who attacked Deir Yassin. Others compared the Jewish militias to their would-be German destroyers, including Aharon Cizling, Israel's first agriculture minister, who lamented that "now Jews have behaved like Nazis and my entire being is shaken."
Jews indeed behaved something like Nazis as they expelled or exterminated Arabs for their own lebensraum in Palestine. By the time it was all over, over 400 Arab villages were destroyed or abandoned, their residents — some of whom still hold the keys to their stolen homes — never to return. Moshe Dayan, one of Israel's most exalted heroes, confessed in all but name to Israel's ethnic cleansing in a 1969 speech:
"We came to this country, which was already populated by Arabs, and we are establishing… a Jewish state here. Jewish villages were built in place of Arab villages. You do not even know the names of these Arab villages, and I do not blame you, because those geography books no longer exist. Not only do the books not exist, the Arab villages are not there either… There is not one place built in this country that did not have a former Arab population."
Today such honesty is sorely lacking, both among most Israeli Jews and their US coreligionists and supporters. In addition to efforts to silence and even outlaw peaceful protest movements like the growing worldwide Boycott, Divestment and Sanctions (BDS) effort, Zionists and their apologist allies — some with their own competing religious agenda — have aggressively sought to erase the Nakba from memory. This is accomplished by denying Israeli crimes and by tarring critics with allegations of antisemitism.
Special vitriol is reserved for the "self-hating Jews who dare shine light on Israeli atrocities. Teddy Katz, a graduate student at Haifa University and ardent Zionist who uncovered the mass slaughter of 230 surrendering Arabs at Tantura on May 22, 1948, was sued, publicly humiliated, forced to apologize and stripped of his degree for the "offense" of telling the ugly, uncomfortable truth. The Israeli government even went as far as banning diaspora Jews who are too critical from making the "birthright return" to Israel granted to every other Jew in the world.
No Return, No Retreat
Speaking of the right to return, as Nakba refugees fled Palestine, often to settle in squalid camps in neighboring countries, the United Nations passed Resolution 194, which guaranteed that every Palestinian refugee could return to their home and receive compensation for damages. None ever did. Israel ignored this and dozens of other UN resolutions over the coming decades, its impunity ensured by massive and unwavering US support.
Enabled and emboldened, Israel now marks 70 years of statehood and over half a century of illegal occupation in the West Bank, East Jerusalem and the Golan Heights. Today, Israel's illegal Jewish settler colonies are the spear-tip of what critics call its slow-motion ethnic cleansing of Palestine. Its Jews-only settlements and roads, separation wall and ubiquitous military checkpoints are, according to Jimmy Carter, Desmond Tutu and others, the foundation of an apartheid state. Its periodic invasions of Gaza, with their 100-1 death toll disparities, their slaughter of entire families and enduring economic privation, are globally condemned as war crimes.
Yet through it all, the Palestinian people endure, despite the overwhelming odds against them. The more honest voices among earlier generations of Zionists foresaw this. Echoing Ahad Ha'am's 1891 warning that "the natives are not going to just step aside so easily," Ben-Gurion later acknowledged that "a people which fights against the usurpation of its land will not tire so easily." Seventy years later, neither Palestinians nor Jews have tired so easily, and the world is no closer to solving the "Palestine problem." Meanwhile, Jews, Arabs and the wider world brace for the next inevitable explosion. This is colonialism's deadly legacy.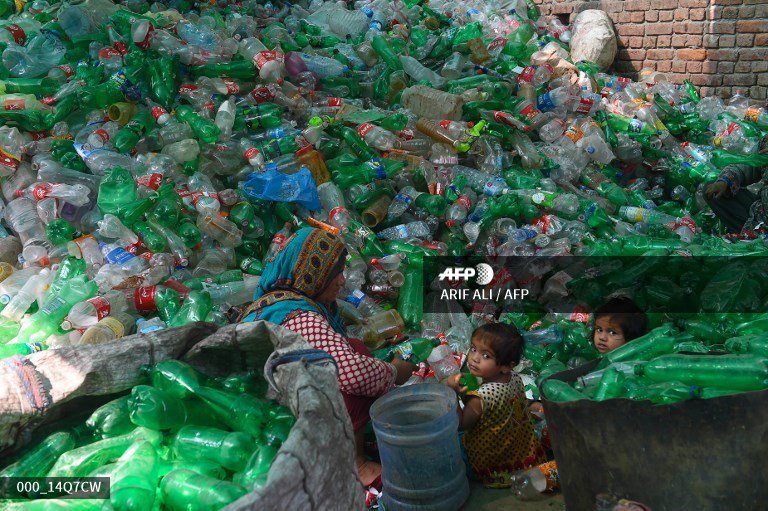 #Pakistan A Pakistani worker sits with her children as she sorts out plastic bottles at a warehouse in Lahore Photp Arif Ali #AFP: image via Frédérique Geffard @fgeffardAFP, 11 May 2018
Israeli Prime Minister Benjamin Netanyahu and Indian Prime Minister Narendra Modi get their feet wet at Olga Beach, just 60 miles north of the Gaza Strip.: photo by Kobi Gideon/GPO via +972, 10 May 2018
Untitled
: photo by BoRIS THE FLASH, 30 January 2017
Another stunning sunset: Ilan Pappe: Israel's righteous fury and its victims in Gaza:

Ilan Pappe, 2 January 2009
Israelis sat on a hill overlooking the Gaza Strip as smoke rose from the scene of an airstrike
: photo by Jim Hollander / EPA, 17 July 2014
My visit back home to the Galilee coincided with the genocidal Israeli attack on Gaza. The state, through its media and with the help of its academia, broadcast one unanimous voice -- even louder than the one heard during the criminal attack against Lebanon in the summer of 2006. Israel is engulfed once more with righteous fury that translates into destructive policies in the Gaza Strip. This appalling self-justification for the inhumanity and impunity is not just annoying, it is a subject worth dwelling on, if one wants to understand the international immunity for the massacre that rages on in Gaza.
It is based first and foremost on sheer lies transmitted with a newspeak reminiscent of darker days in 1930s Europe. Every half an hour a news bulletin on the radio and television describes the victims of Gaza as terrorists and Israel's massive killings of them as an act of self-defense. Israel presents itself to its own people as the righteous victim that defends itself against a great evil. The academic world is recruited to explain how demonic and monstrous is the Palestinian struggle, if it is led by Hamas. These are the same scholars who demonized the late Palestinian leader Yasser Arafat in an earlier era and delegitimized his Fatah movement during the second Palestinian intifada.
Israeli tanks head toward the Gaza border as the IDF ground operation begins: photo by EPA, 17 July 2014
But the lies and distorted representations are not the worst part of it. It is the direct attack on the last vestiges of humanity and dignity of the Palestinian people that is most enraging. The Palestinians in Israel who have shown their solidarity with the people of Gaza and are now branded as a fifth column in the Jewish state; their right to remain in their homeland cast as doubtful given their lack of support for the Israeli aggression. Those among them who agree -- wrongly, in my opinion -- to appear in the local media are interrogated, and not interviewed, as if they were inmates in the Shin Bet's prison. Their appearance is prefaced and followed by humiliating racist remarks and they are met with accusations of being a fifth column, an irrational and fanatical people. And yet this is not the basest practice. There are a few Palestinian children from the occupied territories treated for cancer in Israeli hospitals. God knows what price their families have paid for them to be admitted there. The Israel Radio daily goes to the hospital to demand the poor parents tell the Israeli audience how right Israel is in its attack and how evil is Hamas in its defense.
There are no boundaries to the hypocrisy that a righteous fury produces. The discourse of the generals and the politicians is moving erratically between self-compliments of the humanity the army displays in its "surgical" operations on the one hand, and the need to destroy Gaza for once and for all, in a humane way of course, on the other.

This righteous fury is a constant phenomenon in the Israeli, and before that Zionist, dispossession of Palestine. Every act whether it was ethnic cleansing, occupation, massacre or destruction was always portrayed as morally just and as a pure act of self-defense reluctantly perpetrated by Israel in its war against the worst kind of human beings. In his excellent book The Returns of Zionism: Myths, Politics and Scholarship in Israel, Gabi Piterberg explores the ideological origins and historical progression of this righteous fury. Today in Israel, from Left to Right, from Likud to Kadima, from the academia to the media, one can hear this righteous fury of a state that is more busy than any other state in the world in destroying and dispossessing an indigenous population.
It is crucial to explore the ideological origins of this attitude and derive the necessary political conclusions form its prevalence. This righteous fury shields the society and politicians in Israel from any external rebuke or criticism. But far worse, it is translated always into destructive policies against the Palestinians. With no internal mechanism of criticism and no external pressure, every Palestinian becomes a potential target of this fury. Given the firepower of the Jewish state it can inevitably only end in more massive killings, massacres and ethnic cleansing.
Two I
sraeli flares lose their light power as two others light up the sky over the northern part of the Gaza Strip: photo by Jim Hollander / EPA, 17 July 2014
The self-righteousness is a powerful act of self-denial and justification. It explains why the Israeli Jewish society would not be moved by words of wisdom, logical persuasion or diplomatic dialogue. And if one does not want to endorse violence as the means of opposing it, there is only one way forward: challenging head-on this righteousness as an evil ideology meant to cover human atrocities.
Another name for this ideology is Zionism and an international rebuke for Zionism, not just for particular Israeli policies, is the only way of countering this self-righteousness. We have to try and explain not only to the world, but also to the Israelis themselves, that Zionism is an ideology that endorses ethnic cleansing, occupation and now massive massacres. What is needed now is not just a condemnation of the present massacre but also delegitimization of the ideology that produced that policy and justifies it morally and politically. Let us hope that significant voices in the world will tell the Jewish state that this ideology and the overall conduct of the state are intolerable and unacceptable and as long as they persist, Israel will be boycotted and subject to sanctions.
An Israeli rocket is fired into the Gaza Strip after Binyamin Netanyahu instructed the military to begin a ground offensive. photo by Amir Cohen/Reuters, 17 June 2014
But I am not naive. I know that even the killing of hundreds of innocent Palestinians would not be enough to produce such a shift in the Western public opinion; it is even more unlikely that the crimes committed in Gaza would move the European governments to change their policy towards Palestine.
And yet, we cannot allow 2009 to be just another year, less significant than 2008, the commemorative year of the Nakba, that did not fulfill the great hopes we all had for its potential to dramatically transform the Western world's attitude to Palestine and the Palestinians.
It seems that even the most horrendous crimes, such as the genocide in Gaza, are treated as discrete events, unconnected to anything that happened in the past and not associated with any ideology or system. In this new year, we have to try to realign the public opinion to the history of Palestine and to the evils of the Zionist ideology as the best means of both explaining genocidal operations such as the current one in Gaza and as a way of pre-empting worse things to come.
Academically, this has already been done. Our main challenge is to find an efficient way to explain the connection between the Zionist ideology and the past policies of destruction, to the present crisis. It may be easier to do it while, under the most terrible circumstances, the world's attention is directed to Palestine once more. It would be even more difficult at times when the situation seems to be "calmer" and less dramatic. In such "relaxed" moments, the short attention span of the Western media would marginalize once more the Palestinian tragedy and neglect it either because of horrific genocides in Africa or the economic crisis and ecological doomsday scenarios in the rest of the world. While the Western media is not likely to be interested in any historical stockpiling, it is only through a historical evaluation that the magnitude of the crimes committed against the Palestinian people throughout the past 60 years can be exposed. Therefore, it is the role of an activist academia and an alternative media to insist on this historical context. These agents should not scoff at the opportunity to educate the public opinion and hopefully even influence the more conscientious politicians to view events in a wider historical perspective.
Similarly, we may be able to find the popular, as distinct from the high brow academic, way of explaining clearly that Israel's policy -- in the last 60 years -- stems from a racist hegemonic ideology called Zionism, shielded by endless layers of righteous fury. Despite the predictable accusation of anti-Semitism and what have you, it is time to associate in the public mind the Zionist ideology with the by now familiar historical landmarks of the land: the ethnic cleansing of 1948, the oppression of the Palestinians in Israel during the days of the military rule, the brutal occupation of the West Bank and now the massacre of Gaza. Very much as the Apartheid ideology explained the oppressive policies of the South African government, this ideology -- in its most consensual and simplistic variety -- allowed all the Israeli governments in the past and the present to dehumanize the Palestinians wherever they are and strive to destroy them. The means altered from period to period, from location to location, as did the narrative covering up these atrocities. But there is a clear pattern that cannot only be discussed in the academic ivory towers, but has to be part of the political discourse on the contemporary reality in Palestine today.
Smoke from flares rises in the sky in Gaza City
: photo by Lefteris Pitarakis/AP, 17 July 2014
Some of us, namely those committed to justice and peace in Palestine, unwittingly evade this debate by focusing, and this is understandable, on the Occupied Palestinian Territories (OPT) — the West Bank and Gaza Strip. Struggling against the criminal policies there is an urgent mission. But this should not convey the message that the powers that be in the West adopted gladly by a cue from Israel, that Palestine is only in the West Bank and the Gaza Strip, and that the Palestinians are only the people living in those territories. We should expand the representation of Palestine geographically and demographically by telling the historical narrative of the events in 1948 and ever since and demand equal human and civil rights to all the people who live, or used to live, in what today is Israel and the OPT.
By connecting the Zionist ideology and the policies of the past with the present atrocities, we will be able to provide a clear and logical explanation for the campaign of boycott, divestment and sanctions. Challenging by nonviolent means a self-righteous ideological state that allows itself, aided by a mute world, to dispossess and destroy the indigenous people of Palestine, is a just and moral cause. It is also an effective way of galvanizing the public opinion not only against the present genocidal policies in Gaza, but hopefully one that would prevent future atrocities. But more importantly than anything else it will puncture the balloon of self-righteous fury that suffocates the Palestinians every times it inflates. It will help end the Western immunity to Israel's impunity. Without that immunity, one hopes more and more people in Israel will begin to see the real nature of the crimes committed in their name and their fury would be directed against those who trapped them and the Palestinians in this unnecessary cycle of bloodshed and violence.
Ilan Pappe is chair in the Department of History at the University of Exeter
Israel's righteous fury and its victims in Gaza: Ilan Pappe, The Electronic Intifada, 2 January 2009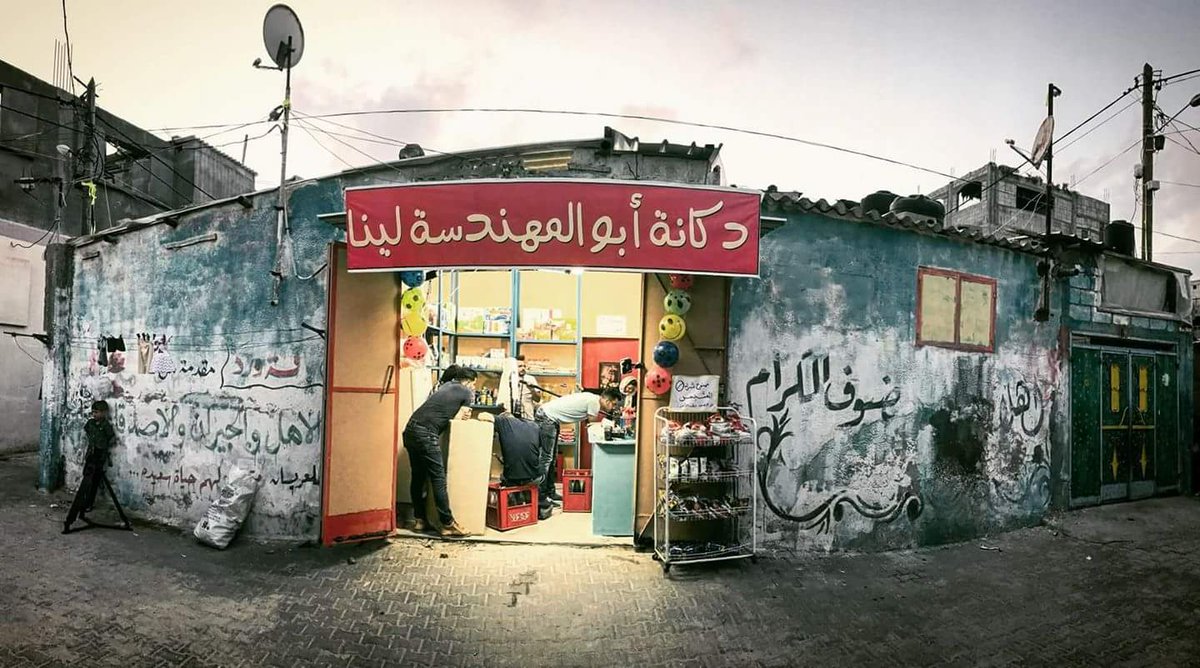 Behind the scenes, By: Mahmoud Abu
: image via Hosam

S

alem @HosamSalemG,

8

May 2018
Access and Closure: Mahmoud

Darwish

: O those who pass between fleeting words
An olive tree, Bi'lin, West Bank
: photo by elena martinez, 12 June 2009
O those who pass between fleeting words
Carry your names, and be gone
Rid our time of your hours, and be gone
Steal what you will from the blueness of the sea
And the sand of memory
Take what pictures you will, so that you understand
That which you never will:
How a stone from our land builds the ceiling of our sky.

O those who pass between fleeting words
From you the sword -- from us the blood
From you steel and fire -- from us our flesh
From you yet another tank -- from us stones
From you tear gas -- from us rain
Above us, as above you, are sky and air
So take your share of our blood -- and be gone
Go to a dancing party -- and be gone
As for us, we have to water the martyrs' flowers
As for us, we have to live as we see fit.

O those who pass between fleeting words
As better dust, go where you wish, but
Do not pass between us like flying insects
For we have work to do in our land:
We have wheat to grow which we water with our bodies' dew
We have that which does not please you here:
Stones or partridges
So take the past, if you wish, to the antiquities market
And return the skeleton to the hoopoe, if you wish,
On a clay platter
We have that which does not please you: we have the future
And we have things to do in our land.

O those who pass between fleeting words
Pile your illusions in a deserted pit, and be gone
Return the hand of time to the law of the golden calf
Or to the time of the revolver's music!
For we have that which does not please you here, so be gone
And we have what you lack: a bleeding homeland of a bleeding people
A homeland fit for oblivion or memory.

O those who pass between fleeting words
It is time for you to be gone
Live wherever you like, but do not live among us
It is time for you to be gone
Die wherever you like, but do not die among us
For we have work to do in our land.

We have the past here
We have the first cry of life
We have the present, the present and the future
We have this world here, and the hereafter
So leave our country
Our land, our sea
Our wheat, our salt, our wounds
Everything, and leave
The memories of memory
O those who pass between fleeting words!
Mahmoud

Darwish

(13 March 1941-9 August 2008):
O those who pass between fleeting words
, 1988
Barr
ier gate at Bi'lin, near Ramallah, West Bank: the gate is the only means of entry for the villagers who have been separated from their families by the Israeli West Bank barrier
; one of 25 such fences, totalling 37,600 metres, built to impede Palestinians from traveling over major roads to the main cities: photo by Harry Pockets, 6 July 2006
Bi'lin Separation Wall, near Ramallah, West Bank; the wall separates the village of Bi'lin from sixty percent of its farmland
: photo by elena martinez, 12 June 2009
One-metre-square cement roadblocks used to restrict Palestinian vehicle access access at one of the entrances to Beit Ummar village, near Hebron, West Bank; one of 50 such block sites used to obstruct Palestinian vehicle access to settlements and to prevent bypassing of checkpoints when entering controlled access routes
: photo by Harry Pockets, 6 July 2006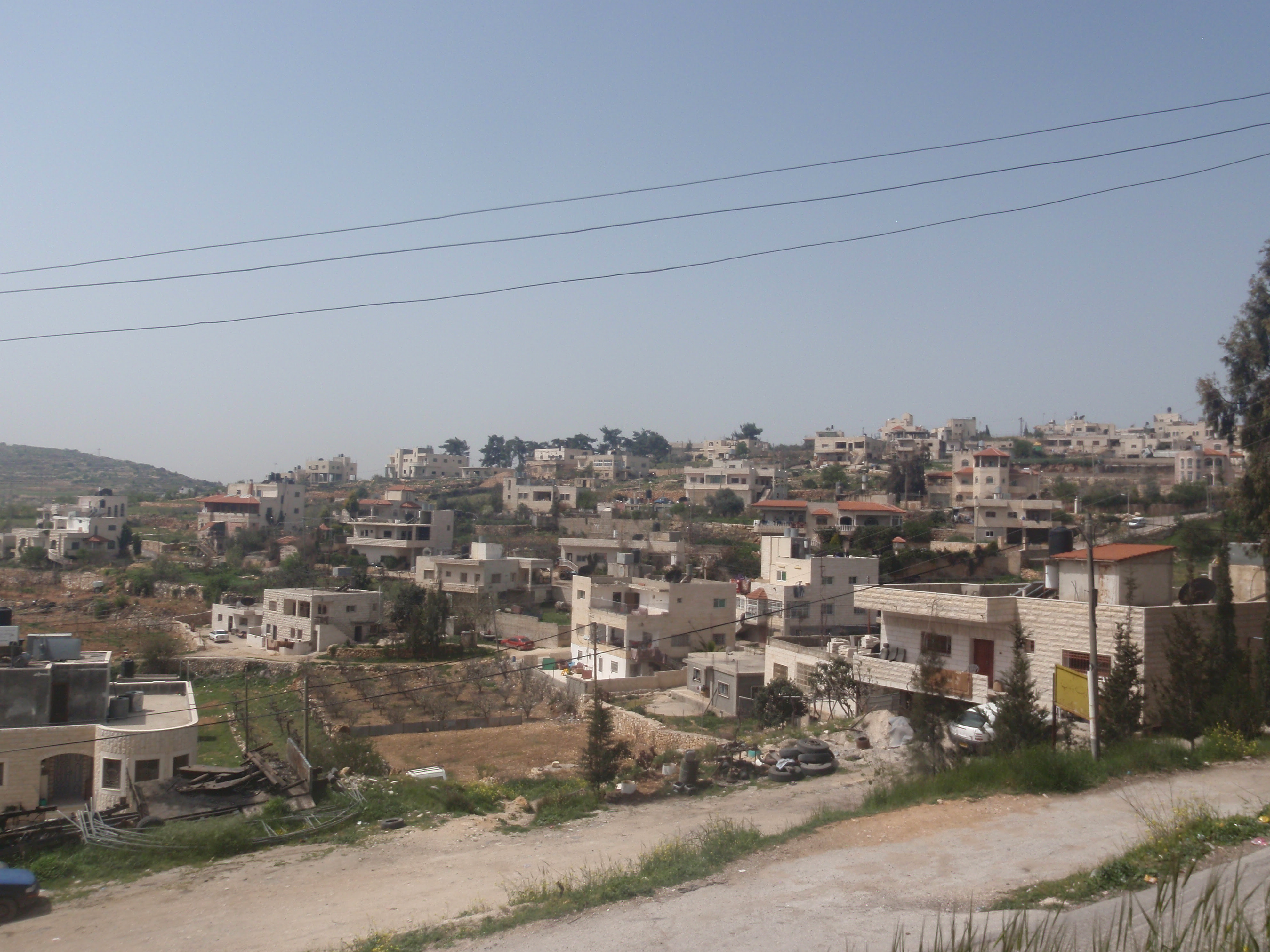 Beit Ummar, West Bank, Palestine
: photo by Palobserver, 2 April 2011
And if red war rip

t

loose the cerulea

n beauty

from the sky and set fire to the sea as was foretold so long ago you might want to think about staying out of

t

he water maybe next coupla hours or so