.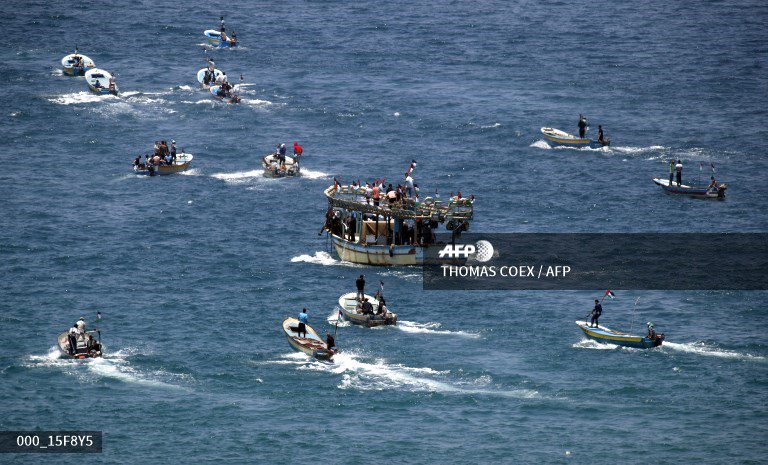 GAZA CITY - Palestinians launch boats from Gaza to protest Israeli blockade Photo @TomCOE

X

#AFP: image via Frédérique Geffard @fgeffardAFP, 29 May 2018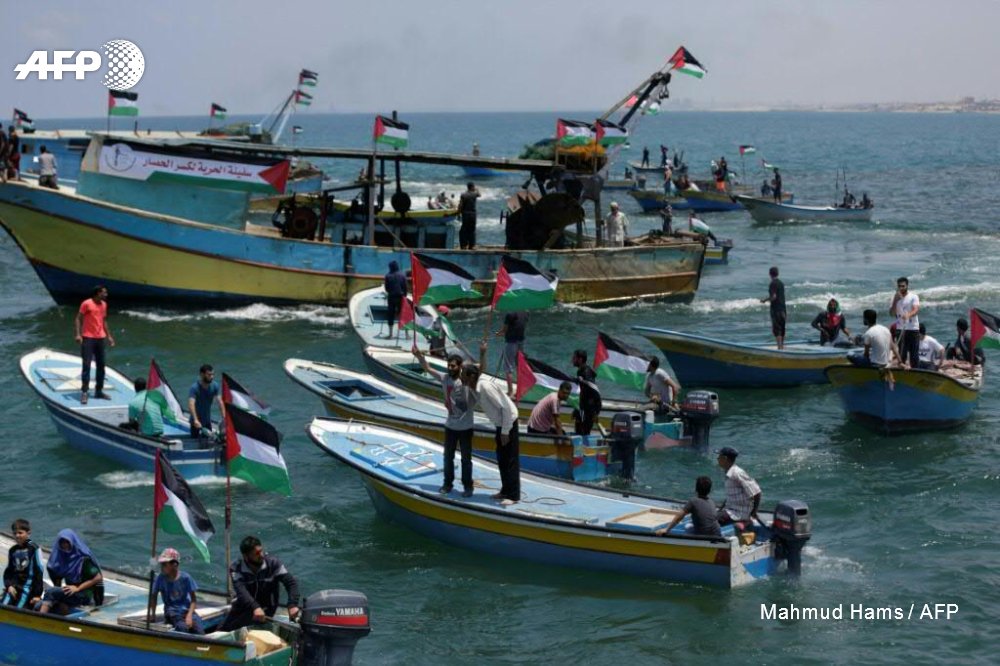 UPDATE Palestinians launch boats from Gaza to protest Israel's blockade, a move likely to further raise tensions after mortar fire from the enclave earlier in the day and weeks of deadly unrest: image via AFP news agency @AFP, 29 May 2018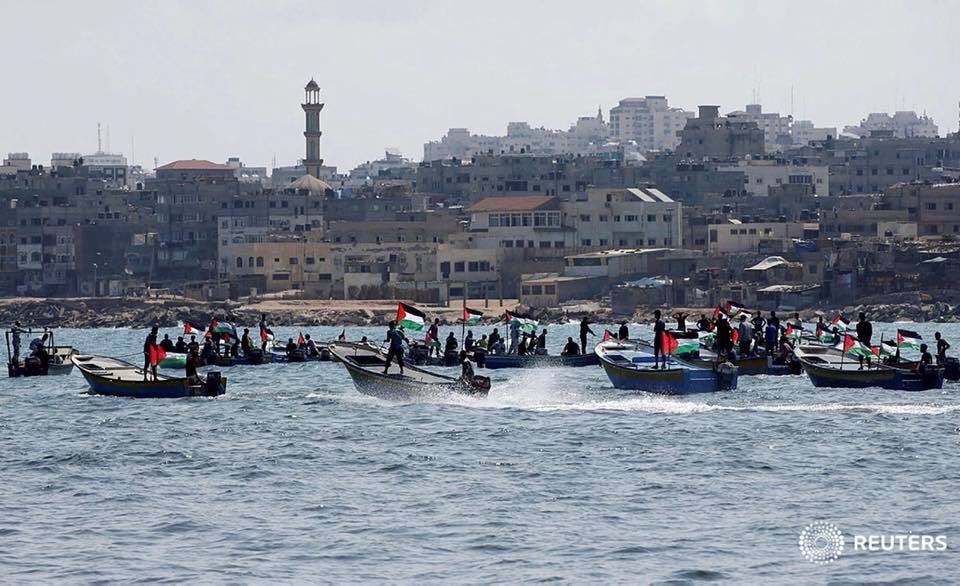 You will not find any explanation of what this city is doing but being deaf that it does not hear a word of what we are saying. As usual, it turns its back to us and faces its oppressor, who you will never see wishing any city would disappear like #Gaza. - Muhammed Salam
.
: image via Maha Hussaini @MahaGaza, 29 May 2018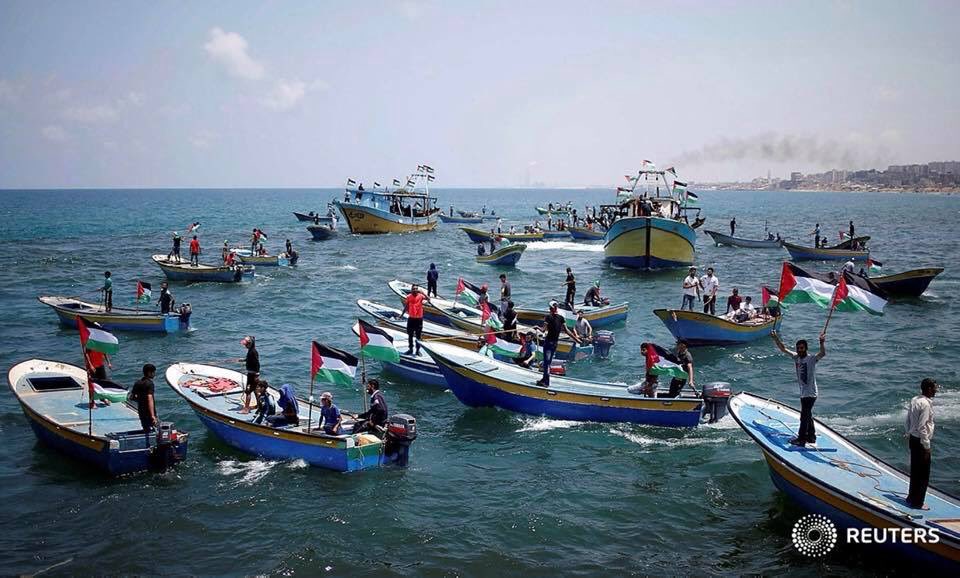 #Gaza boats are already sailing at 8 nautical miles in the Mediterranean, in attempt to break the 12-year Israeli siege. Patients, wounded, and university students are hoping to find a way out to enjoy their basic rights to medical treatment and education.
: image via Maha Hussaini @MahaGaza, 29 May 2018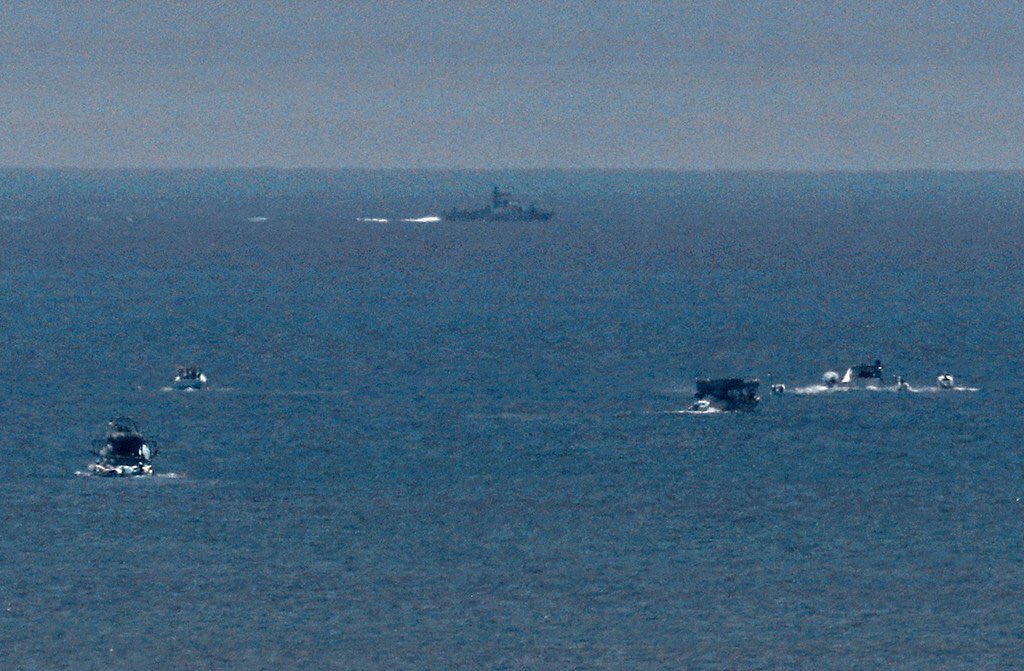 BREAKING|
Four Israeli warships surround a

#Gaza
boat that surpassed 9 nautical miles in the Merditerranean in an attempt to break the Israeli siege. The boat has patients, wounded, and university students onboard.

: image via Maha Hussaini @MahaGaza, 29 May 2018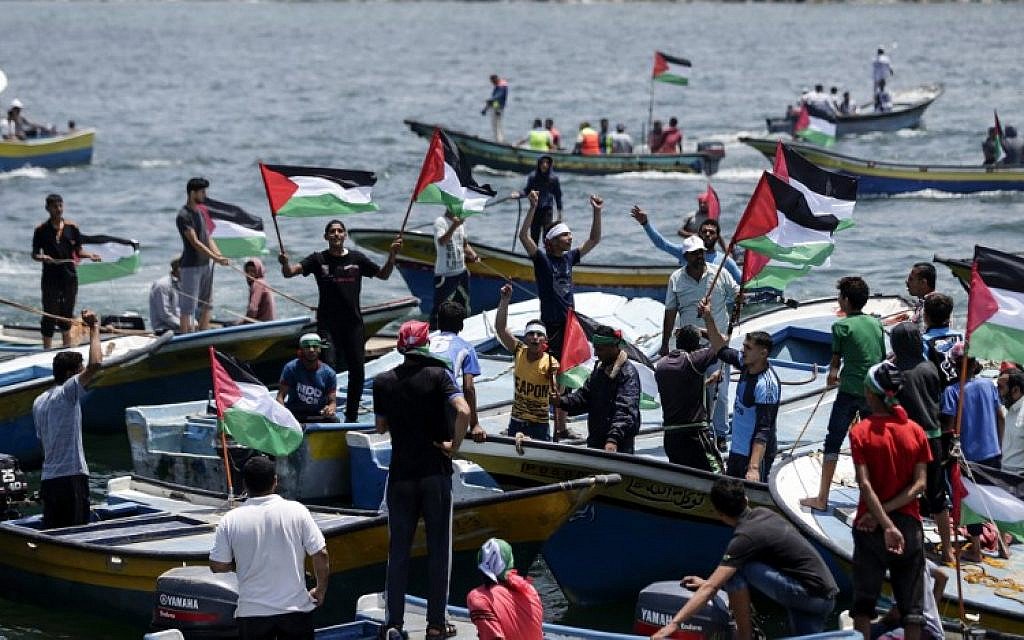 Israel seizes protest boat trying to break Gaza blockade: image via The Times of Israel @TimesofIsrael, 29 May 2018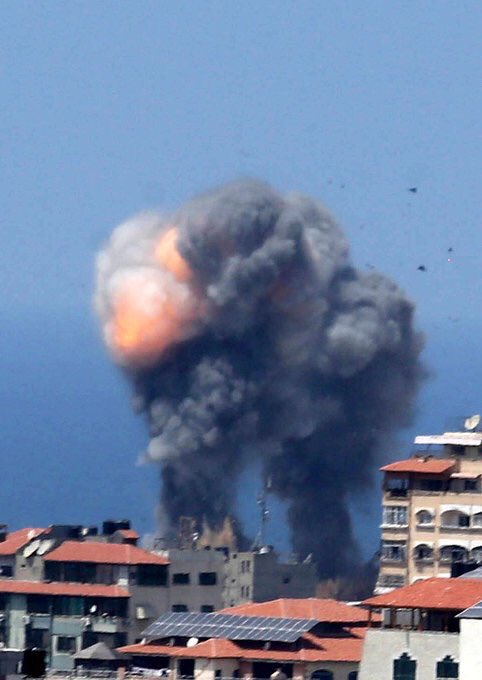 BREAKING| Several places across the #Gaza Strip are being targeted by Israeli warplanes, and Palestinian resistance responds with barrage of mortar shells towards the southern occupied territories.: image via Maha Hussaini @MahaGaza, 29 May 2018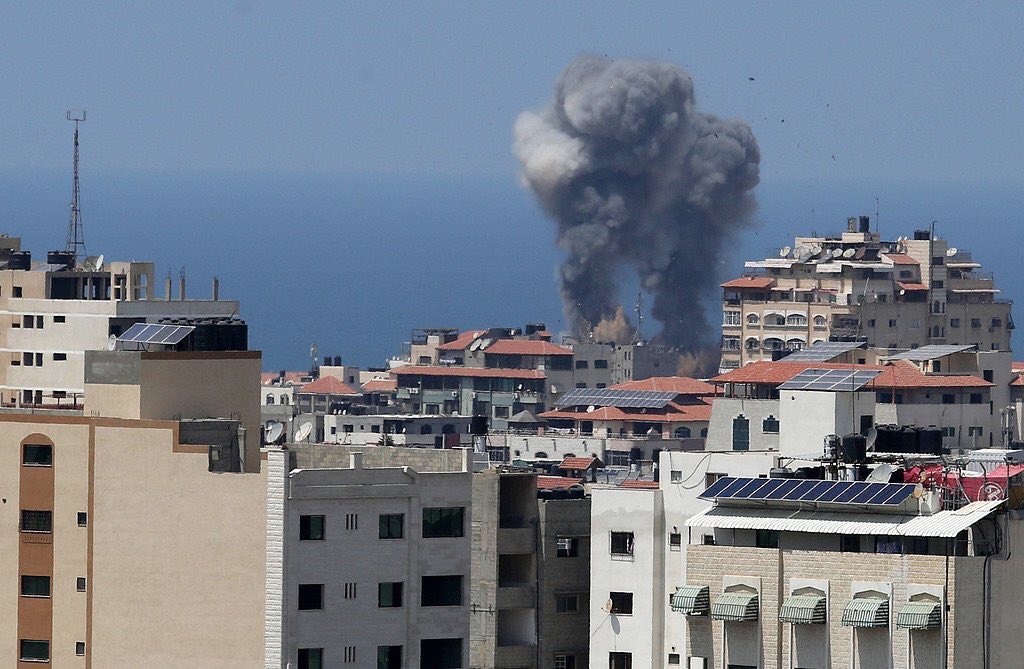 BREAKING| Several places across the #Gaza Strip are being targeted by Israeli warplanes, and Palestinian resistance responds with barrage of mortar shells towards the southern occupied territories.: image via Maha Hussaini @MahaGaza, 29 May 2018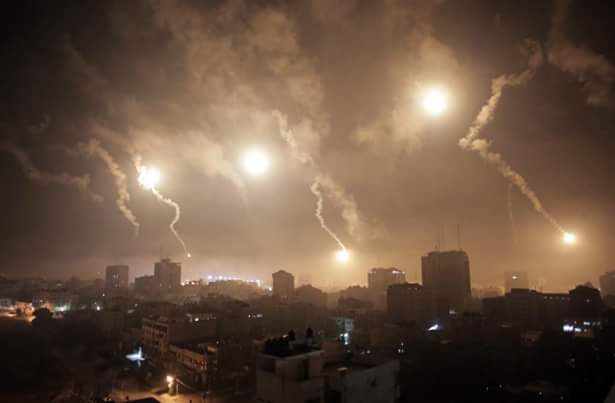 You might enjoy seeing these lights and think they are cool fireworks, but they are actually #Israeli occupation rockets in #Gaza's sky! #GazaUnderAttack #IsraelApartheid #GreatReturnMarch #IsraeliCrimes: image via We Are Not Numbers #Gaza @WeAreNotNumbers, 29 May 2018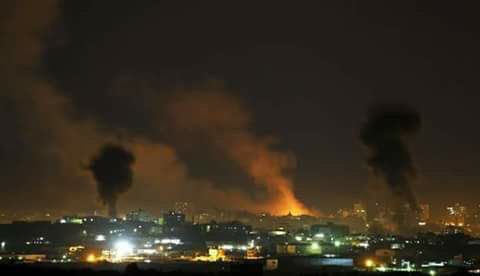 The Israeli-Palestinian truce that was supposed to begin after midnight in #Gaza has failed because of the continuity of the #Israeli bombardment on the Strip. #GazaUnderAttack #IsraeliCrimes: image via We Are Not Numbers #Gaza @WeAreNotNumbers, 29 May 2018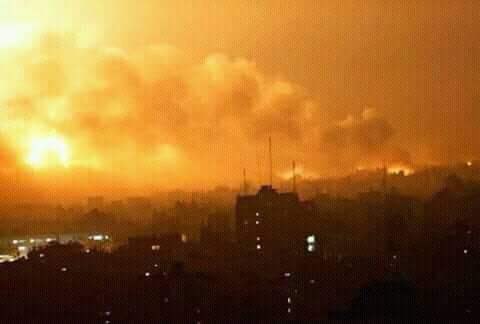 At this moment, #Gaza has no electricity but #Israeli occupation #F16 rockets are lighting it this way! #GazaUnderAttack #Israel #GreatReturnMarch #IsraeliCrimes: image via We Are Not Numbers #Gaza @WeAreNotNumbers, 29 May 2018



Israeli shelling in the southern Gaza Strip: photo by Anadolu Agency, 27 May 2018
Israel shells southern Gaza; 3 Palestinians martyre

d:
The shelling targeted Hamas position in southern Gaza: Nour Abu Aisha and Hani al-Shaer, Anadolu Agency, 27 May 2018
GAZA CITY, Palestine

.

Three Palestinians were martyred in an Israeli shelling of the southern Gaza Strip on Sunday, according to the Health Ministry.
In a statement, ministry spokesman Ashraf al-Qidra identified the martyrs as Hussein al-Amor, 25, and Abdul Halim al-Naqah, 28, in the shelling that targeted the eastern border of Khan Younis city in southern Gaza Strip.
A third Palestinian, who was identified as Naseem al-Amor, 25, succumbed to his wounds sustained during the Israeli shelling.
Israeli army spokesman Avichay Adraee, for his part, said an Israeli tank shelled a Hamas watch tower in the southern Gaza Strip.
He said the shelling came in response to a roadside bomb attack near a security fence between the Gaza Strip and Israel.
On Saturday, Israeli warplanes struck two Hamas positions in Gaza, with no injuries reported.
Since March 30, more than 115 Palestinians have been killed and thousands injured by Israeli gunfire during anti-occupation rallies along Gaza border.
The protesters demand their return to their homes in historical Palestine from which they were driven in 1948 to make way for the new state of Israel.
Israeli minister seeks World Cup TV ban for Hamas prisoners:

Minister and legal experts seek to change regulations before World Cup, which runs from 14 June to 15 July: MIddle East Eye, Sunday 27 May 2018
Israeli Public Security Minister Gilad Erdan said on Sunday he is seeking to ban Palestinian prisoners who are members of Hamas from watching the upcoming World Cup.
"I have no intention of letting Hamas members who are detainees in our prisons enjoy the World Cup matches while we have Israeli hostages and soldiers in the Gaza Strip," Erdan said, quoted by the YNet news website.
The minister said he had asked the Israel Prison Service to "put pressure" on jailed members of Hamas.
Under current rules, prisoners have the right to watch television, but Erdan said he is checking to see if regulations could be changed in time for the World Cup, which runs from 14 June to 15 July.
The minister has brought together legal experts to examine the possibility of preventing security prisoners from watching specific TV channels - an idea that is complicated by the fact that security prisoners and detainees under arrest are not kept separated and that the regulations say detainees have to be allowed to watch, the Times of Israel reported.
Prisoners who "support terrorism cannot benefit from a sporting competition which unites populations," the minister said.
The bodies of two Israeli soldiers killed in the 2014 Gaza war, Oren Shaul and Hadar Goldin, are believed to be held by Hamas.
About 6,500 Palestinians are detained in Israeli prisons, according to the Palestinian Prisoners Club.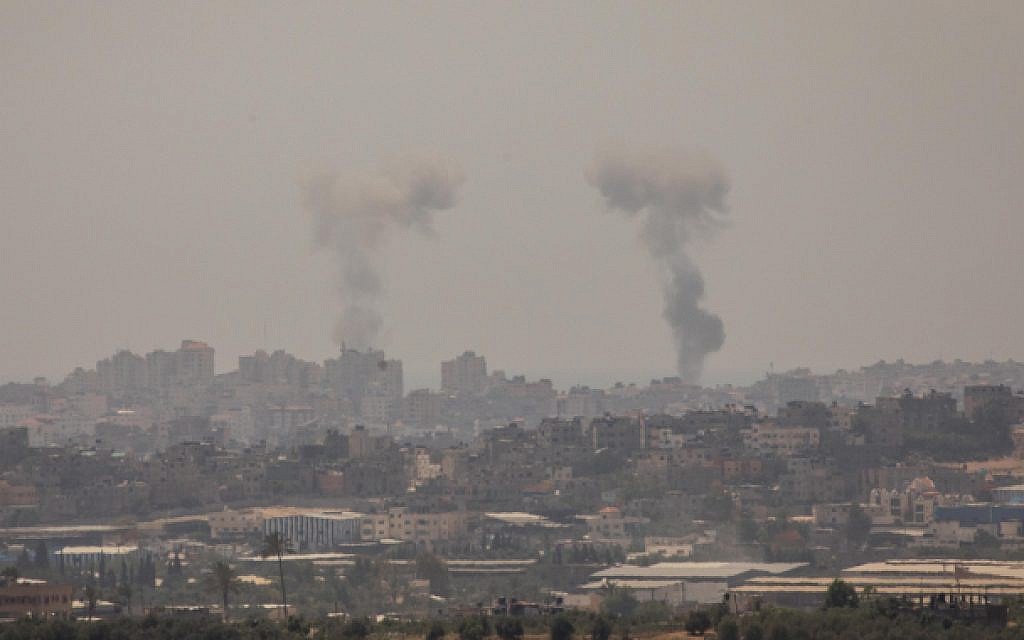 Top minister warns Israel on cusp of war with Gaza : image via The Times of Israel @TimesofIsrael, 29 May 2018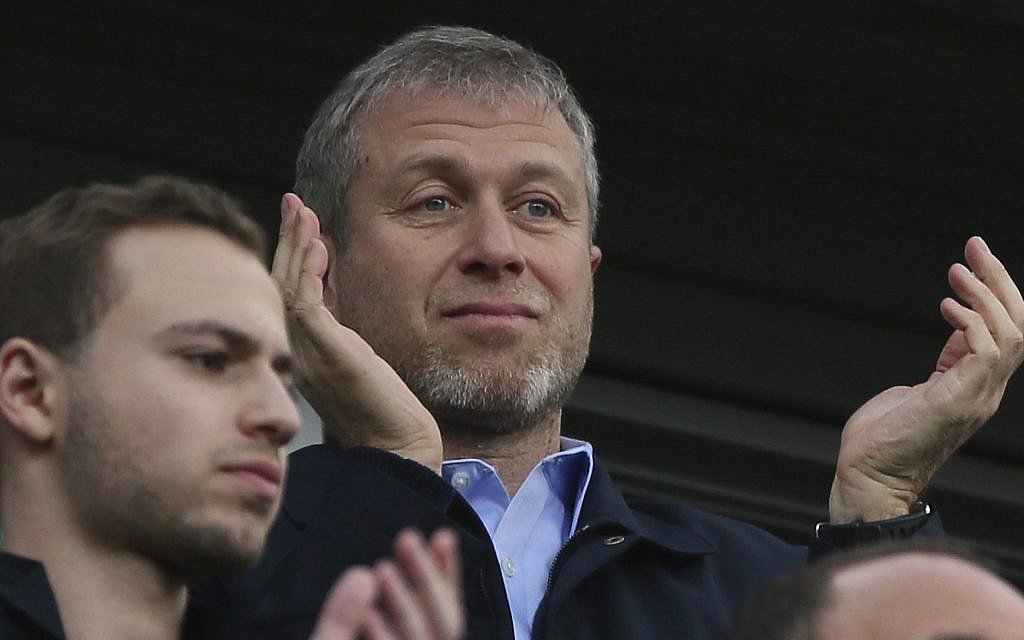 'So what,' Kremlin asks after Chelsea owner Abramovich becomes Israeli
: image via The Times of Israel @TimesofIsrael, 29 May 2018
Palestinian vineyard near Ramallah targeted in apparent hate crime

: 100 vines chopped down in Kafr Milek; farmer finds rock spray-painted with Hebrew phrase at scene: Jacob Magid, The Times of Israel, 29 May 2018
Roughly 100 grapevines were destroyed in a Palestinian village near Ramallah Tuesday morning amid an apparent ongoing exchange of agricultural hate crimes between Israelis and Palestinians.
Spray-painted on a rock adjacent to the vineyard in Kafr Milek, farmers found the Hebrew phrase "Regards from Esh Kodesh," an illegal Israeli outpost near the central West Bank settlement of Shiloh.
Police said they were aware of the incident and were on their way to the scene to open an investigation.
Residents of outposts near Shiloh as well as the northern West Bank settlement of Yitzhar have lamented over-policing in their communities over the past week, pointing to ID checks at the entrance to their towns, which had never before been the norm.
A defense official told The Times of Israel that the security establishment is concerned that a "price tag" attack perpetrated by settlers in one of those communities during the month of Ramadan could spark a broader conflict in the West Bank.
But Tzvi Succot, a Yitzhar resident who heads the far-right Otzma Yehudit group, warned that the over-policing is what could spark violence.
"The next time someone slashes a tire or God forbid throws a stone at them [Palestinians], remember that there was someone forcefully pushing for that to happen," Succot said, apparently blaming law enforcement for a potential attack perpetrated by a Jewish extremist against Palestinians.
Tuesday's incident in Kafr Milek followed similar ones throughout the West Bank over the past two months.
On Sunday, residents of the Palestinian village of Bani Naim near Hebron filed a police complaint regarding massive destruction to their vineyards over the weekend, with hundreds of vines uprooted or destroyed. The attack took place at "a field not far from two other fields that were vandalized in the past two weeks," according to the advocacy group Yesh Din.
On a nearby building, investigators found Hebrew graffiti reading "Stop the agricultural terror, we will reach every place."
Recent months have seen many attacks primarily against Palestinians, including the chopping down of dozens of olive trees, the torching of a mosque, stones thrown through car windows, the slashing of tires, and graffiti calling for the murder of Arabs. Police are investigating the various crimes, but no arrests have been reported.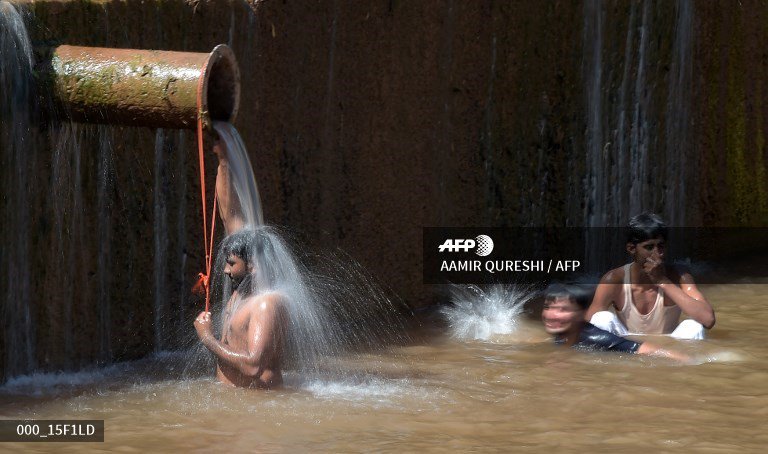 #Pakistan Pakistani youths cool off in a stream during a hot day, as temperatures reached around 40 degrees Celsius, on the outskirts of Islamabad. Photo @aamirqureshi14 #AFP: image via Frédérique Geffard @fgeffardAFP, 29 May 2018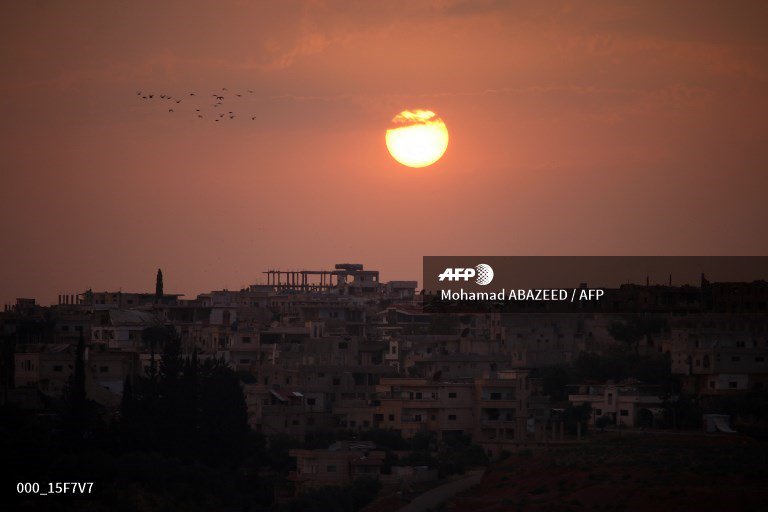 SYRIA - A general view shows the sun setting over a rebel-held area in Daraa Photo @abazidmohamad

#AFP: image via Frédérique Geffard @fgeffardAFP, 29 May 2018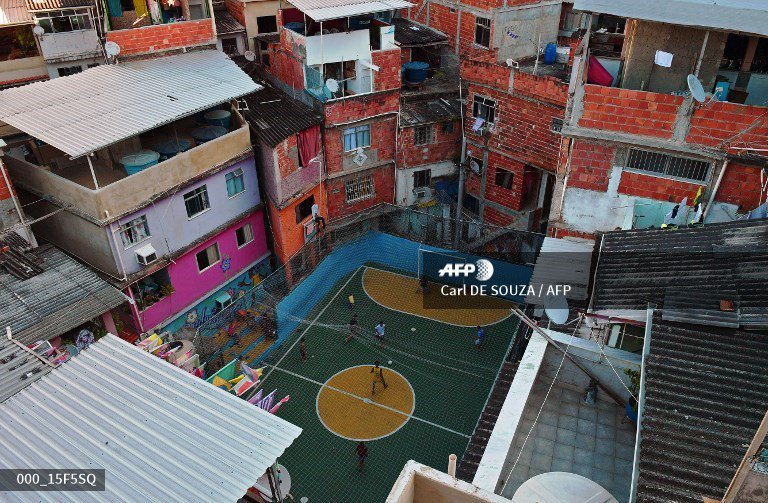 #Brazil
Boys play football on a pitch at Tavares Bastos favela in Rio de Janeiro Photo @CarldeSouza1

#AFP: image via Frédérique Geffard @fgeffardAFP, 29 May 2018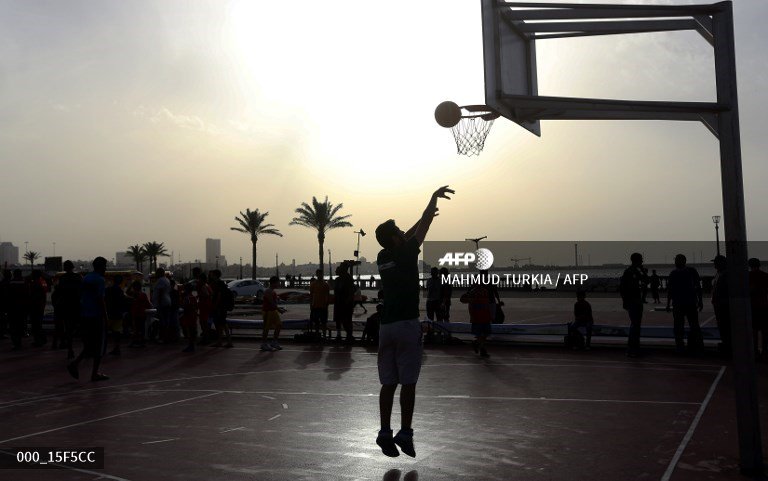 #Libya Libyan youths play basketball in the Corniche area before breaking the fast during the Muslim holy month of Ramadan in Tripoli. Photo Mahmud Turkia

#AFP: image via Frédérique Geffard @fgeffardAFP, 29 May 2018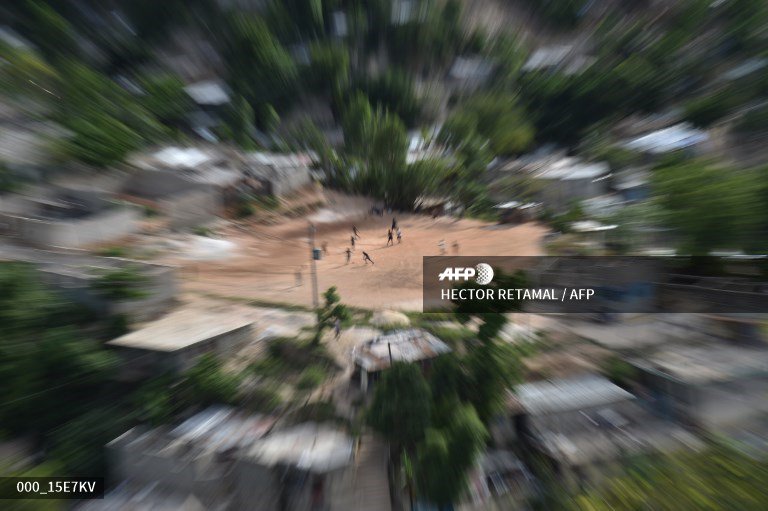 #Haiti
Children are seen playing football in the commune of Petion Ville, in Port-au-Prince Photo @hectorretamal

#AFP: image via Frédérique Geffard @fgeffardAFP, 29 May 2018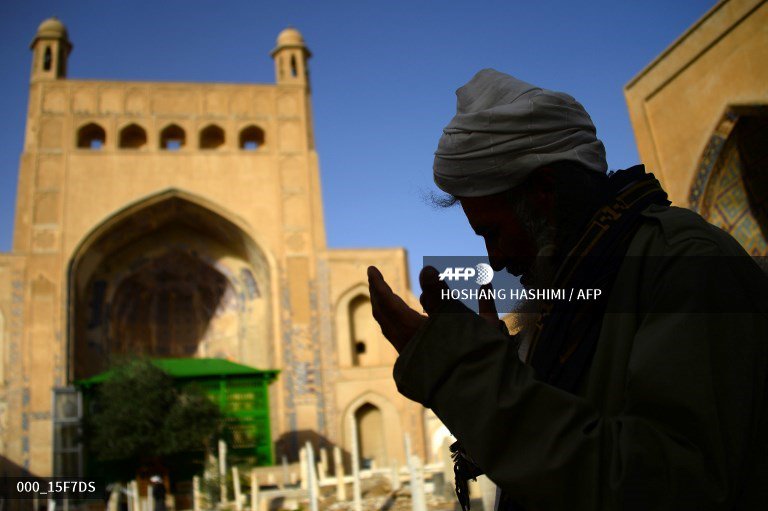 #Afghanistan An Afgha

n

Muslim man prays outside a mosque during the holy month of Ramadan in Herat Photo @hoshangAFP #AFP: image via Frédérique Geffard @fgeffardAFP, 29 May 2018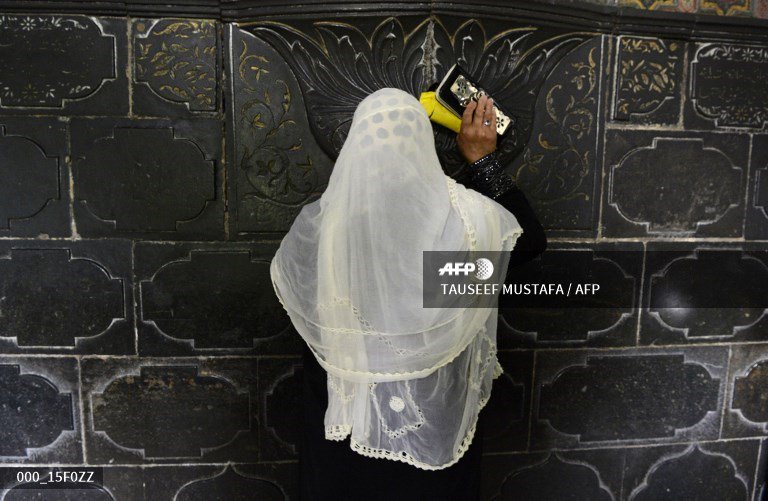 #Indian Occupied Kashmir A Kashmiri Muslim touches a wall of the Shah-i-Hamdaan Shrine during the holy month of Ramadan in downtown Srinagar Photo @TauseefMUSTAFA

#AFP: image via Frédérique Geffard @fgeffardAFP, 29 May 2018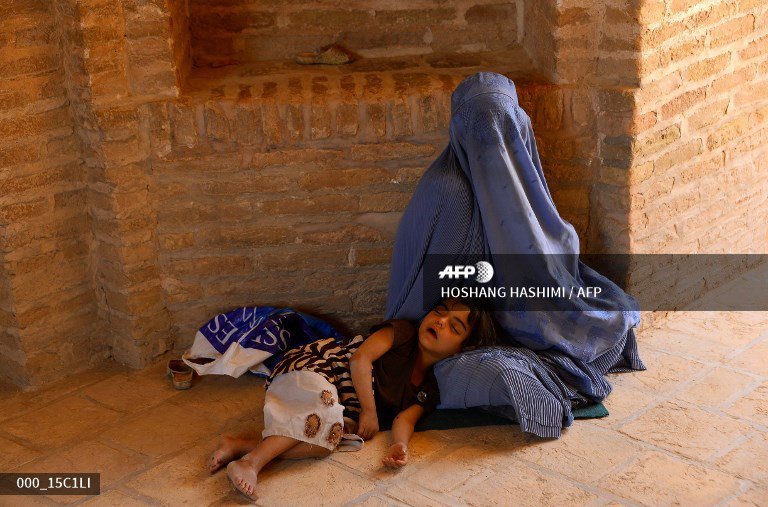 #Afghanistan
An Afghan woman sits with her child as she begs during the holy month of Ramadan in Hera Photo @Noorullah700

#AFP: image via Frédérique Geffard @fgeffardAFP, 29 May 2018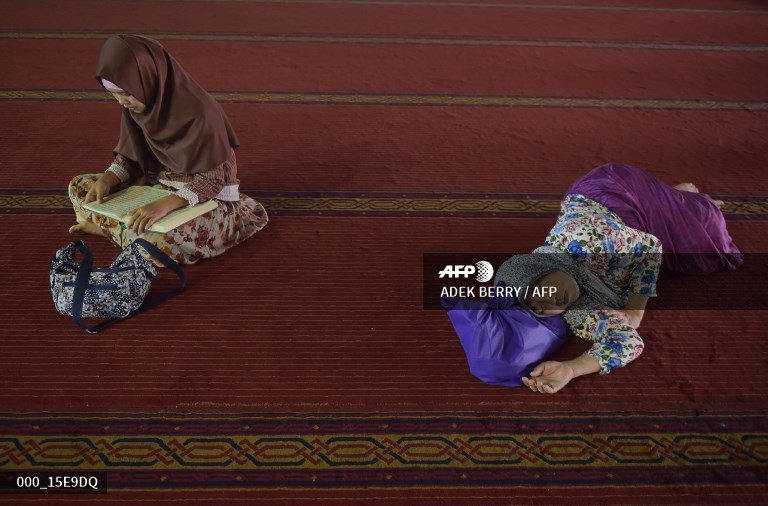 #Indonesia A woman reads a copy of the Koran while another woman takes a nap during Ramadan at the Istiqlal mosque in Jakarta Photo @BerryAdek

#AFP: image via Frédérique Geffard @fgeffardAFP, 2

8

May 2018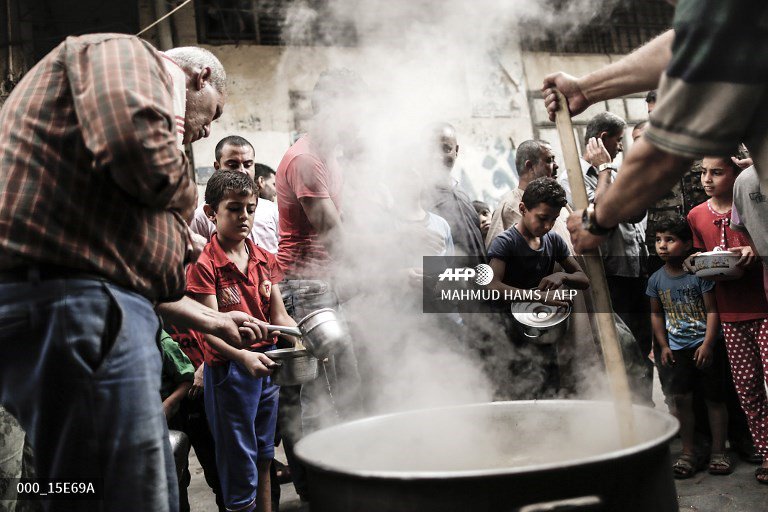 GAZA CITY - Palestinian national Waleed el-Hattab cooks and distributes a soup to the needy during the holy month of Ramadan, in Gaza City Photo @MahmudHams

#AFP: image via Frédérique Geffard @fgeffardAFP, 2

8

May 2018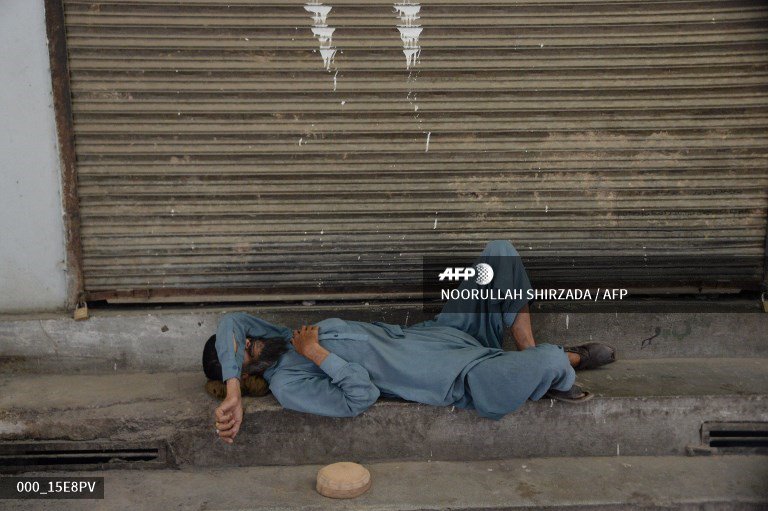 #Afghanistan
An Afghan Muslim man sleeps in front of a shop during the Islamic holy month of Ramadan in Jalalabad Photo @

Noorullah700

#AFP: image via Frédérique Geffard @fgeffardAFP, 2

8

May 2018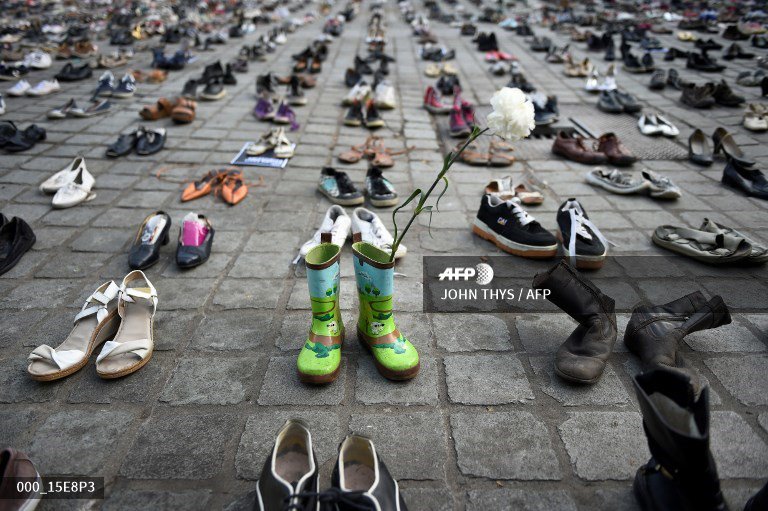 #Belgium
4500 shoes representing every life lost in the Israel-Palestine conflict since 2009 have been displayed ahead of the EU Foreign ministers meeting in Brussels. Photo John Thys

#AFP: image via Frédérique Geffard @fgeffardAFP, 2

8

May 2018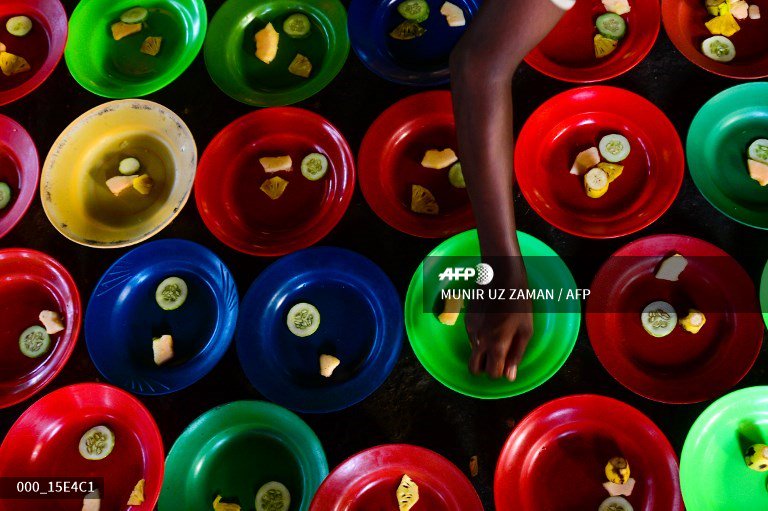 #Bangladesh
A Bangladeshi volunteer prepares Iftar food for Muslim devotees before breaking their fast during the holy month of Ramadan at a shrine in Dhaka Photo @uz_munir

#AFP: image via Frédérique Geffard @fgeffardAFP, 2

8

May 2018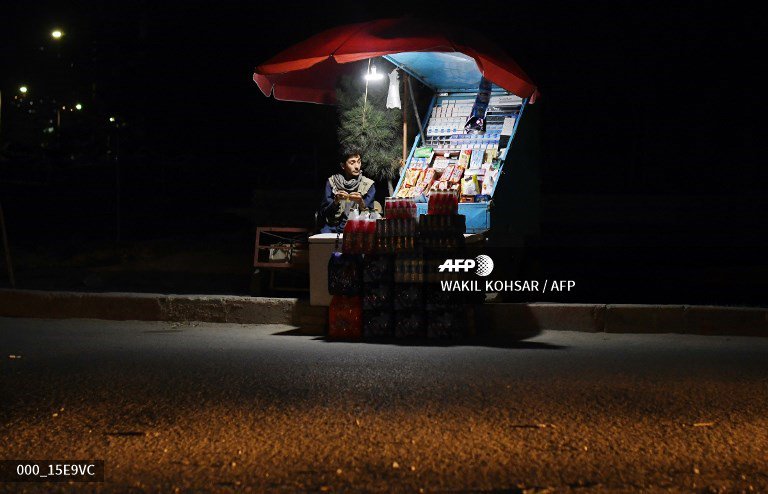 #Afghanistan
An Afghan cigarette vendor waits for customers at his stall along the road in Kabul. Photo @kohsar

#AFP: image via Frédérique Geffard @fgeffardAFP, 2

8

May 2018
Coexistence VII: Aunt of Tiger (Auntie Looks Up To Blackie)
Coexistence [Dhaka]: photo by Md. Enamul Kabir, 4 May 2018
Coexistence [Dhaka]: photo by Md. Enamul Kabir, 4 May 2018



Coexistence [Dhaka]: photo by Md. Enamul Kabir, 4 May 2018
Aunt of Tiger |
Mirpur-7, Dhaka.
Bangladesh.
Due to the influence of fairy tales, cats are popularly known as " Aunt of tiger" in subcontinent.
I was familiar with them before knowing the English alphabets

, b

efore reading with my mother A for 'Apple', B for 'Ball' and C for 'Cat', because I had been s

ee

ing them from my childhood in our home.
How could I avoid their enchanting eyes?
They were introduced to me as aunt of tiger. who could disagree? There are many similarities. But where is the ferociousness of tiger? Hmm, I had seen much. It is greater than earthquake, when two cats quarrel. But with human who domesticated them, the story is so different. Here, they lost to their nephews:)
Although I never pet a cat, I wrote cat on paragraph writing of 'Your Pet Animal' in my early school days. Because it was easy to write about them. Many of us do that, writing

about something

that we didn't experience before in personal life. Rather than cat, I had the eagerness to pet a dog. But, it was a quite luxurious thought for me on that time.
Here, we can be reminded of Bangladeshi legendary painter SM Sultan

,

for his great affection for pet animals. He lived along with cat, dog, bird, snake, bear and monkey in his home in Narail. After his death some of his pets were so depressed that they didn't take any meal for several days. Legendary photographer Nasir Ali Mamun, portrayed Sultan with his pets in many great photographs on

black and

white.
Superstitious mind of human has got many things on cats. I experienced some rumors in my life like; if you can't take out fish bone from your throat, you should ask for pardon by grabbing cat's legs. Another one is to give an amount of salt in water for the salvation of sin, if someone kills a cat anyway. In this context the past history of superstition was strange and darker for cat itself. They had been worshiped, mummified or sometimes brutally killed by human. Black cat was so unlucky to be counted as symbol of human luck.
Cats are treated differently in two parts of the world. Maybe they are annoying to you or, a cause of happiness in some parts of your mind. After all, they are with us for thousands of years. With us in human jungle.
: photo by Dabashis Chanda, 5 September 2011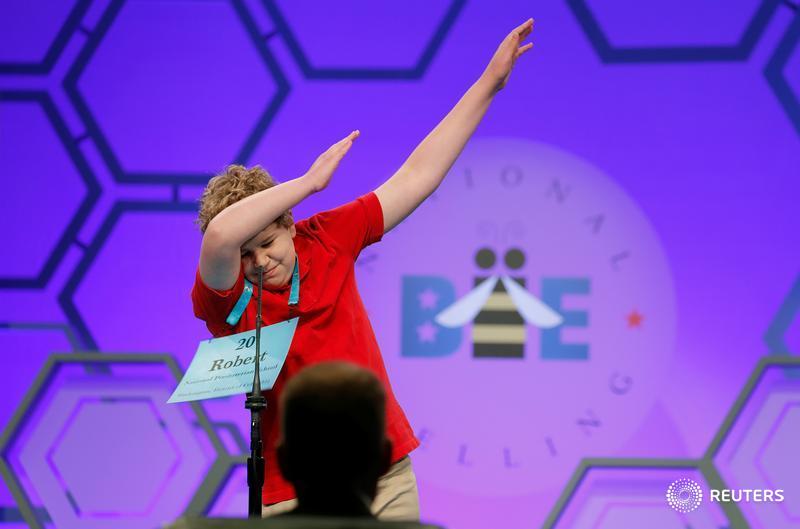 Robert Foster dabs after correctly spelling a word during the Scripps National Spelling Bee Photo Kevin Lamarque: image via Reuters Pictures @reuterspictures, 29 May 2018
Humble brag: I am and have always been a total klutz at everything but spelling, but I've always been pretty good at spelling. In the fifth grade I won the Chicago Daily News citywide elementary school spelling bee. I remember nothing of

the event, but

know this is a fact because the newspaper said so. I had a spelling technique, which was to break a word down into its parts. Language is eternally mobile, as someone once said, always changing as it moves from mouth to mouth, neighborhood to neighborhood, social group to social group, generation to generation, but I figured out this trick of getting it to pause long enough in its restless passage through space and time to allow me to break it down into parts for the purposes of spelling

-

possibly a petty reason to be doing such a thing, but I was like that. Too late to begin pretending now.
As a child I had a

nother trick, when in the dark, at night, or when ill and isolated, for a period of time, as sometimes happened

(this is the sort of trick sickly kids get up to when left too much alone): take a word, and be sure to take a tricky word - silhouette was my favorite, that word haunted my nights, sometimes it even threatened air raids, but no, that was just the airch

u

te headlight shaft from a passing car on Austin Boulevar

d

- and say it over and over in your head until you can still visualize the letters, but no longer remember the meaning. In the Paradiso the poet Dante Alighieri suggests that the imperman

en

ce of language, that most mobile, mercurial of human things, is associated with the impermanence of all human constructs

; h

e may have been on to something; in any case, after two or three hours in the dark, the only way I could swim back through the fog of lost spelling was to feel my way, as it were, by grasping at bits, a letter at a time, then a whole

syllable, and so on,

and clinging to each bit as though it were a spar in a storm at sea. Wh

ere, of course, at that time, I had never been.
Anyh

o

w I must have got all the words right, and the next day in the paper
, as I have said,

they printed a photo of my classmate and fellow competitor Jimmy Degen and myself, waiting on a platform for a train to take us back to the West Side

, as I have said.
We weren't dabbing. Dabbing hadn't been invented. We were standing blankly on a platform in

the large dark

railway station, not being obnoxious. Would never have been noticed, in fact, had not the newspaper sent a photographer to the station, which to this day I find remarkable. Still, it happened. I think relatively unremarkable events had a lot better chance of being remarked upon, back in the day.
Later I would learn that spelling can take you only so far. Well, in truth, I had known that already, somehow. As life stretched on, spelling became less and less useful. At present it is of no use whatsoever. My ability to spell these words correctly is not really useful. Were I to be spelling them incorrectly, no intelligence anywhere in the known universe would even notice.
But you - are you in the known universe? Knowable human communities went out of style 200 years ago. Knowable universes may never have existed. For this reason, casting one's lot with an unknown and unknowable universe, which may indeed very likely be a pure shot in the dark, flinging one into deep space, where nothing and no one can ever know or be known, seems perhaps a risky option, when considered as an option, but an iron necessity, when considered as a necessity, which is how I am beginning to consider it, without going so far as to seal the deal by forgetting how to spell these words.
I'm not quite ready for that inevitable last leap into the shadow

s

, even as I am acutely aware that it must happen, as surely as night must fall.
Which leaves me here, hunting and pecking with gnarled stumps, pausing between pecks to glance to my left, where a large beautiful animal lies motionless, on the kitchen floor, unable to move his limbs, his face dipped into a water bowl, but unable to lift his head so as to drink. It's now Wednesday. This is why I'm writing to you, Auntie. Not really about spelling at all.
On Saturday he was in his usual r

ude

good health before heading out the door on what would have been his usual rounds - he covers a large territory, and knows it well, though it's only three years since he was somehow transported here from Vallejo, where, we are told, he lived more or less wild, with father and mother and three siblings, under a parking structure, for an indeterminate period. They all live here now - or did live here, while still, somehow,

a

live

, in human jungle; t

he clipped ears say We are ferals and the resemblance in appearance - various combinations of black and white - says We are family.
The transporting occurred without our knowledge and the subsequent abandonment by the transporters, likewise. For a time these animals lived next door, on the grounds of a large house that gradually became a

n

alcoholic halfway house, with assorted persons and activities and urban madness of all kinds occurring and p

assing through

, two sizeable fires created by pure drunken carelessness, many cop visits, a lot of screaming and yelling and continuous rotation of divers humans, none of them much concerned with the cat family, which was permitted to revert to Nature, whatever that is, on an insane freeway feeder in an evermore too big too busy town.
The cat we approximately identified as the

m

other did not survive long under these conditions of abuse and negligence.

Hid under a porch for a time, then d

isappeared. The collapsing landfill hillsides on this block are thick with various animal life, all of it doomed and fugitive, none of it easily deterred from continuing to grasp at life, in whatever form. Raccoons, rats, possums, deer, the occasional coyote, provide nocturnal competition in the existence struggle. This is not even to mention the vehicles speeding up and down the death chute street. The number of cats who've become road kill on that street in our time here is appalling to compute. I was run over and left to bleed out on that street in 2012. It is not a place of mercy.
By the time the squatters moved off and left us with the cat fam - cats are not stupid, we're a soft touch, easy enough to put those two facts together - the

M

ommy was gone, and the largest, sweetest, boldest and dumbest of the next generation, an enormous handsome black and white male to whom Angelica, who is certainly the only animal alive on this planet who ever cared enough to put herse

l

f out for him, gave the name Blackie, in honour of his beautiful thick black coat, made more beauteous by the white neck ruff which made the black sheen stand out that much the more brilliantly - docile, trusting oaf that he is, he allowed the neighbour kids, when still small and annoying, to lay hands on him, then run off shrieking "Shiny!" "Shiny let me touch him!"

-

separated himself out and launched off on his own, adopting us as food and sleeping station.
A big dumb beautiful trusting animal, eager for life, bold, intrepid, master of a territory eventually extending for some blocks, left at 3 in the afternoon on Saturday hale and healthy, normally would have stopped back in to eat a few hours later, didn't, a notable exception in the cat fam subsistence rhythm, was gone 36 hours

...

then came a deep low moaning sound from the broken

-

concrete
alleyway abyss

beneath the broken sidesteps... Blackie, zombified, hind legs paralyzed, moaning eerily, unmarked but in evident extreme difficulty, hoisting himself up the steps, flopping in the door

.
Let me pause here to blow my snotdripping old nose (night of cat mortality tear-floods again, Dear Auntie, O how many?) and hark back to an earlier, all too similar event. A female tortoiseshell, by name (our name)

D

ark Sister, ragged but dear little abandoned survival thing she was, also given (driven?) to continuous neighborhood patrolling, bit into a rat that had been poisoned. All it takes is a bite

...

c

entral nervous system shutdown. What the po

is

on is made to do. Thank you Lord and Slow Agonizing Death

B

y Chemical

T

o

Y

ou, too.
Anyhow, poor Blackie,

g

radually, over th

e ensuing several

days, the moaning stopped, and he stopped being able to move his body, except to look up every

few hours, wiggle crabwise toward his water bowl, and pass out with his beauteous white ruff half in half out of the water. Having made all that effort,

no longer able to drink.
The neighbours. Fear of nature. They're afraid of everything. Rodents scare them. They put out rat poison. The cats are not afraid of rats. They love to hunt rats. One bite and... it's in the bloodstream. On Monday I found the big neck-gashed rat on the side steps,

Blackie's

hangout. Very large rat, must have been already on

t

he way out wh

en he caught up with it.
Slowly the poison the whole blood stream fills, the waste remains,

the waste remains and kills.
Enter the wonderful Memorial Day Weekend. Vets closed three days. Ho Ho the caribou. No appointments til Wednesday. We don't have a car. He is now sprawled on his beautiful snowy belly,

h

uge white paws splayed out, face down unable to lift his head from the linoleum of the kitchen floor

, periodically convulsing, gagging up the fluid contents

of his being, white, then yellow, then clear

.

Comatose. Belly now swollen badly. Speck of foam on lip, gum drawn back. A large slowly dying halfwild animal

.
Dear Auntie Tiger, Please come now and rescue your nephew. When I said before that I won the spelling bee I was lying to get your attention. Your nephew needs you. His sad blind father is skulking

on

the bathroom sink. His two scrawny little sisters have

vanished

into the night. The cat fam is in a state. That is all. Thank you, Auntie. C-

a

-

t

.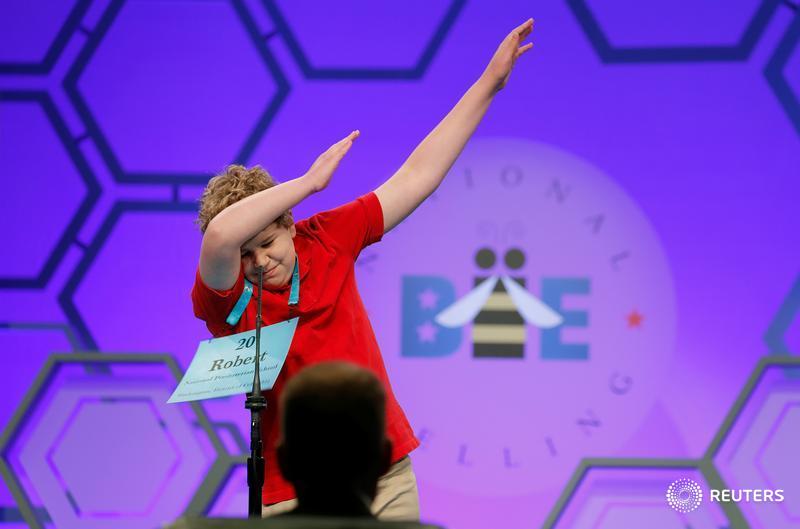 Robert Foster dabs after correctly spelling a word during the Scripps National Spelling Bee Photo Kevin Lamarque: image via Reuters Pictures @reuterspictures, 29 May 2018